Cassy Oliphant West Yorkshire, United Kingdom
Cassy Oliphant is a painter, illustrator and community artist. Folk tales, nature, her love of travel and bringing people together are her main influences. Community and sharing stories has roots in much of her work. She has over 10 years experience working within community settings, from women's refuges to working with learning disabilities.
I find myself coming back to stories time and again with my work. Short conversations on buses, beautifully illustrated childrens book, tales told around the fire. My mother is from Singapore, my father from Scotland, and so I draw and blend different folk tales, traditions and cultures in my work, in part to make sense of my own world, and create my own stories.
Nature too, creeps into my paintings time and time again. The passing of seasons, the cycles of night and day, from birth to death. Living in a city makes it all the more important for me to keep a connection to nature.
I tend to paint using acrylics on slices of wood from around West Yorkshire, as well as more detailed pieces using pen on paper, usually framed in interesting pieces of wood.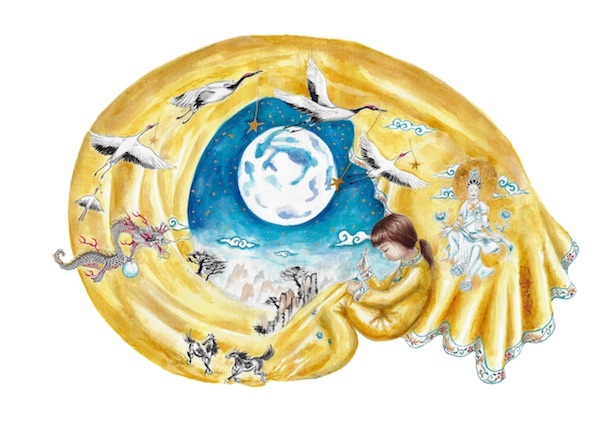 Projects and exhibitions
Details

Ancient Tongues and Tales

19/11/2019 — 12/01/2020

Symbols, story, art... the ways we first discovered how to communicate, to connect.

Hidden in the veins of a leaf, in the silvery slime of a snail, in the shoreline's shifting pattern... are the memories of worlds we've always known but believe we have forgotten.

In our bones, we hold the stories of stars and sand. In our blood, flows...

[Read more]
The Fernie Brae, Portland, Oregon, UNITED STATES
Details

Human Kind Collective Exhibition - Rites of Passage

16/06/2018 — 23/06/2018

Rites of passage speak of moments of transformation and stages of deep introspection by the artists of Human Kind as we make sense of our journey on this earth. Each person's rites in our modern world are completely different, coming from our own unique perspective. We all share a sense of needing this dialogue as our ancient selves scramble...

[Read more]
Aire Place Studios, Leeds
Details

Humankind Collective Exhibition - Stories from Wild Women

21/05/2017 — 23/06/2017

We are a group of artists responding to nature, the magic we see within it and our role as female storytellers using art to connect us back to earth. Using a range of media, and each with our own styles, we invite you to come in, have a brew and enjoy a celebration of our creativity.

Aire Place Studios, Leeds
Details