Art Open Call - The Uncanny - Issue 13
Deadline: 03/05/2021 | Published: 03/04/2021 | Country: United Kingdom | Jenna Fox
Report this?
This is an Open Call for art that represents 'THE UNCANNY' within the context of your art practice - We do NOT want covid19 related work. Whichever medium/practice you use and your text, must relate to your work and the theme of the uncanny…
The word "uncanny" has been used throughout history to describe a certain unsettling feeling one may feel upon encountering something. What may it refer to, both now and in the past?

Since being coined somewhere around the late 16th century in Scots to mean "relating to the occult, malicious," the word "uncanny" has taken up many meanings.

 In the early 20th century, Sigmund Freud wrote a piece of text ("The Uncanny") that attempted to analyze what exactly constituted uncanniness.

In particular, his view is that a situation or encounter is uncanny due to an inherent familiarity of it — that one has encountered this situation before, albeit possibly under wildly different circumstances. The term 'uncanny valley' is also applied to artworks and animation or video games that reproduce places and people so closely that they create a similar eerie feeling.

Artists, including some associated with the surrealist movement, drew on this description and made artworks that combined familiar things in unexpected ways to create uncanny feelings.

We want to see artwork that represents the uncanny within the context of your art practice  - WE DO NOT WANT COVID RELATED WORK.

Whichever medium you use and your text must relate to your work and the theme of the uncanny…

You will need to submit:
1) A good quality image of your work minimum 300dpi jpeg (please do not send us thumbnail images).
2) Three lines of text to explain your concept,  why you made the piece and any obstacles you had to overcome.
3) Your Instagram name so we can tag you.
4) Do you wish to join our mailing list Y/N?

Your work will not be accepted if you do not provide all of the four requested items. If accepted your work will be featured on the web zine, Instagram, and FB for a least one month, and very likely for several.

Follow us on:
Instagram: @haus_a_rest
https://www.facebook.com/haus.a.rest
https://wwwhaus-a-rest.com
Twitter: @Haus_a_rest
Contact the curator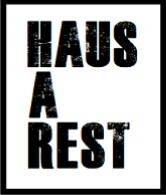 Who is eligible for this opportunity?
everyone
When is the deadline?
03/05/2021
How many works can I submit?
1
How much does it cost?
nothing
Are there payments to artists?
no
You must have an account to send a message to the curator of this opportunity. Registering only takes a few moments. Once registered you'll be able to keep track of all of your submissions and get updates on upcoming opportunities.
Already have an account? You must log in to send this curator a message.
Subscribe to our newsletter
Get the latest CuratorSpace news, updates about new opportunities, upcoming deadlines, and art-related promotions.
Advertisement