Barriers in the arts - a virtual seminar. Call out for LGBTQ+, Femme and Non-binary artists.
Deadline: 15/02/2021 | Published: 26/01/2021 | Venue: Zoom | Pipeline Gallery
Report this?
Calling all LGBTQ, femme, and nonbinary artists!
Calling all LGBTQ, femme, and nonbinary artists! Pipeline Gallery is hosting a virtual seminar series "Barriers in the Arts" and for our first in the series we will be working with UnBound Arts Collective, a US-based collaboration between womyn, trans, and nonbinary creatives working to share the voices and works of the marginalized, with an emphasis on the intersecting disadvantages faced by black folks, indigenous folks, and people of color globally. They collaborate to dismantle patriarchy, racism, and imperialism through educational and artistic projects such as this seminar series and their quarterly publication, UnBound Zine.
Pipeline Gallery is an alternative curatorial space looking to support students, graduates and emerging artists. This seminar is part of larger series looking at the barriers many under-represented artists face. The aim of the seminar is to build up a community and to help support emerging artists as they embark on a career that isn't always based on a level playing field. By applying you will have the chance to be a member of our artist panel and will lead conversations to help fellow creatives and build community.
Together, we will be discussing the particular challenges that LGBTQ+, femme, and nonbinary folks experience when entering the art world, as well as hearing from successful creators who have found community and opportunity despite these barriers.
Do you have a success story to share? Strategies for navigating the art world and finding community? Are you looking to use your platform to help support new and emerging artists and art students, especially those in the LGBTQ+ community or who identify as femme or nonbinary?
Please apply to join our artist panel! Applications will be open through February 15th.
Applying takes no more than 10 minutes! Just prepare a bio, statement of interest, and a small sampling of your artwork!
We can't wait to hear from you!
Check out UnBound and Pipeline here -
Pipeline Gallery
Instagram - @pipeline.gallery
UnBound Arts Collective
Instagram - @Unboundzine
Facebook - https://www.facebook.com/unboundzine
Contact the curator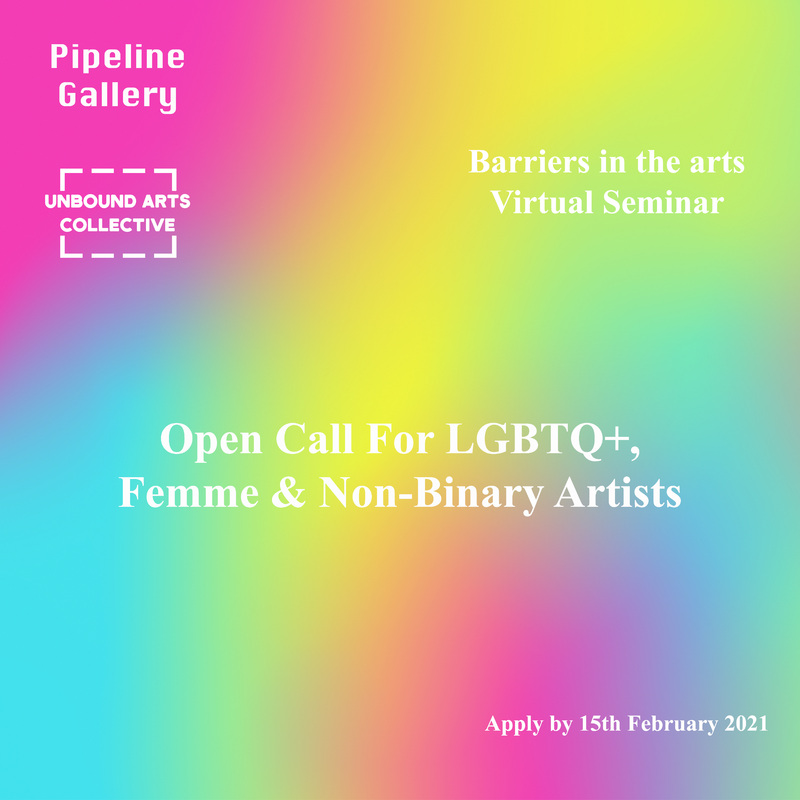 Who is eligible for this opportunity?
LGBTQ+, Femme and non-binary creatives
When is the deadline?
15th February 2021
How many works can I submit?
Up to 5.
When is the delivery date?
The date is undecided yet, we are hoping for it to be sometime in March 2021.
Are there payments to artists?
Sadly not, we really wish we could pay our participating artists but at this time it isn't possible.
What publicity will be provided as part of the opportunity?
The event will be advertised on both UnBound Zine and Pipeline Gallery's instagram.
What happens if my proposal is chosen?
You'll hear from our team shortly after the deadline. The two collaborating organisations are in different time zones so please allow us time to communicate, you may not hear from us immediately.
You must have an account to send a message to the curator of this opportunity. Registering only takes a few moments. Once registered you'll be able to keep track of all of your submissions and get updates on upcoming opportunities.
Already have an account? You must log in to send this curator a message.
Subscribe to our newsletter
Get the latest CuratorSpace news, updates about new opportunities, upcoming deadlines, and art-related promotions.
Advertisement