Bodies with Organs: Artist commission
Deadline: 14/01/2018 | Venue: Dorset County Hospital | City: Dorchester | Region: Dorset | Country: United Kingdom | Alex Murdin
Paid opportunity
Report this?
Arts in Hospital and the Organ Donation Fund of Dorset County Hospital wish to commission new artwork that engages people in some way with the idea of organ donation. We are seeking an unusual, creative and innovative approach to this subject that provokes conversations, debate on the subject and raises awareness of organ donation amongst the public.
Artist Commission: Bodies With Organs
Site: Courtyard, Dorset County Hospital
Organ donation is where a person donates their organs and tissues for transplant to someone else. Most organs are donated by deceased donors and used to help thousands of people globally each year who need a transplant. Some organs, like the kidney and liver, can be donated by living donors. Advances in medical science mean that more people each year are able to benefit from donated tissue, including corneas and bone. The science of organ, tissue and blood donation is now well established, with the first successful kidney transplant operation taking place in 1954. Human transplant science continues to advance rapidly as doctors contemplate the possibility of the first human head transplant to another body.

Transplants have always posed interesting cultural, philosophical and ethical questions about self-identity, altruism and our relationships to other individuals and society as a whole. For example in the UK there is an ongoing debate about whether organ donation after death should be something for the individual to opt into, or for the government to legislate in order to make permission given by default.

Culturally transplant has provided a rich subject for exploring the human condition. One of the first modern meditations on the subject was Mary Shelley's Romantic novel "Frankenstein" which describes an entirely reconstructed human struggling with his unnatural origins and the human condition. The motif of transplant appears in allegories like the Wizard of Oz where the Tin Man seeks a heart to enable him to feel emotion. It is a recurring theme in contemporary science fiction where it is used to explore themes such as our new relationships with technology, for example in "Terminator: Salvation" a cyborg gives up his heart to save a human life. Interestingly the 20th Century philosopher Gilles Deleuze uses the metaphor of a Body Without Organs to describe an underlying universal reality - the term originates from Antonin Artaud's radio play "To Have Done with the Judgment of God" (1947): "When you will have made him a body without organs, then you will have delivered him from all his automatic reactions and restored him to his true freedom". So we see organs being depicted as sites of emotion, symbols of sacrifice and a way of transforming into someone else - becoming perhaps transhuman.

Background
Arts in Hospital commissions and maintains an impressive collection of contemporary art which ranges from the work of Dorset sculptor Dame Elizabeth Frink, to images of Dorset by Magnum photographer Martin Parr, to the work of local art students from Bournemouth Arts University.

In particular the hospital is well known for its artwork which relates to landscape and environment. These subjects reflect the rural nature of Dorset and the way in which art related to nature can provide significant health and wellbeing benefits for patients, visitors and staff. We are also committed to incorporating the latest technology and have worked on innovative projects including live streaming nature and performances into the hospital for bed bound patients.

Extensive medical and psychological research shows that carefully considered art and design can be pivotal in transforming clinical environments into calm, healing care spaces where patients get better faster and staff are less stressed and anxious. Equally art engages people in conversations about health and wellbeing in ways which are different to those typically used by the health care system.

Find out more here about Arts in Hospital

Proposed location
The proposed site is a courtyard in South Wing of the main hospital building in Dorchester (Williams Ave, DT1 2JY), called the Cardiology Courtyard . It is open to the sky and surrounded on all four sides by a three storey building looking into the courtyard. Its floor area measures approximately 20m x 13m. Physically accessed by single standard door, it is however inaccessible to the public.

Recently large mechanical equipment including ventilation fans has been sited in the courtyard to serve adjacent medical facilities so any proposals will need to consider this context carefully. There will be the option to work with landscapers/horticulturalists if wanted. Currently it is possible that more equipment may be added in a few years time so any proposal should be adaptable if possible.

There is no particular restriction on the material/method used and proposals may include temporary elements, however there should be some long lived parts of the artwork for future hospital users to see. Equally whilst the preferred site has been selected elements of work could also appear in other places and forms, for example with interior of the hospital or in digital or printed media. Any work will need to consider the physical safety and mental wellbeing of patients, visitors and staff.

To understand this context better there is an expectation that the artist spends some time at Dorset County Hospital seeing the site, perhaps meeting with patients involved in the organ donation process and with relevant medical staff. We are very open to ways this engagement could happen creatively.

Programme
Deadline for applications: 14th January 2018 (17:00pm)
Artists interviewed: week commencing 12th February 2017 R
Research and visit(s) followed by initial proposal: by end of March 2018.
Detailed design: by end of May 2018
Fabrication and Installation: by end of September 2018.

Budget
The total budget for the art work is £10,000. This must include artist's fees, all materials and fabrication costs, travel and expenses for the scheme as a whole. However further resources may be available for ancillary work such as landscaping, planting or physical artwork enablement.

Contracts and Payment
The artist will be contracted by Dorset County Hospital NHS Foundation Trust (DCHT). The artist will be responsible for any required warranties on designs and items manufactured. The artist should possess public liability insurance to a value of £5 million. The copyright of all submitted research and design will be held in favour of the artist/ designer. Ownership of all submitted research, design material, models and the final work will be held by DCHFT. Mutually agreed stage payments will be made against: Appointment of Artist, Approval of Initial Proposal, Approval of Detailed Design and Installation as appropriate.

Application Details
To apply for this commission please send an up to date CV, a selection of up to 10 images of recent work or projects and a statement setting out your interest in the project with any initial thoughts about how you might approach it. Three shortlisted artists will be asked to interview week commencing 12th of February 2018 (precise date tbc) at Dorset County Hospital. 
Contact the curator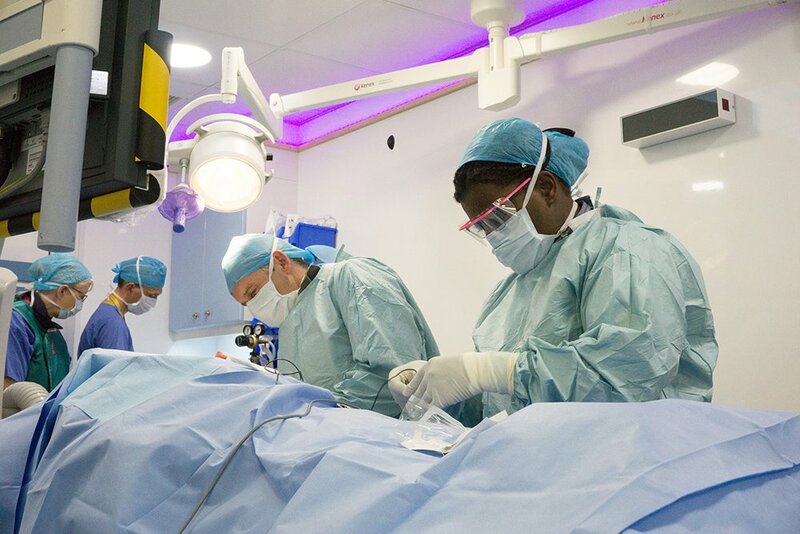 Who is eligible for this opportunity?
All interested artists
When is the deadline?
17-00 on the 14th January 2018
How many works can I submit?
10 images/examples of previous work - feel free include links to other websites or media
When is the delivery date?
Autumn 2018
Are there payments to artists?
Yes. There is a budget of £10,000 but this includes all installation, making and expenses. See artists brief for details.
Does the location have disabled access?
Yes
How do you decide on proposals?
Selection will be by a group consisting of the arts team, charity fund representative, organ recipient and member of Estates team.
You must have an account to send a message to the curator of this opportunity. Registering only takes a few moments. Once registered you'll be able to keep track of all of your submissions and get updates on upcoming opportunities.
Already have an account? You must log in to send this curator a message.
Subscribe to our newsletter
Get the latest CuratorSpace news, updates about new opportunities, upcoming deadlines, and art-related promotions.
Advertisement