Call for Artists: DISRUPTION WORKS
Deadline: 17/12/2021 | Published: 01/09/2021 | City: Bexley | Region: London | Country: United Kingdom | Gallery No.32: Meg Stuart and Kieran Idle
Report this?
DISRUPTION WORKS, SET TO BEGIN AT GALLERY NO.32 SEPTEMBER 2021. We seek art that disrupts, provokes and immobilises its audience to find answers, or creates a space of possibility where truth can be found. SUBMIT.
​​'From this moment despair ends and tactics begin.' Raoul Vaneigem - The Revolution of Everyday Life, 1967.
Currently, reactionary forces are working to stop subversive ideas from artists reaching public discourse. By attempting to shut down artworks that express comprehensive critique of society, society's most marginalised​ are being silenced.

DISRUPTION WORKS aims to embolden these projects and display them to a broader audience. We seek art that disrupts, provokes and immobilises its audience to find answers, or creates a space of possibility where truth can be found.
DISRUPTION WORKS seeks to improve the dialectical unification of art and life.

OPEN CALL
We are looking for artists working with any medium (painting, sculpture, photography, performance, video art, animation, film, documentaries, poetry, writing) to be hosted either virtually or in-person at Gallery No.32, London.
Virtual Space:
Submissions to be hosted virtually will be accessible via QR code mounted to a reworked road sign on an accessible outdoor site at Gallery No.32, London.
In-person, OUTSIDE Space:
Information for submissions of performances/installations to be hosted in the outdoor space at Gallery No.32:
Work will be displayed outdoors 24/7 and will need to withstand the elements, with wind and rain being a key issue to factor into your proposal.
We are especially keen to host participatory art. Encouraging an audience to take part promotes new emancipatory social relations. With members of the public able to approach the artwork, please consider any risks your artwork may pose to them.
The site will be open to the public 24/7. We cannot guarantee the safety of your work, so stability and security are important factors within the application. There are trees across the orchard that can be used to support this.
We cannot guarantee the availability of an electrical hook-up for sound, light etc. We encourage work that uses solar energy if necessary.
RE-USE & LEAVE NO TRACE. As with all work hosted at Gallery No.32 recycling of materials and use of found materials is encouraged. Work must also cause no damage to the surrounding natural habitat Gallery No.32 is hosted within.

DATES
The programme will run from mid-September 2021, eventually displaying alongside our future projects, Between Frames, our Frieze Week exhibition in October, and our annual Winter Sculpture Park opening early 2022. Submissions will be reviewed on a monthly basis and work will be displayed in concession throughout this time. The final deadline for submissions will be 17th December 2021. Please submit work throughout this period as we are looking for shows to begin in mid-September. 

APPLICATIONS OPEN NOW, PLEASE SUBMIT ALL APPLICATIONS THROUGH CURATORSPACE.  If you have any problems submitting, or need a more accessible submission form/method, please do not hesitate to contact. 

GALLERY NO.32
The Gallery is in a small orchard in Bexley, London, alongside a busy public footpath – a path often chosen in repeated daily routines. Gallery No.32 creates a situation, a spectacle, taking people out of their day-2-day and offering alternative life experiences. DISRUPTION WORKS takes this further, as we are calling for works to entice, captivate, and engage.

Gallery No.32 has been a zero-expenditure project. Consequently, we have been able to retain the aim of a non-profit, non-expenditure project. Because of this, we do not charge for applications or use of the space, and in return we do not offer payment for participation. Gallery No.32 is a neutral zone, promoting creative exchange.
For more information on what we do at Gallery No.32, please visit our website, instagram (@gallery_no.32). 
Contact the curator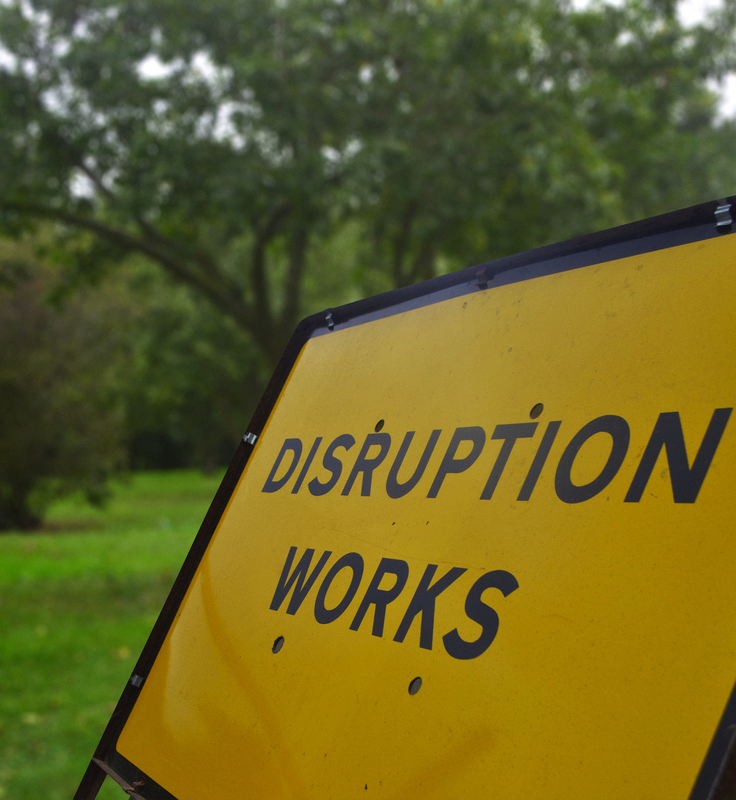 Who is eligible for this opportunity?
Everyone.
When is the deadline?
The final deadline is the 17th December 2021, but we encourage submissions ahead of this deadline as the show will be running a concession of displays beginning mid-September 2021. We will be checking submissions on a monthly basis to organise the run plan.
How much does it cost?
FREE.
What are the exhibition opening hours?
24/7
You must have an account to send a message to the curator of this opportunity. Registering only takes a few moments. Once registered you'll be able to keep track of all of your submissions and get updates on upcoming opportunities.
Already have an account? You must log in to send this curator a message.
Subscribe to our newsletter
Get the latest CuratorSpace news, updates about new opportunities, upcoming deadlines, and art-related promotions.
Advertisement