Contemporary Art Open Commission Call - East Yorkshire
Deadline: 18/06/2021 | Published: 26/04/2021 | Venue: Sewerby Hall and Gardens | City: Sewerby | Region: East Yorkshire | Country: United Kingdom | Lauren Frost
Paid opportunity
Report this?
The East Riding Visual Arts Uplift is proud to announce yet another contemporary artistic commission in collaboration with Sewerby Hall and Gardens for the year 2021/2022. There is an all inclusive commission fee of £8,000 available to the shortlisted artist to create a piece of contemporary artwork that is site specific and fits the below artistic brief.
It is envisaged the piece will be installed on site at Sewerby Hall and Gardens in November 2021 in readiness for the venue spring reopening, for an agreed duration with the potential for an accompanying exhibition/workshops from the artist. 

This commission is a part of the East Riding Visual Arts Uplift's commitment to showcasing and integrating contemporary art into the region.

Theme/Brief
We have decided not to set a restricting theme, we want artists to have free rein over the ideas they submit to us. However, we are keen that the artworks meet a brief and respond to the heritage and surroundings of Sewerby Hall and Gardens.

The work proposed and produced must be contemporary art, that is both challenging and of a high quality. We want artists to add their own style, create something that showcases what they do as an artist to intrigue the audience and bring a taste of contemporary visual art to the East Riding. 

The piece must work in the specified space (Images/Plans here). We do not have the option of flexibility to site the piece elsewhere and so you must show that you have responded to the allocated location. 

We would expect a piece to be in place for an extended duration (several months) to give our audience the opportunity to view and experience the offerings. 

As mentioned above there is scope for an accompanying exhibition to be staged alongside the main commissioned piece, this is not an expectation of the artist; merely an extended opportunity. We would be interested to work with artists who would be willing to commit to a workshop or talk relating their artistic practices. A key element of the Visual Arts Uplift Aims is to break down the barrier between the public and contemporary art, providing a barrier free interaction between the creator would prove an ideal route to achieve this.  

The commission has a fixed fee of £8,000 inc. all travel/accommodation expenses and materials. Sewerby Hall and Gardens expects to loan the finished piece in for the duration of the exhibition, but not to own the finished work. We would expect to use images of the work in promotional material for the exhibition and during the display itself. We would expect the artist to come to the opening of the exhibition. 

Additional fees have been retained for site logistics and installation/display needs of the piece.

We have provided an 'inspiration board' below to get your ideas flowing and are happy to talk through any ideas you may have in advance of submitting.  These are not images of the space available, solely inspiration for artistic content. 

Please Note: Your idea must be feasible, both in terms of budget and practicality.

How the commission will work
Below is an outline of how the commission will run:

April 
June
Selection to be staged 

Artists to be informed of decision and successful applicant contracted 

Successful applicant invited for a site visit with the venue to look at any logistics
 
June - October 
Piece build

Accompanying exhibition/workshop/talk logistics finalised 


November

Criteria for submission
Your work must be safely constructed for displaying to the public.

The piece is to be installed in November, on dates agreed with the artist for a set duration of time.

Temporary, high quality contemporary artwork that will excite, inspire and entertain a diverse audience of all ages.

It is essential that you think through how your piece will be realised in terms of practicality and budget.

The funding available for this commission is £8,000. This is an all inclusive fee that includes the artistic fee, travel, accommodation and materials.
Contact the curator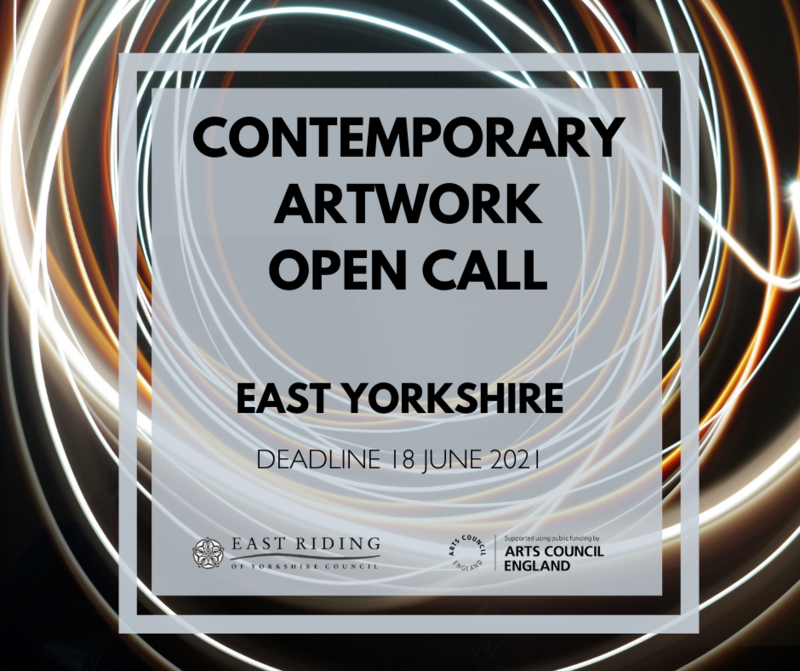 Who is eligible for this opportunity?
Anyone
When is the deadline?
18th June 2021
How many works can I submit?
multiple
When is the delivery date?
November 2021
How much does it cost?
Free to enter
Are there payments to artists?
£8,000
Is there a private view / opening?
Potentially
What are the exhibition opening hours?
Flexible
Does the location have disabled access?
Yes
What publicity will be provided as part of the opportunity?
Press releases, online exposure, photographer, videographer etc
Do I need to be present?
Not necessarily
Where will my venue be listed?
Across various website platforms and physical outlets
How do you decide on proposals?
A selection committee is formed to choose the artist for the commission
What happens if my proposal is chosen?
See the description for the project breakdown
What kind of proposals are you looking for?
Contemporary art - see description
You must have an account to send a message to the curator of this opportunity. Registering only takes a few moments. Once registered you'll be able to keep track of all of your submissions and get updates on upcoming opportunities.
Already have an account? You must log in to send this curator a message.
Subscribe to our newsletter
Get the latest CuratorSpace news, updates about new opportunities, upcoming deadlines, and art-related promotions.
Advertisement