Designer In Residence Call out 2022 - Durham Sixth Form Centre
Deadline: 05/07/2022 | Published: 15/06/2022 | City: Durham | Country: United Kingdom | Hannah Scully
Paid opportunity
Report this?
Designer-in-residence call out - Durham Sixth Form Centre.
Durham Sixth Form Centre is seeking a designer-in-residence (DiR) to join our busy and thriving art department for 3 - 6 months. Applications from a wide variety of practices are encouraged and from designers at different stages of their career. This flexible residency will be designed on a bespoke basis. Our DiR programme welcomes applications from creatives of varying specialisms to develop their practice and aid their professional progression within an educational context. DiRs will work closely with our in-house graphic designer on branding, faculty assets, social media and event promotion as well as site development and signage. 

Successful applicants will be given access to facilities such as Adobe CC and WACOM Digital drawing monitors. DiRs will have the opportunity to engage with students in the 16-19 age range through mentoring, placements and artist talks. By imparting specialist knowledge and raising aspirations, the DiR is able to give students a unique and inspiring insight into viable careers in the arts and the opportunity to work closely with a creative professional. 

We are committed to providing access to an inclusive and well-resourced space for our artists and designers, supporting a bespoke project and facilitating opportunities to engage with our wider network and professional development training events. This is an exciting year to join as our new conceptual art gallery space will open in Autumn 2022, housing our community programme and resident artists.

Funding: 
Research and practice development grant - £500
Boasting a fully accessible campus located in the centre of Durham City, Durham Sixth Form Centre recruits students from over fifty secondary schools across the North East. Rated 'Outstanding' by Ofsted, DSFC is a truly embracing and dynamic organisation committed to promoting the principles of equal opportunities and providing an environment in which students and employees alike can develop their potential. 

The Arts and Media Faculty offers an extensive range of A Levels and Level 3 equivalent courses as well as a Level 4 Art Foundation course across visual, performing, media and written arts. In addition, we run and participate in high-profile public events such as The Big Draw, Debating Matters and Lumiere as well as maintaining strong relationships with cultural organisations. Our commitment to arts and culture is further supported by our Artsmark Platinum status.

Our aims and vision: 
To support the professional progression of artists and designers

To provide a supportive and accessible space for artists to develop their practice and showcase work created during the course of the residency 

To increase student engagement with practising artists in order to encourage aspiration, progression and visual arts as an accessible career route

To support artists as agents for change within a reset, rebuild and recover agenda with a renewed emphasis on wellness, resilience 

Further enhance and progress our arts outreach through the development of an accessible community Visual and Conceptual Arts space

To support and facilitate a public showing of the residency outcome
Successful applicants will benefit from:
A research and practice development grant of £500 to be paid in instalments 

Studio and secure storage space

Agreed use of facilities and materials

Access to the wider networks and partners of Durham Sixth Form Centre, including free attendance at network and CPD events 

Support and promotion of social platforms, current work, events and exhibitions across Durham Sixth Form Centre's social platforms 

Advice and sustained support surrounding professional progression - including interview preparation, CV advice and references 

The opportunity to engage with students aged 16 - 19 years

The opportunity to engage with the local community through public workshops - including the option to put forward a proposal to deliver some paid sessions
Make a submission
Contact the curator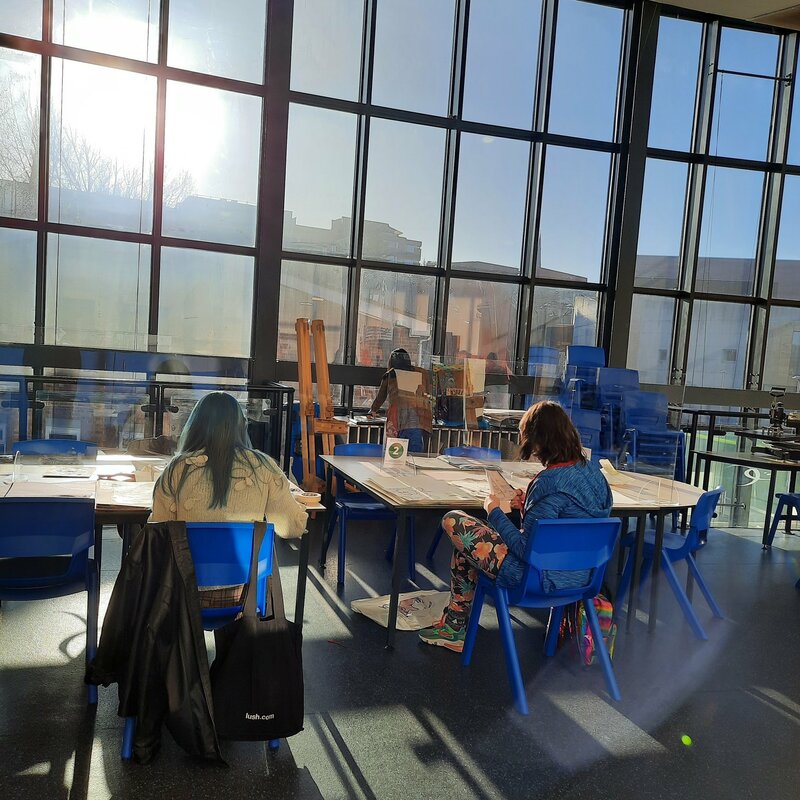 Does the location have disabled access?
Yes
What publicity will be provided as part of the opportunity?
Social media / printed invites / mailing lists
What happens if my proposal is chosen?
We will be in touch very soon to organise a tour of the space
What kind of proposals are you looking for?
We are open to all proposals, but we are especially keen to hear how artists may work with some of our most disadvantaged students
You must have an account to make a submission using CuratorSpace. It's free and only takes a few moments. Once registered you'll be able to keep track of all of your submissions and get updates on upcoming opportunities.
Already have an account? You'll need to log in to make a submission to this opportunity.
You must have an account to send a message to the curator of this opportunity. Registering only takes a few moments. Once registered you'll be able to keep track of all of your submissions and get updates on upcoming opportunities.
Already have an account? You must log in to send this curator a message.
Subscribe to our newsletter
Get the latest CuratorSpace news, updates about new opportunities, upcoming deadlines, and art-related promotions.
Advertisement