It's My Life
Deadline: 16/01/2022 | Published: 02/01/2022 | Country: United Kingdom | Amy Oliver
Report this?
It's My Life will be a group show in The House of Smalls between 29 January - 28 February 2022. This is a call for miniature and small art based around medication, self-medication, dependence and/or addiction; whether past, present or intermittent.
"Could've been the whiskey, could've been the pills, could've been the dream she was trying to kill" ~ Emmylou Harris
Due to the nature of this call, you may wish to remain anonymous and in this respect all that is required is an email address for communication purposes. Email addresses are not disclosed to other show participants.

THIS IS A 1/12 SCALE DOLLHOUSE PROJECT - PLEASE READ THE CALL DETAILS CAREFULLY.

This call is for all mediums of original small artworks inc 3D, photography and digital art (and a very limited number of prints of larger work). Unfortunately video cannot be accepted at the current time.

2D work should be within the maximum measurements of 5 x 5 x 0.5 inches/12 x 12 x 1 cm (to INCLUDE any mount/frame).

3D work should have a maximum footprint of 2.5 x 2.5 x 6(H) inches/6 x 6 x 15(H) cm - there is limited room for maneouvre on this so please specify the exact size when submitting your work.

Although this show will be online only, it is a physical exhibition and works selected will need to be posted to The House of Smalls, a UK based project.

Please note that there will be a nominal fee of £5 per selected artist to cover return postage and materials. 

For further information and details of previous shows please visit www.thehouseofsmalls.art.

Thank you.
Contact the curator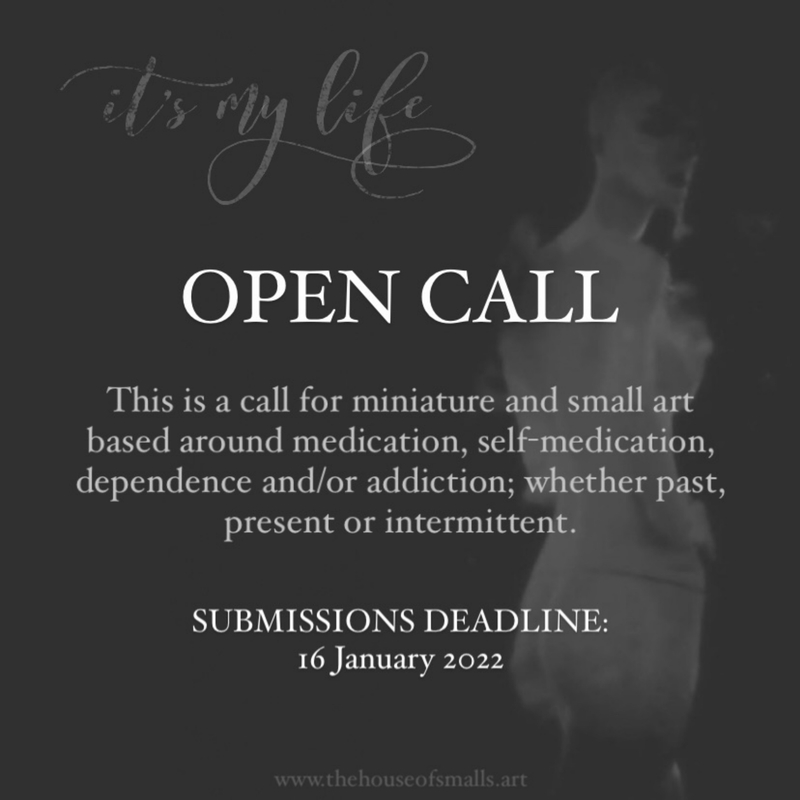 Who is eligible for this opportunity?
Everyone
When is the deadline?
16 January 2022
How many works can I submit?
Up to five - please use a new form for each work
When is the delivery date?
25 January 2022 (by post)
When do I need to collect my work?
Your work will be posted back to you at the end of the show
How much does it cost?
£5
Is there a private view / opening?
No, the show is online only
You must have an account to send a message to the curator of this opportunity. Registering only takes a few moments. Once registered you'll be able to keep track of all of your submissions and get updates on upcoming opportunities.
Already have an account? You must log in to send this curator a message.
Subscribe to our newsletter
Get the latest CuratorSpace news, updates about new opportunities, upcoming deadlines, and art-related promotions.
Advertisement