Edinburgh Zine Festival 2022
Deadline: 27/02/2022 | Published: 19/12/2021 | Venue: Fruitmarket | City: Edinburgh | Country: United Kingdom | Lilith Cooper
Report this?
Edinburgh Zine Festival is an exciting new partnership between Fruitmarket and Edinburgh Zine Library, bringing a zine-shaped space to Fruitmarket's annual celebration of artists' book culture. The Edinburgh Zine Festival will take place alongside the Artists' Bookmarket in Spring 2022, over the weekend of 14th and 15th May.
Edinburgh Zine Festival will be an affordable, accessible, welcoming, and inclusive space to explore DIY self-publishing and zines. There will also be in person and virtual elements. Applications for physical tables open Dec 20th 2021 and close Feb 27th 2022.

What's the difference between zines and artists books? We like to refer to Holly Casio's excellent essay on 'The economy of zines'. Whilst Casio acknowledges that zines are difficult to define - something that we probably have no business doing anyway-, she suggests that what really matters is that zines are non-profit, operating in a different economy of gifts, swaps and trades. Boiled down - zines don't cost much and this will be reflected in our tables!  

The Edinburgh Zine Festival will provide a space for non-profit forms of self-publishing, showcasing some of the amazing and exciting things happening in zines. A zine festival happening in tandem with the artists' bookmarket will also illuminate some of the exciting overlaps and intersections between zines, artists' books and other forms of self-publishing.

We especially want to offer tables to people often underrepresented at zine fairs and you can read more about our priorities when assigning tables here. We recognise that money can be a barrier to tabling at zine fairs, especially for people from marginalised groups, so we are offering subsidised tables, and working to fund contributions to travel and accomodation costs for zinesters who need it.#

About Edinburgh Zine Library
Founded in 2017, Edinburgh Zine Library is an independent, collectively run, and grassroots reference library of contemporary zines currently hosted by the Art and Design Library, Edinburgh Central Library. Alongside managing the collection, the zine library runs events and workshops. Find out more @edinburghzinelibrary on Instagram or Facebook, @edzinelibrary on Twitter or at www.edinburghzinelibrary.com. 
Contact the curator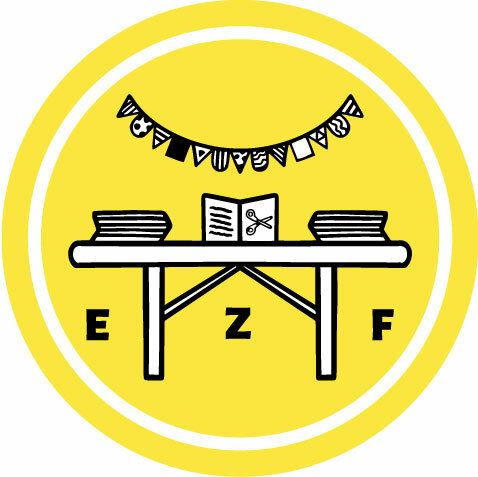 What's the timeline?
The deadline for tabling applications is Feb 27th 2022. Tables will be offered at the end of March, and you'll have a week to confirm. The zine fest is happening May 14th and May 15th 2022.
How much does it cost?
A half table costs £10 per day. This reflects the cost of hiring tables and chairs (we aren't making a profit from table fees). We are working with half tables as standard as this allows us to be more flexible with numbers and also social distancing if Covid restrictions are still necessary. We are offering subsidised tables to zinesters who otherwise would not be able to attend.
Does the location have disabled access?
Accessiblity information about Fruitmarket can be found here: https://www.fruitmarket.co.uk/accessibility/. If you have any specific questions, please ask us.
How do you decide on tables?
Information about our priorities when deciding tablers (if we are oversubscribed) can be found here: www.edinburghzinelibrary.com/to-the-front.
What about Covid?
At the moment, it seems impossible to know what's going to happen next week, let alone several months from now. We'll be flexible and responsive to the situation, and any changes in restrictions, and will keep tablers updated.
I only have 1 or 2 zines, can I table?
Sure, but if you're based in Edinburgh or nearby, or travelling to visit the zine fest, you might want to add them to our communal table - more information on this coming soon!
Will there be digital or hybrid elements?
Short answer: Yes! We want to hold onto some of the good things from the last year, including how digital events are more accessible to many people. There'll be more information closer to the time about what this will look like and how to get involved with the zine fest wherever you are!
You must have an account to send a message to the curator of this opportunity. Registering only takes a few moments. Once registered you'll be able to keep track of all of your submissions and get updates on upcoming opportunities.
Already have an account? You must log in to send this curator a message.
Subscribe to our newsletter
Get the latest CuratorSpace news, updates about new opportunities, upcoming deadlines, and art-related promotions.
Advertisement