HEXOPOLIS
Deadline: 10/04/2015 | Published: 27/02/2015 | Katya Robin
Report this?
This is a participatory art project about hexagons and cities. The remit is wide , you can interpret it as you choose. Media : 2D - drawing, painting, photography, text .... it's up to you. Just put the your idea on the Hexopolis sheet ( see below for download links) and submit it via Curator Space, deadline 10 April 2015.
HEXOPOLIS is an invented term, assembled from ancient Greek:
HEX meaning 6
-OPOLIS meaning city-state, run by bodies of citizens
Hexopolis is an evolving research and participatory art project. I am showing a selection of my research and interpretations at Pages at The Tetley, Leeds 7-22 March.  Come along to make hexagon love letters and hexaflexagons at the opening event (evening, Friday 6 March). I'm also opening up my research project for crowd-sourced ideas and contributions.
It's intended to be open and unprescriptive.  You can either print the downloadable sheet as a basis, or just draw a hexagon on whatever surface suits your idea best. It doesn't have to be a regular hexagon.  No need to send in your original, a photo or scan is fine.
It's about collecting and sharing ideas, different interpretations, and connections. It's a Hexopolis in itself: people freely contributing observations about hexagons and cities.
Contributions  may be selected for exhibition,  print or online publication.  Contributions will help shape how the project goes forward.
further details: www.Hexopolis.co.uk  
Hexopolis blog: www.disabilityartsonline.org.uk/katya-robin-blog
Contact the curator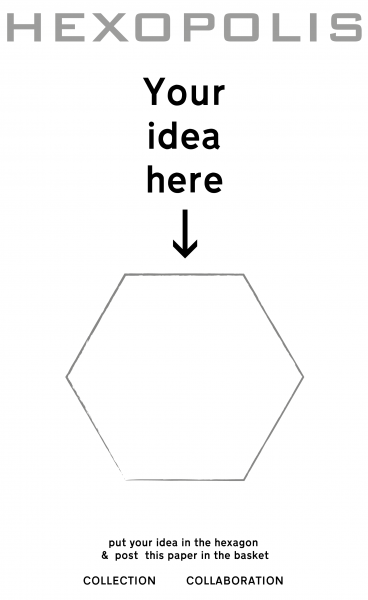 Who is eligible for this opportunity?
Open to all.
When is the deadline?
12 noon Friday 10 April
How many works can I submit?
3
How much does it cost?
Free
What happens if my proposal is chosen?
Your work may be included in exhibitions, publications or online display.
Contributions will help shape how the project goes forward.
What kind of proposals are you looking for?
Your observation or interpretation of hexagons in the city.
You must have an account to send a message to the curator of this opportunity. Registering only takes a few moments. Once registered you'll be able to keep track of all of your submissions and get updates on upcoming opportunities.
Already have an account? You must log in to send this curator a message.
Subscribe to our newsletter
Get the latest CuratorSpace news, updates about new opportunities, upcoming deadlines, and art-related promotions.
Advertisement