Call for Artists and Writers - Issue #6 - FEAST - Forget-Me-Not Press
Deadline: 15/10/2023 | Venue: Online | Country: Canada | Forget-Me-Not Press Team
Report this?
Issue #6 - FEAST. We are looking for artists and writers to respond to the theme of "FEAST" for our Autumn/Winter Issue at Forget-Me-Not Press. Submissions are open September 1st to October 15th, 2023.
As you begin to settle in for the long winter ahead, we ask you, how do you nourish yourself?

Covetous creatures by nature, what do we feast on as we prepare for months of barren and cold?

Are you waiting for the harvest to come in? Are you longing for warmth? Will the isolation drive you to excess? Will you give into cravings, or will you allow yourself to starve?

There are many things we use to sustain us in the cold and in the dark. Tell us a little about the joyful gatherings, of the sinful actions, of the feasts both sacred and sacrilegious. 

Take this theme and make it your own.

NOTE: For this issue, we are taking content warnings very seriously. Please be respectful of our team and their comfort levels and give us a warning for any graphic content.

This being said, we still do not accept gratuitous violent or sexual content for this publication. If you are unsure about the nature of your piece, it is always better to get in touch first.

Code of Conduct:

At Forget Me Not Press we believe that Writing and Art are for everyone and that the world can only be improved by the telling of different and unique stories.

We want the Press to be a safe space for all; those underrepresented in the arts, BIPOC and 2SLGBTQIA+ creators, and people with disabilities.

If you identify with any of these groups, please let us know (if you wish to) when you submit, or, where we can continue to improve in our work. We understand as two cisgendered white women that we have a responsibility to consistently reflect upon our process, product, and identity, for bias/prejudice that has been ingrained in us through privilege. 

We therefore want to make it clear that we have no interest in giving a platform to racism, sexism, misogyny, ableism, homophobia, transphobia, shaming (body or otherwise), plagiarism, misrepresentation, and purposeless or gratuitous physical or sexual violence.

All pieces that we feel engage with this sort of mentality will be dismissed and no response will be given.  

We would like to remind those interested in submitting that we will review everything submitted to us as being a part of your piece, including any social media or websites you submit to us. We do this because should your piece be published, we do not want anything you have submitted to cause our site, and everyone associated with it (our team and other contributors), to be flagged as promoting hateful content.

We understand that everyone has differing and complex opinions, and while you have the right to express them on your own private platforms, we also have the right to decide not to share it on our platform. If you ask us to promote anything that could be viewed as hateful content, we will reject the work altogether.

We are a Canadian press and we are bound by the Canadian Charter of Rights and Freedoms as well as the Ontario Human Rights Code, and therefore cannot promote, publish, or give a platform to anything that would indicate that we plan to discriminate against any protected groups.

With the Government of Canada particularly looking to turn online hate into a crime, we want to ensure we are doing everything in our power to help stop this spread. We want to be a welcoming community for all, but that in turn requires the same promise and respect from our contributors.

Please review the Code of Conduct carefully before submitting, and if you do not agree with it, please do not submit. 

We must also make it clear that any and all AI work will not be accepted. We are a Press that is dedicated to originality and creativity. We value it in ourselves and we value it in the artists and writers that submit to us. Work that is not your own will be rejected without a response. 

Fees and Payment:

At the current time, Forget Me Not Press runs on a volunteer base. Therefore we do not have the ability to pay the writers and artists that so kindly contribute to our Press.

It would be lovely if that was something we might be able to offer in the future, but right now, as we cannot do that, we do not feel comfortable asking for submission fees when we cannot pay back our contributors for their work.

If at any time this should change we shall be sure to make an announcement. 

General Guidelines 
1. Make sure your work fits the Issue's theme 
2. We accept previously unpublished work only, we do however accept simultaneous submissions. Please just let us know if during the submission period, your piece is accepted elsewhere and we will remove it from our pile. 
3. We ask for first-time digital publication rights. Your piece first and foremost belongs to you, however, we ask that you do not publish a piece we have accepted before it appears in Forget Me Not Press. Once it has been published, all rights will revert back to you as the artist/author. If your piece is published elsewhere in the future, we just ask that you credit Forget Me Not Press with its initial publication. 
4. Submissions should be one piece per document.
5. Please only submit to a Maximum of TWO Categories (ex. Poetry and Short Story)  
6. Please include any relevant content warnings in your submission. 
7. All submissions must include an updated CV.
8. Make sure your work is proofread and complete before submitting. We are a small team working on a volunteer basis and cannot accommodate large-scale edits. 
9. We cannot accommodate providing feedback right now. If your piece is turned down, please do not email our team asking for edits, or feedback beyond what may or may not be provided.  
10. We only accept work from creators 18 years of age or older.  
11. You are allowed to be published under a pseudonym, however, you must provide us with your real name upon submission.

Prose and Poetry Submissions 
1. Prose can include short stories, flash fiction, creative non-fiction, "poetic" prose, anecdotes, etc. We however are not looking for Criticism, Review, or Essays at this time. 
2. Please submit all written pieces via Word Document (you can export to Word Document format using Google Doc). We will not be accepting written pieces in PDF format.
3. Prose is a maximum of 6 pages. Poetry has no line limits.  
4. Only one piece of Prose is to be submitted per category per Submission Period.  
5. A maximum of 3 poems can be submitted per Submission Period. 
6. Please send work single-spaced.
7. If you have questions about formatting or categories your work may fit into, please do not hesitate to reach out and contact us. 

Art Submissions
1. If accepted, we will ask for hi-res versions of your work. 
2.  Links directly to works on professional portfolio sites may be submitted. 
3. Please no more than 3 submissions of Artwork per submission period.  However, you may include up to 5 images per work. 
4. Please include an Artist statement for each piece that is submitted. 
5. Please include the following information for each work submitted: Title, Artist(s) name, Medium, and Year the work was completed. 
6.  With your submission we would appreciate any links to websites, social media, etc. where your work is displayed.


Contact the curator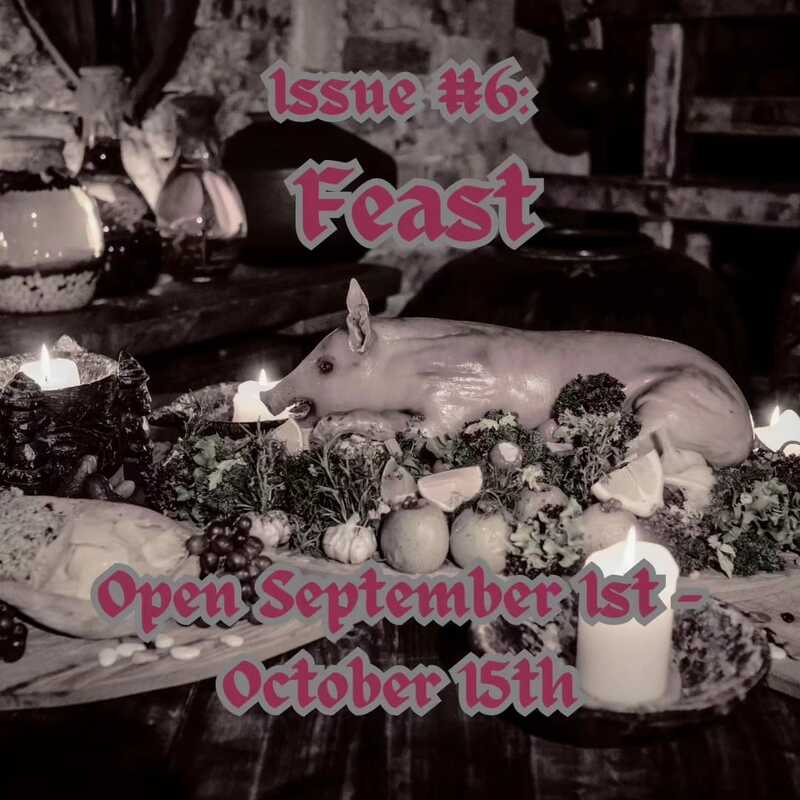 You must have an account to send a message to the curator of this opportunity. Registering only takes a few moments. Once registered you'll be able to keep track of all of your submissions and get updates on upcoming opportunities.
Already have an account? You must log in to send this curator a message.
Subscribe to our newsletter
Get the latest CuratorSpace news, updates about new opportunities, upcoming deadlines, and art-related promotions.
Advertisement