LINGERING MEMORIES
Deadline: 30/10/2023 | Venue: Fox Yard Studio | City: 6 Old Fox Yard, Stowmarket IP14 1AB | Region: Suffolk | Country: United Kingdom | Kevina Badoye
Report this?
OPEN CALL FOR ART EXHIBITION - "LINGERING MEMORIES"
Submission Deadline: 30th October 2023
Announcement: 1st November 2023, notification by email
Works drop-in: Tuesday 14th November, 11am-4pm
Private View: Friday 17th November 7-9pm
Exhibition dates: 17th November – 6th December 2023
Works collection: Thursday 7th December 2023, 11am-4pm 

Description:

LINGERING MEMORIES

Perception and memory are inextricably linked. Memory connects people, objects and events across time and place. Memories make you who you are: through the persistance of good, bad, happy, sad, nostalgic ones... Do you explore fading memories of your past, of people and events after the passage of time? How do you recall wanted and unwanted memories, and how do you reminisce them in your art practice?

Through this open call, we would like to see your creative approaches and insights when memories flow and wane, as you take a trip down memory lane. As an artist, how do you evoke memory in art?

Please make sure that you read through the submission guidelines and rules properly before submitting your work. Do also include a brief description of how your work relates to the theme of the exhibition.

Large wall work must not exceed 80cm x 100cm (to include any mount/frame).

3D work should have a maximum footprint of 70cm x 70cm x 100cm.

Images to send in
Please send clear photos of your artwork.
The images do not need to be high resolution, since it is only for us to decide if you have been accepted into the exhibition or not.

Acceptance into the exhibition
Successful applicants will be notified by email.
You will be added to the list of exhibitors which will be posted on social media.Please do not message us asking if you have been successful.
We cannot notify all artists who haven't been selected. You will know if you have been selected as we will contact you.
Artists are responsible for delivering or shipping their works to us by using reliable couriers to ensure a timely delivery. 


Costs (please note that the exhibit will last for nearly 3 weeks
£30 per selected artwork
As well as having a physical presence, all artworks will be featured online.


Who:
Artists at all levels. All mediums are accepted.
Contact the curator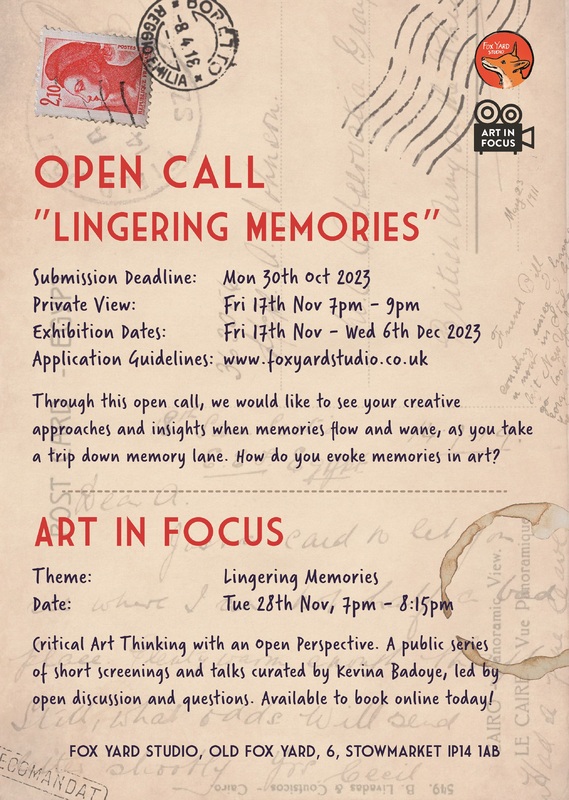 When is the deadline?
30th October 2023
How many works can I submit?
Up to ten works
When is the delivery date?
14th November, 11am-4pm
How much does it cost?
£30 per selected artwork
Is there a private view / opening?
Friday 17th November, 7-9pm
What publicity will be provided as part of the opportunity?
As well as having a physical presence, all artworks will be featured and promoted online via Instagram posts.
When is the collection of works after the art exhibition?
Thursday 7th December 2023, 11am-4pm
You must have an account to send a message to the curator of this opportunity. Registering only takes a few moments. Once registered you'll be able to keep track of all of your submissions and get updates on upcoming opportunities.
Already have an account? You must log in to send this curator a message.
Subscribe to our newsletter
Get the latest CuratorSpace news, updates about new opportunities, upcoming deadlines, and art-related promotions.
Advertisement