Notts Book Arts Fair 2022
Deadline: 31/07/2022 | Published: 23/06/2022 | Venue: St Leonards Community Centre, Wollaton, Nottingham, NG8 2AF | City: Nottingham | Region: Nottinghamshire | Country: United Kingdom | Jenny Stevenson
Report this?
Call for exhibitors to participate in the first Notts Book Arts Fair in Nottingham, a one day event to be held on October 8th 2022. We welcome applications from book artists, small presses and any other individuals or groups interested in participating in our one day fair. We're keen to represent a broad variety in book art and a balance of local participation alongside those from further afield.
The Notts Book Arts Fair is part of a wider programme of events including an exhibition, workshops and a school competition. This application is for the Book Fair only, other events will be announced separately. Notts Book Arts was founded by Hilke Kurzke and Jenny Stevenson to share our love of books as an art form. We saw a need to create more opportunities in the Midlands for book artists to meet, connect and establish new audiences as well as inspiring a new generation of book artists.  

There is no charge for submissions, but successful applicants will pay a fee for the stall which must be paid within two weeks of being accepted. There are options for; 
A full table (76cm x 182cm - £35)
Half table (90cm x 90cm - £20) 
Two half tables (two small tables pushed together, which is slightly bigger than a full table at 90 x 180cm - £37) 

Please specify which you'd prefer when completing your submission. You will be provided with 2 chairs per table and access to the kitchen facilities throughout the day. You are welcome to bring your own free-standing display boards etc. to set up behind your table and access to an electrical socket may be requested.

The event will be held in Wollaton, Nottingham at St Leonards Community Centre which is  right opposite the Library where we're holding the exhibition. It is on a busy bus route from Nottingham City Centre and has parking and places to eat in the village.

Important dates to remember: 
31/07/22 - Deadline for submissions
14/08/22 - Applicants will be informed
08/10/22 - Day of the event, 11-5pm (set up from 9am)

Before submitting your application, please read the 'Opportunity FAQs' section for full details and requirements for this event.

By entering you give us permission to use any uploaded image for publicity.

We look forward to receiving your submission. Please don't hesitate to contact us if you require any further information or have any questions.
Contact the curator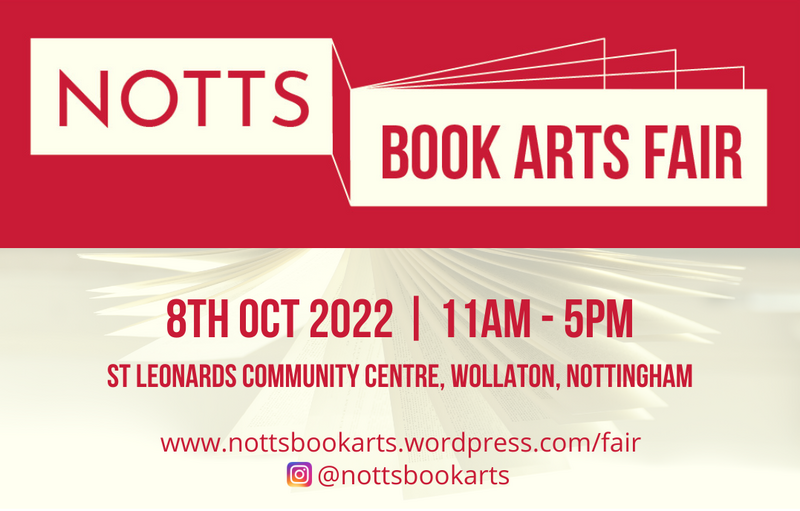 Who is eligible for this opportunity?
This opportunity is for Individuals or Collectives. Open to professional and amateur book artists, publishers and artists inspired by the book form.
When is the deadline?
Submission deadline is Sunday 31st July 2022.
How much does it cost?
There is no fee to submit your application. You will be asked to pay a fee of £35 per full table if accepted (£20 for a half table, £36/£38 for two half tables), payable once you have received notification of your inclusion in the fair. The exhibitors fee goes towards covering costs of the venue, promotion, advertising and more. Your contribution helps to keep Notts Book Arts running and growing.
Are there payments to artists?
No but you will be able to sell your work at the Fair. We take no commission on sales of artists' work so the price you charge for your work will be the price you receive.
What is the date and times for the fair?
The fair is being held on Oct 8th 2022, 11am - 5pm. You should bring your work with you on the day. Artists are required to arrive at the venue between 9 -11am on Saturday morning ensuring enough time to set up for an 11am and to only start packing away after 5pm.
Is there parking and space to unload/load?
There is limited parking at the venue and further details of available streets for parking nearby will be supplied in the welcome pack once you have been accepted.
Does the location have disabled access?
There is level access at both the front and rear of the building, there are also disabled toilets. For more detailed information feel free to contact us.
What publicity will be provided as part of the opportunity?
We will advertise on social media through CuratorSpace, book arts related newsgroups, mailing lists, newsletters and the local press.
We will be promoting the event on all our social media platforms, website and database and ask that you also share online. Advertisements will be run locally and distributed across our networks and local area.
Artists will be required to allow images of their work to be displayed on the Notts Book Arts website, Facebook page, instagram, fair catalogue and any other public forum deemed necessary for communication, publicity and marketing purposes.
Do I need to be present?
Yes, you or a representative from your group, will be required to attend the fair and oversee your work for the whole day event. Artists/groups are responsible for setting up/hanging/displaying their own work and will be allocated a space on arrival at the venue. Your stall will not be supervised by anyone else and it's your responsibility to make sure there is someone to watch your stall if you're not present.
What can I sell?
Artists books in a wide interpretation of the term including blank journals if they are handmade and commercially reproduced books as long as they contain your original artwork. Altered books, fine press, letterpress. Please let us know what kind of books you are selling in the artist statement.
How do you decide on proposals?
As a team we will select artists/groups based on aesthetics, technical skills, concepts and originality. We're keen to represent a broad variety in book art and a good balance of local participation alongside those from further afield. Please ensure you provide good images and information about your work. All selection decisions are final and notification of acceptance will be made through CuratorSpace.
What happens if my proposal is chosen?
You will be sent a message of acceptance and a request to pay the full fee no later than two weeks after accepting to protect your space. You will be sent guidelines for the event and the day.
What are the sizes of the tables?
Tables are standard trestles and you will be provided with up to 2 chairs per table. The table sizes are L182 x W76cm for a full table and 90cm x 90cm for a half table.
Do you provide insurance?
Items at the fair are not insured by us and you are advised to insure your work. Artists are required to arrange their own public Liability insurance.
You must have an account to send a message to the curator of this opportunity. Registering only takes a few moments. Once registered you'll be able to keep track of all of your submissions and get updates on upcoming opportunities.
Already have an account? You must log in to send this curator a message.
Subscribe to our newsletter
Get the latest CuratorSpace news, updates about new opportunities, upcoming deadlines, and art-related promotions.
Advertisement