Online/book exhibition - Open Call DEADLINE EXTENDED
Deadline: 16/08/2020 | Published: 30/07/2020 | Alana Lindsay
Report this?
Open to all artists at any stage of their career. Online/book exhibition. No restrictions on size or medium. Small submission fee to cover book printing, excess is donated to an animal sanctuary
Artist call out: OBSCURUM

Online/book exhibition run by graduate artists.
Deadline to submit: 16 August 
Exhibition runs from 17th - 31st
£3 submission fee to cover printing and shipment to the selected artists. Excess is donated to charity.

Open call for artwork of any kind, no restrictions on themes or medium. Selected artists will be featured on an artist instagram feature page (@darkcollectiveuk) and on a website, which will launch on the 20th August 

Artists work will be put together to create a booklet which will be mailed to all selected artists as a documentation of the exhibition. 

Selected artworks are able to be put up for sale if the artist so wishes, however this is purely between artist and buyer. Curator and DarkCollectiveUK have no liability or responsibility with the purchasing or shipment of artwork. 

There is a small £3 submission fee to cover the cost of printing the booklet, any excess submission fees will be donated to an animal sanctuary in the south west of England. If you wish to donate more to the sanctuary, you may add the amount to the submission fee (your extended donation won't go towards to printing but directly to the sanctuary). Sadly if we don't receive the submissions fee we can not consider your application.

HOW TO SUBMIT  (via CuratorSpace)
High quality image of the artwork you wish to submit 
Your artist statement 
Description of the piece 
Title 
Size 
Medium 
Social media 
Contact details and price (if your work is for sale)
A screen shot of the submission fee receipt made via PAYPAL 
PayPal payment to be made to: obscurumsubmissions@gmail.com

SUBMISSION IS NON REFUNDABLE. Submission fees cover the cost to run this project and will be a donation to charity. 
Contact curator for further enquires. 
Curated by: Alana Lindsay (instagram - @lindsay.a.art)
Hosted by: The Dark Collective (instagram - @darkcollectiveuk)


Contact the curator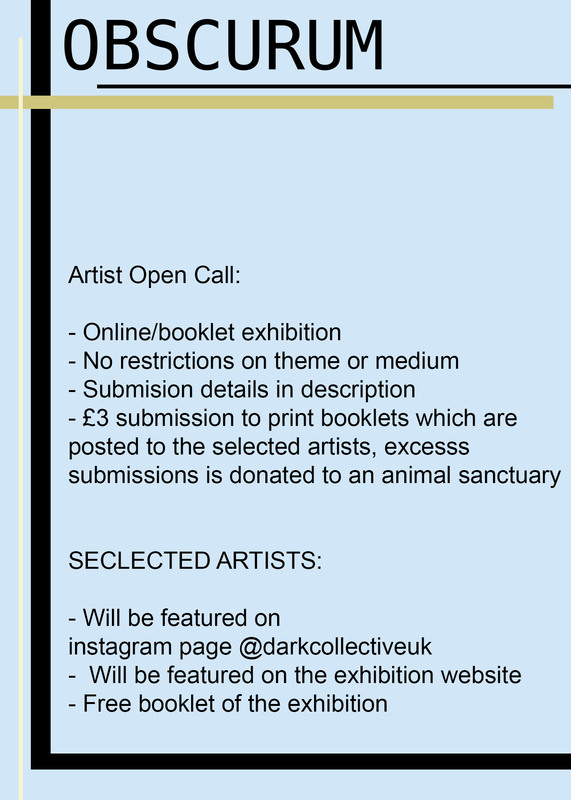 Who is eligible for this opportunity?
Anyone
When is the deadline?
16th August
How many works can I submit?
One
How much does it cost?
£3 to submit to cover the cost of printing, excess fees are donated to an animal sanctuary
Are there payments to artists?
No
How do you decide on proposals?
The curator will select works that I feel go well together, these works will be short listed and presented to the darkcollective team to help with the final selection process
What happens if my proposal is chosen?
You will be emailed if you've been successful, if we require any missing information you'll be contacted again. Once the exhibition launches you will be emailed with the website and asked if you would like a copy of the book.
You must have an account to send a message to the curator of this opportunity. Registering only takes a few moments. Once registered you'll be able to keep track of all of your submissions and get updates on upcoming opportunities.
Already have an account? You must log in to send this curator a message.
Subscribe to our newsletter
Get the latest CuratorSpace news, updates about new opportunities, upcoming deadlines, and art-related promotions.
Advertisement