Open Call: Fibres
Deadline: 04/02/2023 | Venue: AIR Gallery | City: Altrincham | Country: United Kingdom | Rebecca Wild
Report this?
Seeking artistic responses to the theme of Fibres; works exploring textiles and/or technology.
Please send a separate submission for each artwork.

Textile making traditions spans global cultures as one of the earliest human technologies. It has been a staple in industry, fashion, craft and decorative arts throughout the ages but it particularly made a resurgence in the 1960s back into the contemporary art world. Since then Fibre and textile arts have been developing new forms and language -becoming more conceptual and cross-disciplinary, even into this digital age.

We're are seeking works that explore (but are not limited to) the following areas:
Textiles (Fibre art, Ecology, Upcycling, Craft, Natural vs Synthetic materials, Traditional vs contemporary methods of making, Materiality, Cross-disciplinary art)

Technology (Fibre optics, making and machinery of modern textiles, video/film, animation, VR, 3D printing, digital responses to textiles and fibres)
We are particularly interested in works that cross over between the two but this is not essential. Works can explore their own themes but there must have a link to the idea of textiles, materiality or fibres in some form.

This will accumulate in a group exhibition that will explore the the relationship between textiles and technology; between the ecology and the digital that will take place in March 2023.

£5 per piece to enter. Deadline to apply: 4th Feb 2023
Submission fees
The following submission fees apply to this opportunity.
Entry Fee- 1 work - 5.00 GBP
Entry Fee 2 works - 10.00 GBP
entry fee 3 works - 15.00 GBP
The appropriate fee will be payable using a debit or credit card after the first submission has been completed. If the submission fee allows you to submit more than once, you will be able to make further submissions after the first. Contact the curator if you have any questions about the opportunity or the submission fee, or email help@curatorspace.com if you have any questions about the payment process.
Contact the curator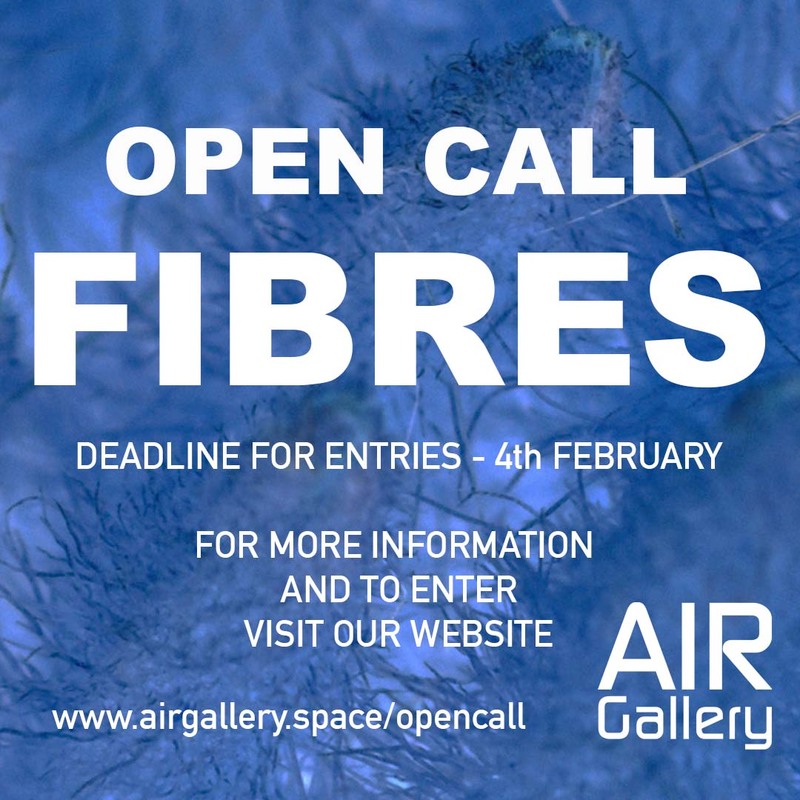 Who is eligible for this opportunity?
Any artist. This is open to local, national and international artists. No age restrictions.
When is the deadline?
4th Feb 2023
How many works can I submit?
up to 3 works
When is the delivery date?
15th Feb - 4th March 2023
When do I need to collect my work?
After the 10th April 2023
How much does it cost?
£5 per work
Is there a private view / opening?
16th March 2023 6pm-10pm
What are the exhibition opening hours?
Wed-Fri 11-6 and Sat 12-5
Does the location have disabled access?
Yes
What publicity will be provided as part of the opportunity?
Each artist will be featured on social media during the exhibition, and in all physical publicity
Do I need to be present?
Artist do not need to be present, but are encourage to attend the P.V
How do you decide on proposals?
Link to the theme, concept, originality, technical skill and feasibility.
What happens if my proposal is chosen?
You will be contacted shortly after the deadline with details outlining what happens next.
What kind of proposals are you looking for?
Proposals exploring the theme of textiles and technology
You must have an account to send a message to the curator of this opportunity. Registering only takes a few moments. Once registered you'll be able to keep track of all of your submissions and get updates on upcoming opportunities.
Already have an account? You must log in to send this curator a message.
Subscribe to our newsletter
Get the latest CuratorSpace news, updates about new opportunities, upcoming deadlines, and art-related promotions.
Advertisement