Open Call for Submissions to Cooltzine vol.4 (collaboratively created zine)
Deadline: 04/12/2020 | Published: 11/11/2020 | Cooltsalon
Report this?
Cooltsalon invites submissions for the 4th collaboratively created zine, "Cooltzine", where each page is done by different creatives, professional or amateur, as visual interpretation to the set annual theme. The 2021 theme is "Future Now".
The zine was born in 2018, curated by Cooltsalon as an accessible exposure platform for both professional and amateur visual storytellers. It is now a tradition that "Cooltzine", the zine, is unveiled during "Cooltzine" the international event, taking place in May, across Belgrade, London and Sofia, as core cities, plus additional hosting partners. 

Final selection of co-creators for vol.4 will be done with the participation of event's co-curators iksvy art and an international selection committee (members TBA in January via Cooltsalon social media channels)

2021 Theme - "Future Now":
Where 2020 presented a collective challenge and posed shifts in the established models, rendering future planning both obsolete and even more necessary than before, we ask what does "going forward" mean now? Can one build while in a state of flux? Or is it a state of suspense and waiting, while the present is the only mode available? 

How to submit:
Please submit your visual interpretation of what "Future Now" means to you. To participate in the Open Call, please work with the downloadable page template (with the correct zine dimensions) NOTE: the template is portrait, but you are welcome to fit your work in landscape (page to be rotated when viewed)

Deadline for submissions: 4 December 2020, 23:59 GMT. 

If your page proposal is successful, you will be asked to send in the work in print-ready resolution, e.g. 300 dpi. 
Contact the curator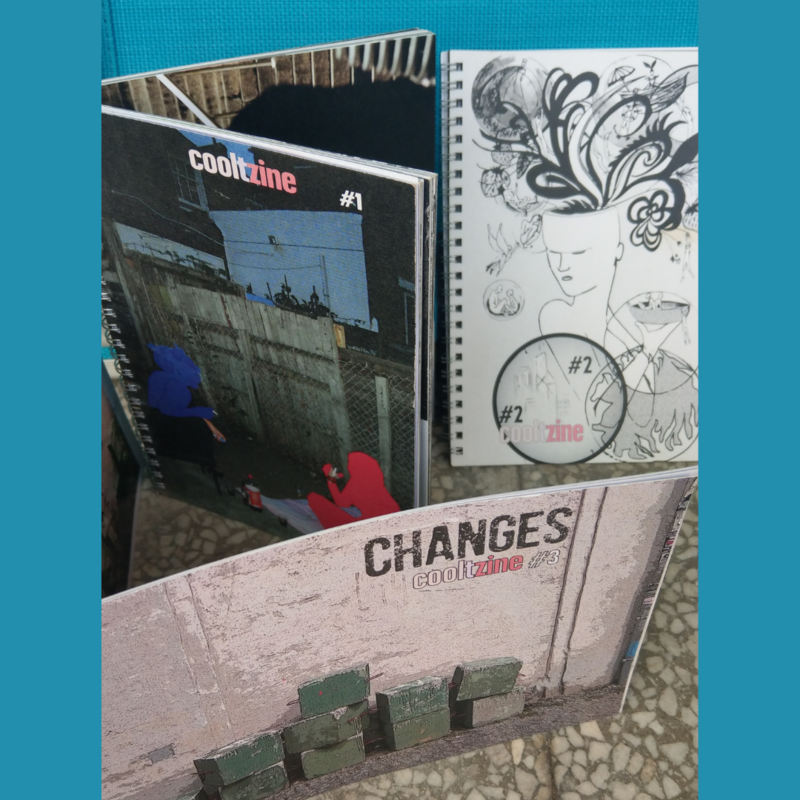 Who is eligible for this opportunity?
Everyone.
When is the deadline?
4 December 2020, 23:59 GMT
How many works can I submit?
1
When is the delivery date?
If your page proposal is accepted, you will be contacted separately about delivering a file in print-ready resolution, e.g. 300 dpi
How much does it cost?
Free to submit.
Are there payments to artists?
No.
Is there a private view / opening?
The zine is presented during the international event of the same name, taking place in May since 2018. The fourth edition is scheduled for 15 and 16 May 2021, but full details will be provided in due course. (and format pending on Covid-19 related restrictions at the time)
What are the exhibition opening hours?
TBA
Does the location have disabled access?
TBA
What publicity will be provided as part of the opportunity?
All selected zine co-creators receive profile spotlight on Facebook, Instagram and a dedicated "Cooltzine vol.4" page on our website, as well as mentions in social media posts by our partners, iksvy art.
Do I need to be present?
If the zine presentation can go ahead with hosting venue partners, then it depends whether you are based in or nearby any of the participating cities. Details TBA.
In general, we always welcome the presence of our collaborators and encourage it as a networking opportunity.
Where will my venue be listed?
All details will be listed on Cooltsalon's social media channels and website, in due course.
How do you decide on proposals?
Initial selection is done by Cooltsalon's curatorial team. Final selection will be done with the participation of iksvy art and an international selection committee, its members TBA in January.
What happens if my proposal is chosen?
You become the author of one of the pages in "Cooltzine" vol.4.
Your work is seen in print (in the zine) and online (promotional profile).
What kind of proposals are you looking for?
A visual interpretation of the 2021 theme "Future Now", as outlined in the open call. Show us how you would "translate" the idea of "Future Now" on paper.
It could be new work, created specifically in response to the Open call, or a pre-existing one, which you feel fits the theme in some way (please don't forget to tell us how & why)
Previous zine pages have been created from works in various visual media: photography, illustration, collage, or even written text.
What are the selection criteria?
The work has to be a response to "Future Now" theme, with a statement that showcases a direct link to the this subject. The proposed page entry needs to be something that could be reproduced in print - if your work is video, please select a still that you think could work well as a zine page.
We especially encourage submissions from creators based in the event-participating countries (Serbia, Bulgaria, UK) for the opportunity to attend the zine launch in person, but your geographic location doesn't actually matter.
You must have an account to send a message to the curator of this opportunity. Registering only takes a few moments. Once registered you'll be able to keep track of all of your submissions and get updates on upcoming opportunities.
Already have an account? You must log in to send this curator a message.
Subscribe to our newsletter
Get the latest CuratorSpace news, updates about new opportunities, upcoming deadlines, and art-related promotions.
Advertisement