Open Call for written pieces - Haus a rest - issue 30 - theme "Boundaries"
Deadline: 07/10/2022 | Published: 08/09/2022 | Jenna Fox
Report this?
We are looking for a creative response on the topic of "boundaries" for inclusion in the on-line art zine and social media space www.haus-a-rest.com
Physical or mental? Chosen or enforced? Are they used as a form of protection or as a way to keep things out or as a social construct and how do we identify ourselves and ensure our physical and mental protection?

What are the political, social, and economic definitions, and are they a necessary part of life? How are boundaries approached by different cultures and by the neurodiverse? Are the boundaries we are set by an authority set to protect or bind us?

One word that has so many meanings and connotations.

We cannot wait to see how your creative response through words to tackles this topic.

You will need to submit:
1) Three lines of text to explain your piece,  links to your social media or website, showing past work.
3) Your Instagram name so we can tag you. (if your Instagram account is set to private we cannot accept your submission).
We accept short films, spoken word, and text-based pieces.  Please provide a Vimeo or Youtube link and one still.  

No covid-related work, please!

Your work will not be accepted if you do not provide all of the requested items. If accepted your work will be featured in the Zine, Instagram, and FB for a least one month, and very likely for several.

Follow us on:
Instagram: @haus_a_rest
https://www.facebook.com/haus.a.rest
https://haus-a-rest.com
Twitter: @Haus_a_rest
Contact the curator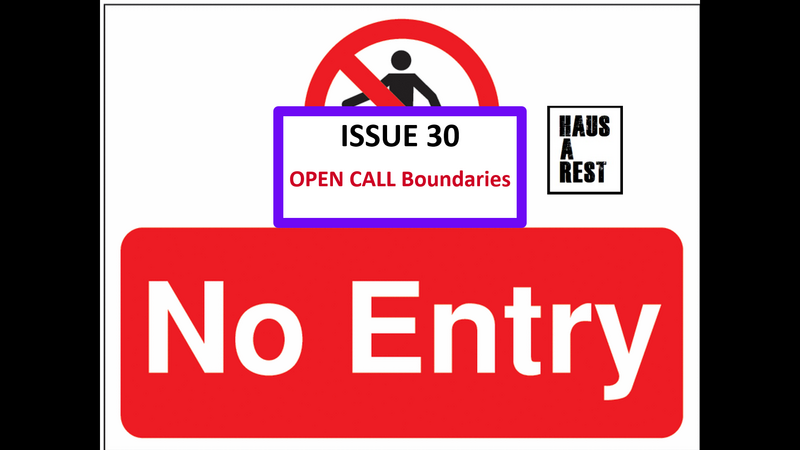 You must have an account to send a message to the curator of this opportunity. Registering only takes a few moments. Once registered you'll be able to keep track of all of your submissions and get updates on upcoming opportunities.
Already have an account? You must log in to send this curator a message.
Subscribe to our newsletter
Get the latest CuratorSpace news, updates about new opportunities, upcoming deadlines, and art-related promotions.
Advertisement