POST: 'Birds of a Feather Don't Always Flock Together'. A collaborative narrative.
Deadline: 29/11/2020 | Published: 27/09/2020 | City: Online Platform | Country: United Kingdom | Lucy Sharpe
Report this?
POST is a text-based platform, hosting the words, notes and reflections of artists and members of the creative community, to form a collaborative narrative.
[The current narrative being formed collectively is titled:]


"Birds of a Feather Don't Always Flock Together"
During a period of global pandemic isolation, Zoom yoga, intensive baking, racial movements and the potential of four more years of dusty orange men, who are the unlikely allegiances you have made? The people who have kept you grounded, sane or made you want to shout up, scream or dance? Who or what has surprised you? Who are your people now? What have you lost to this new way of living, what have you gained? How has your identity changed forever in ways you hadn't anticipated during this intense period of momentum meets still, and who has it been by?

This feed is guest curated by Lissi Simpson. Simpson is a director, writer and designer who walks the line. In ethnicity, sexuality and whether she's into spicy food or not. Her sense of identity moves like a body of water: from white mothers to black fathers, dating girls to dating boys and all the questions this walking the line brings. As such, her work often navigates the theme of finding an identity, and how that identity changes over time; whether it is completely individual or intensely collective. She is curious about our constant need for a home, yet constant demand to find more than what we'd previously settled for.
-----------------------------------------------------
We hope to receive your submissions. Thank you to everyone who has participated in POST to date. The feed started on the 19th April 2020, titled 'Notes from lockdown'. With the subsequent themes 'A new canon' and 'No is okay' (guest curated by Christian Watts), our narrative continues to grow. 54 creatives have contributed 202 posts to date.

Each month, the POST platform refreshes and hosts a different live feed, the themes of which are given as a loose seed for thought, and are open to your interpretation. 
-----------------------------------------------------
POST is curated by Lucy Sharpe (@lucy_h_sharpe). To keep the platform evolving, thoughts and feedback on the project are always welcome. POST is a web platform primarily. Whilst we don't have a social media profile, tag us on #postproject so we can stay connected.


Contact the curator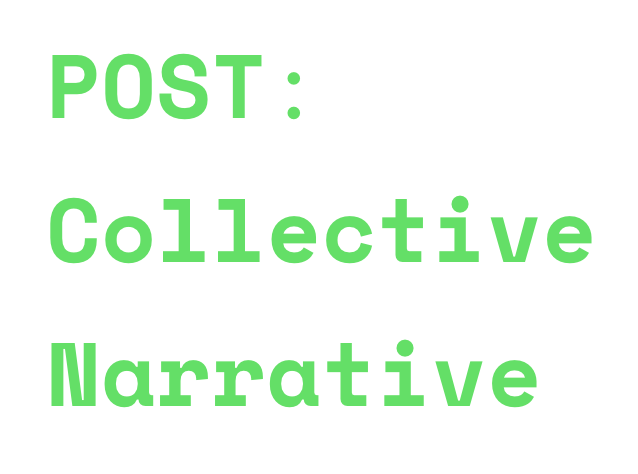 Who is eligible for this opportunity?
This project is for those who may be looking for: a process of noting and documenting how their everyday is changing / an additional or replacement form of creativity to social channels / connection to a wider community / an alternative activity to add to their routine / participation in a creative project without pressure and overexertion / an outlet for creative expression.
When is the deadline?
The current feed 'Birds of a Feather Don't Always Flock Together' will be archived on the 29th November 2020 and a new feed will then be started under a new title.
How many works can I submit?
You can submit as many entries as you wish during the course of the project. There is no word count limit for entries and they are posted anonymously.
How much does it cost?
It is free to participate in this project.
Are there payments to artists?
There are no payments to artists.
What publicity will be provided as part of the opportunity?
POST is a web platform primarily. Whilst we don't have a social media profile, we are using the Instagram tag #postproject so we can stay connected.
What are the selection criteria?
All posts are moderated before publishing. As a platform, POST is run as a safe space and endeavours to champion inclusivity and anti-racism at every opportunity. In the unlikely event that we are unable to publish your text, you will be contacted regarding your submission to discuss options.
You must have an account to send a message to the curator of this opportunity. Registering only takes a few moments. Once registered you'll be able to keep track of all of your submissions and get updates on upcoming opportunities.
Already have an account? You must log in to send this curator a message.
Subscribe to our newsletter
Get the latest CuratorSpace news, updates about new opportunities, upcoming deadlines, and art-related promotions.
Advertisement