Year-long Creative Project and Exhibition Opportunity for Yorkshire Based Artists
Deadline: 12/10/2020 | Published: 02/07/2020 | City: Leeds | Region: West Yorkshire | Country: United Kingdom | Aire Place Studios
Report this?
We are looking for Yorkshire Based Artists and Creatives to take part in an interactive travelling exhibition in the form of a curated collection of postcards. We are looking for 30 creatives to design a postcard with their own work and message on the reverse, and return this via post to Aire Place Studios.
All postcards will be showcased in an online gallery as well as curated as a physical exhibition at Aire Place Studios after social distancing rules are relaxed. If successful you will receive a pack of 16 postcards; this includes the work of 15 artists already chosen by us, and one blank with a stamp and pre-written address to be sent back to us as your submission.

If we are able to raise the funds to do so, we aim to give those who take part a limited edition book that documents the full collection of postcards from all 45 artists involved: funds would be raised via auction of the work. Ideally we would be able to print enough copies for all the artists involved, as well as providing copies to local libraries and community groups where possible.

This will be an amazing year-long creative project; a piece of history which will build up amazing momentum for the exhibition opening next year. To apply for this opportunity please send your artists' bio (max. 200 words) as well as 2 examples of recent work for consideration. 

Our project idea centres around community engagement and creativity during these challenging and unprecedented times, in which many creative practitioners are struggling with the financial and practical implications surrounding COVID-19. This process of creative documentation and community engagement appeals to us as a means of cataloguing our community's thoughts and fears, messages of hope, and general experiences at this significant point in our history.

We have specifically chosen to communicate the project and its responses through postcards because of their tangible form, in a time where the world has become increasingly reliant on virtual, two-dimensional connections. The postcard as a souvenir of an experience, a communication tool, and as a memoir of our connections with the physical world echoes our intention to document and archive. 

This project is funded by Leeds Inspired. Leeds Inspired is part of the city's cultural programme that celebrates arts events and projects throughout the year, supporting high quality, accessible cultural experiences for Leeds' residents and visitors. Founded in 2012, Leeds Inspired supports culture in the city through grants schemes, commissions and a 'What's On' events website. Leeds Inspired is part of Leeds City Council. www.leedsinspired.co.uk

Aire Place Studios is a not-for-profit, Leeds-based Creative Studio. We provide exhibition opportunities, low cost workspaces as well as a Community Hub which focuses on giving a platform to artists and creatives who wouldn't traditionally have had such opportunities. Aire Place Studios is a predominantly volunteer- and member-led creative studio and community interest company, which focuses on using any profit for a purpose. We are not just a company, we are a community – made up of 50 members including artists, musicians, writers, and small business owners who use our studios as their workspace day-to-day.


Contact the curator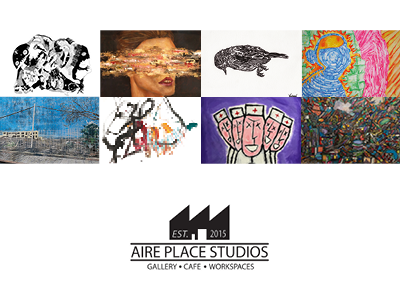 Who is eligible for this opportunity?
Any Artist in Yorkshire
How many works can I submit?
2 examples of recent work for consideration
How much does it cost?
Free.
Is there a private view / opening?
Yes to be confirmed for 2021.
You must have an account to send a message to the curator of this opportunity. Registering only takes a few moments. Once registered you'll be able to keep track of all of your submissions and get updates on upcoming opportunities.
Already have an account? You must log in to send this curator a message.
Subscribe to our newsletter
Get the latest CuratorSpace news, updates about new opportunities, upcoming deadlines, and art-related promotions.
Advertisement