Private View - Mini Interview Instagram Features - Open Call for Femxle Artists
Deadline: 06/03/2022 | Damaris Athene
Report this?
Private View is an interview blog and Instagram platform founded by artist Damaris Athene, focusing solely on femxle artists.
We are looking for femxle artists for a series of mini interview Instagram features. The mini interviews are conducted over email and consist of three questions with three answers for each, images of your work, and an image of you. You can view previous mini interviews on our Instagram page here. 

We are interested in discovering new femxle artists outside of our current networks. We are especially interested in those who identify as BIPOC, LGBTQIA+, D/deaf and/or disabled. 

This opportunity is open to all femxle artists, over the age of 18, based anywhere in the world. 

View the long-form interviews on the blog here. 

Please use the 'Contact Curator' function if you have any questions. If you need to make your submission in a different format, please get in touch.

We look forward to going through your submissions! 
Contact the curator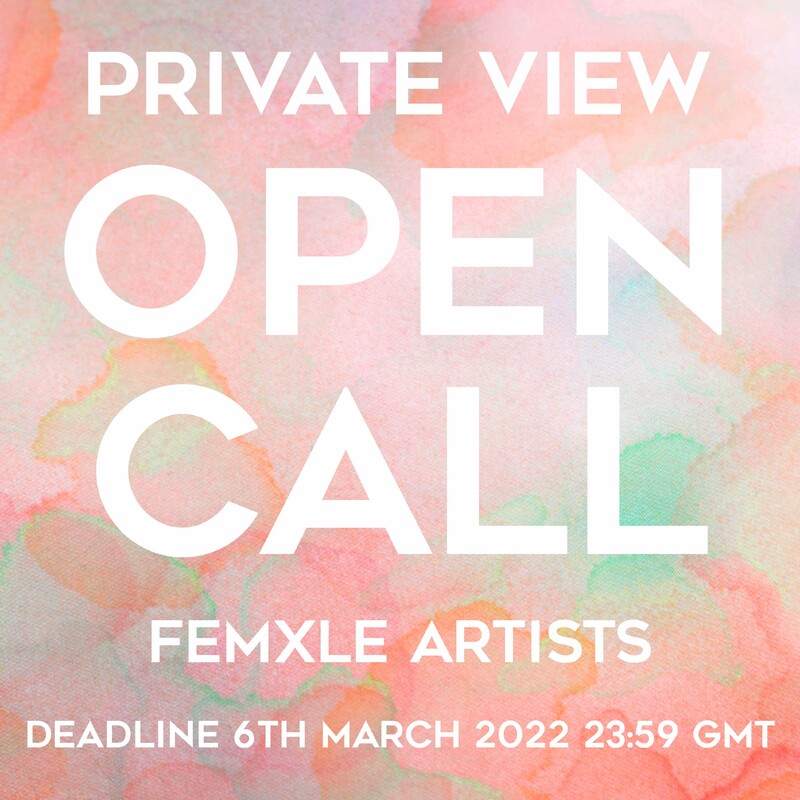 Who is eligible for this opportunity?
All femxle artists over the age of 18. The mini interview is done remotely so you can be based anywhere in the world.
When is the deadline?
Sunday 6th March 2022 at 23:59 GMT/UTC (UK time).
How many works can I submit?
5
How much does it cost?
It's FREE to enter and participate.
Are there payments to artists?
Unfortunately we're unable to offer any payments to artists. We do not make any money from the interviews and we are giving our time for free.
How do you decide on proposals?
We decide on proposals based on the artwork you submit. Does it speak to us? If so, you're in! We do not make decisions based on how much you've exhibited or where you studied, but we do want people who are committed to their art practice.
What happens if I'm selected?
We'll let everyone know their outcome via the CuratorSpace messaging platform. Make sure you've got your notifications switched on so you don't miss it!
Do I need an Instagram account to submit?
Yes! Your mini interview will be an Instagram feature so it's essential you have an Instagram account.
I applied to your last open call but wasn't successful, can I apply again?
Yes you can, but make sure you're applying with different work. We don't want you to waste your time.
I was selected for an Instagram feature after your last open call, can I apply again?
Not this time, but we will be doing more open calls in the future which you will be eligible for. Follow our Instagram @private.view.blog to keep up to date.
Will you be running an open call for long-form interviews again in the future?
Yes, we will be later in 2022. Follow our Instagram @private.view.blog to keep up to date.
You must have an account to send a message to the curator of this opportunity. Registering only takes a few moments. Once registered you'll be able to keep track of all of your submissions and get updates on upcoming opportunities.
Already have an account? You must log in to send this curator a message.
Subscribe to our newsletter
Get the latest CuratorSpace news, updates about new opportunities, upcoming deadlines, and art-related promotions.
Advertisement