Queer Practices / Queer Embodiment
Deadline: 15/09/2021 | Published: 17/08/2021 | Venue: online | City: Berlin | Country: Germany | Andrea Rimon
Report this?
Queer Practices / Queer Embodiment is a virtual transdisciplinary conference that aims to bring together artists, theorists, and practitioners. We are looking for art that is by queer artists and that can be exhibited online.
'Queer Practices / Queer Embodiment' is a virtual transdisciplinary conference that aims to bring together artists, theorists, and practitioners. The conference continues our work of building a community that is focused on intentionally developing bodily practices. We want our space to be a place for political growth and experimentation using all the materials that bodywork, sex education, and cultural inquiry can provide.

The conference will take place online in order to engage a broad, international audience that may be familiar with sex-positive culture, but that is not necessarily attuned to the wider set of political issues such topics often touch upon. We want to put together a conference that will be open to the public and focus on fostering challenging yet accessible conversation. 

We are looking for pieces to be submitted to the asynchronous exhibit space that will run parallel to the conference presentations. A conference slot will be dedicated to discussion of the materials in the exhibition space and dedicated space will be made for their discussion in the conference hub.  We are open to all forms of artistic production that engage with queer practices and queer embodiment.

This includes:
Games
Video
Music
Visual Art 
Video essays 

We invite artists, scholars, and practitioners from all backgrounds to submit material. Some topics or themes that may be relevant: 
Ageing
Sex
BDSM
Care work
Sex work
Reproductive Labor
Physical Expression
Transition 
Pedagogy 
Translation 


Organizers & Venue: 
Queer Practices / Queer Embodiment will be organized by a  collaborative team consisting of Karada House in Berlin (a queer art/research space), Andrea Rimon (an intimacy choreographer and movement artist) and Georg Barkas (a tying and sexuality educator). The conference will be free and open to the public. Talks will be given on Zoom and all other material will be hosted through Karada House's conference hub.  

Submissions & important dates:
Submissions will be accepted on a rolling basis. The deadline for this call for submissions is 15 September 2021.  
Contact the curator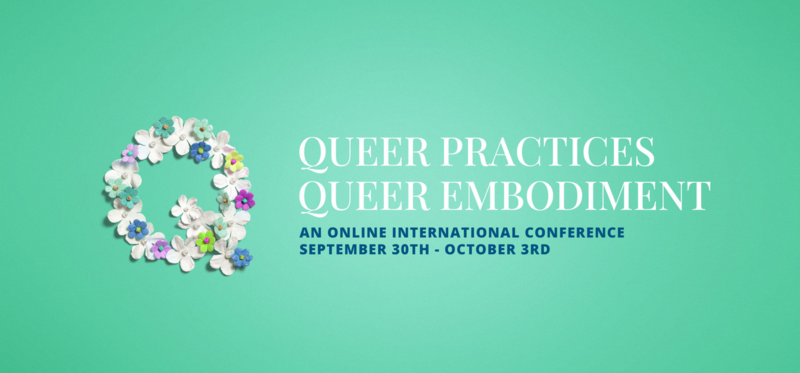 Who is eligible for this opportunity?
Artists who identify as queer and/or trans
When is the deadline?
09/15/2021
How many works can I submit?
As many as you would like
When is the delivery date?
09/20/2021
How much does it cost?
Free
Are there payments to artists?
No
Do I need to be present?
No
Where will my venue be listed?
The Karada House Website and social media pages.
What happens if my proposal is chosen?
You will be contacted to arrange exhibiting your work.
You must have an account to send a message to the curator of this opportunity. Registering only takes a few moments. Once registered you'll be able to keep track of all of your submissions and get updates on upcoming opportunities.
Already have an account? You must log in to send this curator a message.
Subscribe to our newsletter
Get the latest CuratorSpace news, updates about new opportunities, upcoming deadlines, and art-related promotions.
Advertisement