Exhibit Here
About us
Whether you're an artist looking to exhibit, a serious collector or simply an art fanatic who enjoys being in the presence of art, Exhibit Here is passionate about bringing art and people together. 
Our mission is to make art accessible to all whilst providing amazing opportunities for artists.  
Our story...
Exhibit Here's very first exhibition took place in February 2014 in a disused Santander bank located in Harrow, featuring just fifteen artists. The space was a little rough around the edges, but the artworks breathed new life into it and gave it soul. This exhibition proved to be a fantastic launch pad for Exhibit Here and the beginning of what was set to become an exciting journey.
Fast forward ten years and nineteen exhibitions later, Exhibit Here has become a leading arts organisation in London, which prides itself on providing the best exhibition opportunities for artists and visitors alike. Having proudly curated multiple large-scale exhibitions at venues such as the Menier Gallery, La Galleria Pall Mall and Bargehouse Oxo Tower Wharf, we continue to grow, and to mark this, plan to launch Exhibit Here's first art fair in Spring 2024. 
Meet the Founder
Leila Bibizadeh
FOUNDER, DIRECTOR AND CURATOR
Leila Bibizadeh is of dual heritage, English and Iranian. She graduated from the University of East London with a degree in Fine Art in 2008. Prior to founding Exhibit Here she exhibited her work extensively across the UK, including at the Saatchi Gallery, Mall Galleries, Bankside Gallery, O2 Arena and Oxford Street's John Lewis. She specialises in wildlife painting and enjoys photographing nature, specifically Florida.
What inspired the idea for Exhibit Here?
"Before founding Exhibit Here in 2013, I volunteered for a non-profit organisation called Somewhereto_ and co-managed a live graffiti event in Crystal Palace Park, this was my first taste of event management, and I loved it! Then, by chance in 2014, I came across a company called Moderna Art, who were searching for artists to take over empty Santander banks and offices across the UK for the purpose of curating exhibitions, and I was lucky enough to be selected as their London representative. Throughout 2014, I organised multiple exhibitions learning and refining the skills of a curator and in 2015, I decided to take a leap of faith and hire my first venue, which was the Menier Gallery, this turned out to be a great success and the rest is history, I was hooked on curating!
As an artist and an entrepreneur, I am a firm believer in creating your own opportunities as I know how difficult it can be to fight to have your work seen in the competitive world of art, which also spurred me to set up Exhibit Here. 
I have a deep understanding for all forms of art, and I love showcasing the work of other artists and watching them shine. It is my passion to provide the best opportunities for artists and the exhibitions I curate are always meticulously thought out as I take great pride in ensuring the artworks are displayed in a way that creates the maximum effect, whilst creating an exhibition experience that visitors will also enjoy and remember."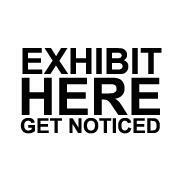 Current opportunities
CALL FOR ENTRIES: Art Maze Exhibition, Bargehouse Oxo Tower Wharf, London, 13 - 17 December 2023

Deadline: 26/11/2023 | Venue: Bargehouse | City: South Bank | Region: London | Country: United Kingdom | Exhibit Here

If you're looking for an unconventional, raw, and edgy space to exhibit your art, Bargehouse is calling your name!

Installation Artists and Sculptors Wanted!

Deadline: 03/12/2023 | Venue: Bargehouse | City: South Bank | Region: London | Country: United Kingdom | Exhibit Here

Looking for a raw, edgy, and vast space to exhibit your large sculptures, installation, or projection? The top floor of Bargehouse has your name on it!