Art and Design as Research seminar
What does it mean to produce research using art and design both inside and outside academia? And how can artists collaborate with researchers across academic disciplines to create new hybrid forms of research?
'Artistic research conceives of creative production as a generative, hybrid mode of enquiry whose form is implicit to the new knowledge it produces'. Dr Vanessa Corby
CuratorSpace are collaborating with Leeds Beckett University and visual artist, Paul Digby to deliver a day of talks and workshops relating to the ways in which we research through creative methods and processes and how we share these explorations, through forms including exhibitions and collaborative opportunities, as well as how this impacts on ethics, policy and shaping social spaces and communities.
The seminar is particularly interested in the diverse ways we can understand and investigate ideas, particularly - the verbal and non-verbal, tacit knowledge, embodied understanding, co-production, collaboration and ways of dissemination.
We invite all artists to attend and explore the ways that their practice embodies or incorporates research. The day will be framed by a number of talks and artworks addressing questions around art as research, followed by peer-led sessions for participants to share ideas and to explore their own artwork in the context of research practice. As part of this session, we invite participants to bring examples or images of work to discuss.

Book your free ticket through Eventbrite: https://www.eventbrite.co.uk/e/art-and-design-as-research-tickets-80825993723
……………………………….

9.15am Registration

9.45am Introduction
Dr Louise Atkinson, Curatorspace / visual artist and Dr Liz Stirling, lecturer / artist

10am Steve Pool, You can't have your cake and not eat it
Steve Pool's talk situates itself in the notion of art as autonomous or more specifically autolectic - for itself and art as useful - a tool to do work - research social change - it draws on Peter Burgers (the theory of the advent garde 1974 ) notion of autonomous art object and art as part of the praxis of everyday life.

10.30am Judith Tucker, Painting and Poetry on the Edge of England
In this presentation, Judith will discuss creative research on and with a contested coastal community on one of the UK's last existing plotlands, the Humberston Fitties. Plotlands can be briefly defined as places where individuals have historically self-built holiday houses. This 56-acre strip of land with 319 chalets. is on the Humber estuary and lies close to Cleethorpes, a seaside resort, and Grimsby, a seaport now facing post- industrial decline.
This cross-disciplinary collaborative practice between poetry (Harriet Tarlo) and visual art (Judith Tucker) explores open, environmentally aware engagements and methodologies with landscape and rural place. They investigate the relation of social, environmental and energy politics, looking out to land and sea and back to the community.

11am Break

11.15am Paul Digby, Incorporating research into interdisciplinary practice outside an academic framework
Paul will discuss how he responds to the stimuli he is interested in, including how the manifestation of processes and materials evolve through research. This research includes public sector funding applications, emergency services, classical sculpture, house music (12" vinyl 86-92), psychology and neuroscience.

11.45am Roundup

12pm Communal lunch and Mini exhibition
Bring your own lunch and continue the discussions with artwork / research works by artists, PhD students and researchers.

1pm Peer led discussion on research and practice
Participants are invited to share artworks and discuss research ideas, critique, exchange and dialogue about their research topic or practice .

3pm Final discussion and round up

3.30pm Close
Subscribe to our newsletter
Get the latest CuratorSpace news, updates about new opportunities, upcoming deadlines, and art-related promotions.
Advertisement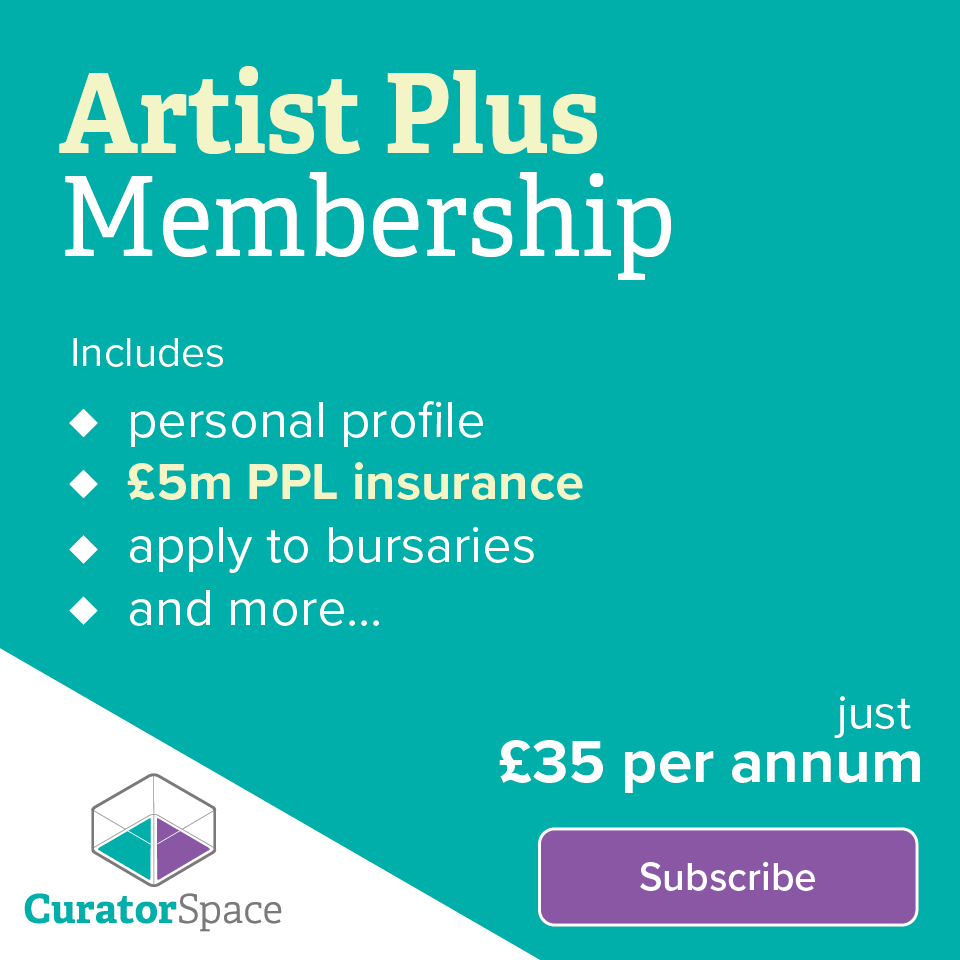 Not another listings site
CuratorSpace isn't another listings website; it's a place where curators and organisers can use custom online forms to allow artists to apply to their opportunity. It also allows you to see and manage all submissions made to your opportunity on the website, and to contact contributors directly.
Register now and you can start making submissions and even create your first opportunity for free.