Carly Seller: Bursary #4 update
Carly Seller has completed her project at KARST, Plymouth. Here she shares the processes involved in combining metalwork and performance.
"Over the past few years my practice has expanded into performance, largely influenced by my experience practicing and teaching yoga. My research has delved into meditation and healing practices, with the potential of sound and healing instruments informing the idea for my CuratorSpace bursary project. The bursary funded me to work with a blacksmith to learn new skills in working with metal to make a series of brass singing bowls that I then used to develop a live performance.
Learning to forge metal I felt a common thread from previous works, with the process requiring repetition and significant physical effort. There were also muscular references, the material requiring heating and stretching to be able to form it into the shape, and the risk of splitting if pushed beyond its limit. Brass retains it's potential to be re-formed and so the final form is never certain, it can continue to be re-worked through heating and hammering into new shapes.
The performance, Resonant Vessels, marked some new experiences for me. Performing solo in a gallery space with an audience in close proximity felt daunting and exposing, but was a fear I wanted to face in order to further this area of my practice. It was also the first performance where I was responsible for creating the performance space, considering the layout, lighting, and the placement of the audience.
Through the bursary, I was also able to invest in documentation, working with a sound technician to create high quality audio recordings and an artist friend to photograph the performance. As artists, we often ask favours of friends as in-kind support, so it is empowering to be able to pay other artists for their time and spread the benefits and value of the bursary.
The performance was well received. I invited members of CAMP (Contemporary Art Membership Plymouth) to attend the performance and through CAMP's support, I had an audience of both friends and people I didn't know. I opened up a discussion after the performance to offer an introduction to the project and through this I received generous feedback and thoughts. As a way to give back to those who had shown their support in attending the performance, I also shared some tips for applying for funding through bursaries and grants, particularly for ideas that may not have a certain public outcome. I feel that using these opportunities to offer peer-support is really important and I hope others will be encouraged to consider how they can spread the value in their own projects, by offering paid roles to other artists and sharing their knowledge and experience.
I've really appreciated the openness of the CuratorSpace Artist Bursary and freedom to set my own outcomes. It has enabled me to take a loose, partially formed idea and turn it into an intensive, focused project. I have I learnt skills working with new materials to create objects, stepped out of my comfort zone to develop and deliver a new live performance, and integrated professional development opportunities to support my future practice. I'd like to express my gratitude to CuratorSpace for enabling me to make this project happen. I'm also grateful to KARST who provided in-kind support by offering use of the gallery space, and CAMP members for supporting the event."
Image: Carly Seller, Resonant Vessels, performance at KARST, Plymouth, 15th January 2020. Photo by Katy Richardson
See more at https://www.curatorspace.com/artists/carlyseller.
Subscribe to our newsletter
Get the latest CuratorSpace news, updates about new opportunities, upcoming deadlines, and art-related promotions.
Advertisement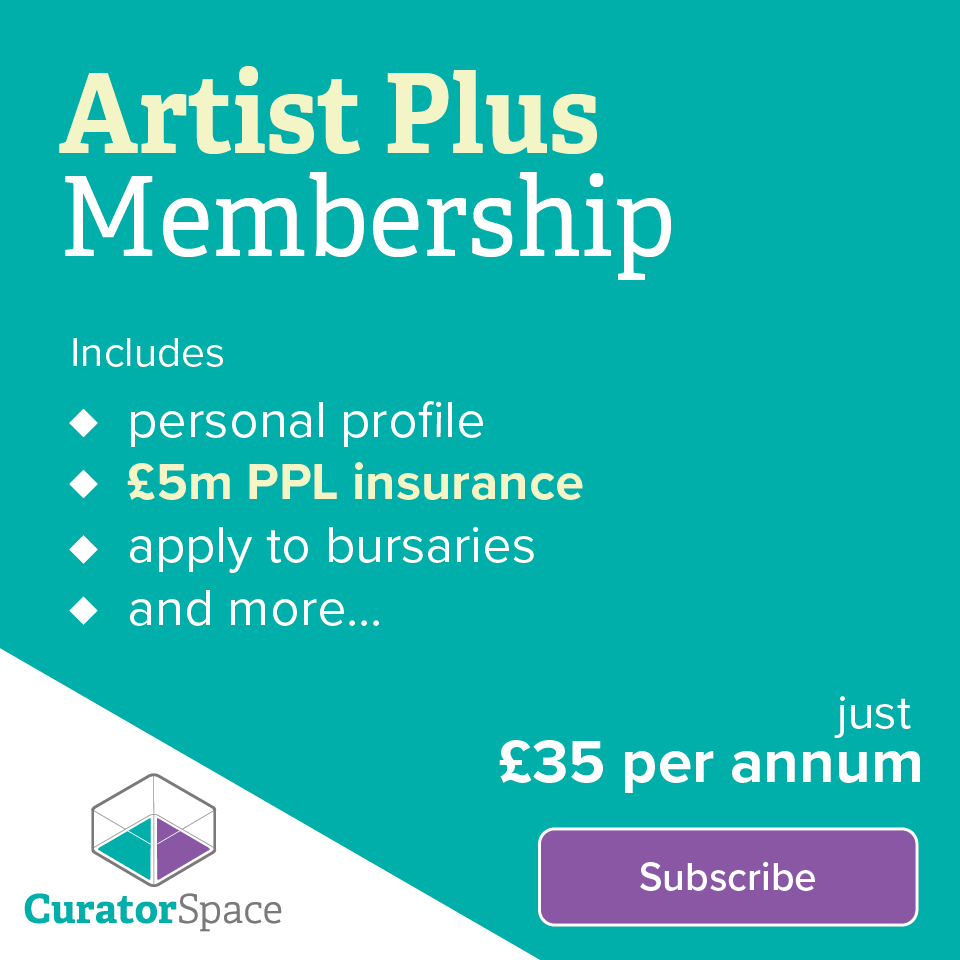 Not another listings site
CuratorSpace isn't another listings website; it's a place where curators and organisers can use custom online forms to allow artists to apply to their opportunity. It also allows you to see and manage all submissions made to your opportunity on the website, and to contact contributors directly.
Register now and you can start making submissions and even create your first opportunity for free.