Jacqui Gallon: Bursary #7 update
Jacqui Gallon used her CuratorSpace bursary to help fund initial research into the photogram process as part of a series of visual responses to a collection of Edwardian baby clothes owned by a local wealthy landowning family. Her aim was to use the power of photography, more specifically the early camera-less technique of the photogram, to reflect on the past and trace the residual presence of a family living over a century ago. Artistic influences include the Australian artist, Anne Ferran who uses photography to retrieve 'historical narratives that have been neglected in order to afford them a visual status'.
"Approaching the project as a complete novice and, after setting up a temporary darkroom, I began by experimenting with exposure settings. A 'theoretically correct' exposure, ie, one that creates strong light/dark contrasts and a clear reading of the subject, wasn't necessarily the best for exploring ideas about presence and absence where a more spectral, ephemeral image might convey these notions better. The longer exposures which resulted in deep blacks and illuminated outlines really worked well in this respect. A long exposure however, loses the surface detail of the garment.

I found that I was continually negotiating a balance between creating overdark results and images which over state or call too much attention to the prettiness of the garment ( which, whilst aesthtically pleasing, is not a priority for me). I worked mostly on postcard-size pieces of photographic paper - both resin coated and fibre-based. These small pieces are easy to place within awkward areas of the garment so I was able to explore features such as garment openings, small tears and the tiny sleeves. The photogram is very effective at highlighting edges which have been distorted, stretched, pulled - in the fastening and unfastening of buttons, for example. Such areas of the garment thus become visible points of contact between the child and the mother (or nursemaid). The process really encouraged 'close looking' at this evidence of human gesture and relationship.

The project has motivated exploration of the artist book as a way of presenting these smaller outcomes. Creating an accordian-style book with formally bound end boards has been an unplanned but pleasing outcome which will inform future object-making. The photogram images of three bibs worked particularly well. I had been immediately drawn to these tiny muslin baby accessories - such ordinary, everyday items but holding intimate, basic human narrative. The bibs themselves are tiny, no more than six inches in length, but the photogram process transforms them, monumentalising them as objects. For me, each one appears as an abstract object set adrift from its moorings, afloat in a dark universe. These would be impactful in a gallery space, blown up, supersize.

I now aim to create images of whole garments. I have discovered that by using liquid photosensitive emulsion, I can use different grounds, fragile papers, for instance, which may enable me to narrate themes concerning the passage of time more effectively. The CuratorSpace bursary has been invaluable in supporting this initial research into the photogram process (including the purchase of essential materials and equipment). The process has great potential as an addition to my practice, informing both ongoing and future work."

Subscribe to our newsletter
Get the latest CuratorSpace news, updates about new opportunities, upcoming deadlines, and art-related promotions.
Advertisement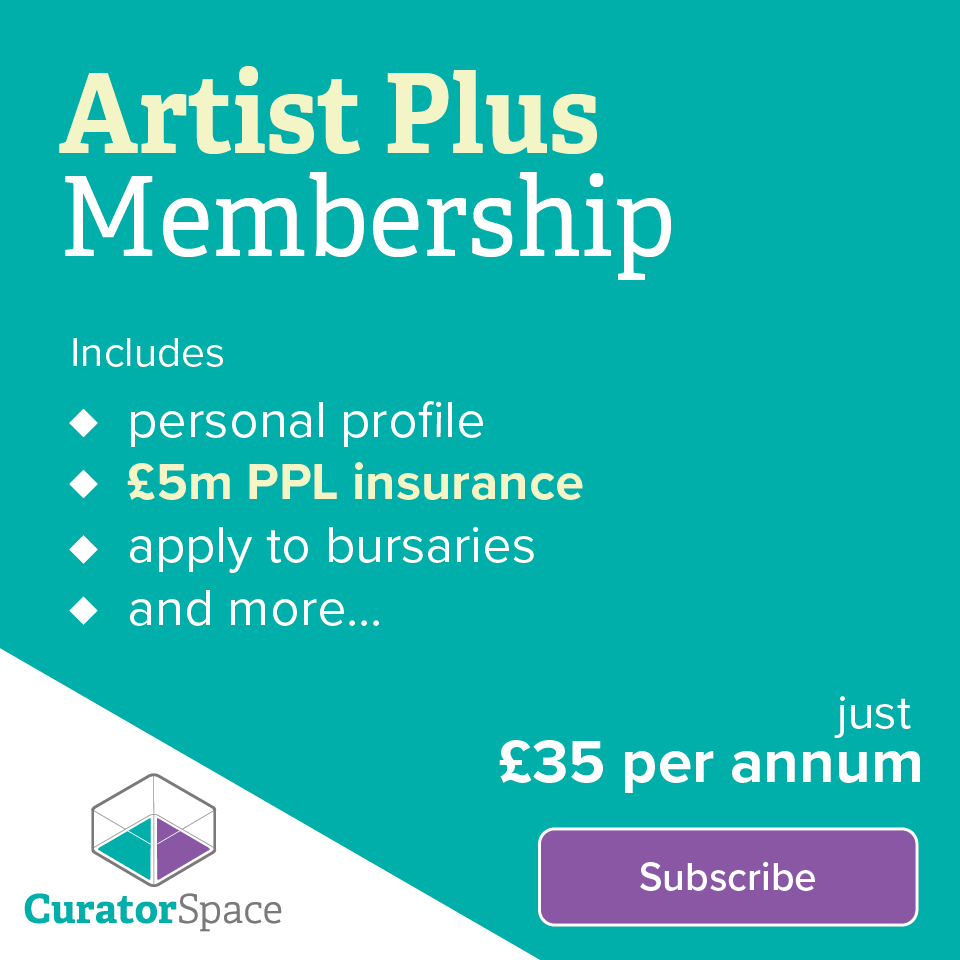 Not another listings site
CuratorSpace isn't another listings website; it's a place where curators and organisers can use custom online forms to allow artists to apply to their opportunity. It also allows you to see and manage all submissions made to your opportunity on the website, and to contact contributors directly.
Register now and you can start making submissions and even create your first opportunity for free.