Video artists on Leeds Big Screen: November 2018
CuratorSpace is working with Leeds Big Screen to showcase artists with a connection to Yorkshire who work in film and video. Films will be screened in Millennium Square at 1pm and 6pm daily throughout November. Here are the artists who will be showcased this month.


D'arcy Darilmaz
Abstract Painting Tutorial, 4:10, 2018

D'arcy studied Foundation Art & Design at Central Saint Martins, UAL in London and then went on to study BA Fine Art at the University of Leeds. She is currently in her 4th and final year of study after completing a year of study abroad at the Accademia di Belle Arti di Brera in Milan, Italy. D'arcy has shown video works previously in events at the White Cloth gallery, The Brunswick, and the Leeds Corn Exchange in Leeds.

Her video work is a satiric interpretation of YouTube tutorials for making an abstract painting. The visuals are created with a layering of individual digital paint marks gathered from free green screen videos of both paint strokes and blood spatters for use in amateur films, and the artist's own hands using physical representations of digital painting tools.


Kate Morrison
The Affluence Injection, 3:03, 2017

Kate Morrison is an artist-filmmaker from Liverpool. She is currently studying BA Film, Photography & Media at the University of Leeds. The Affluence Injection is an unsettling and surreal scenario that explores the inherent advantage arts students from wealthier backgrounds have over those from low-income households in their ability realise their full creative potential.

This work was commissioned by Random Acts North Network Centre ( True North , HOME and Tyneside Cinema) , funded by Arts Council England and showcased by Channel 4.


Willie Robb
Longshore Drift, 2:00, 2018

Willie Robb is a Scottish photographer, video producer and artist who creates self-initiated projects using a blend of autobiographical, conceptual and documentary practice. Societal concern is at the core of his personal work, and he uses a variety of photographic styles and approaches to consider the physical impact of dogmatic, political ideology.

Longshore Drift is a cyclical, looping film that follows a lone figure throughout the course of a day. The remnants of a war that ended 100 years ago form the backdrop to this contemplative piece that hints at current global affairs and seeks to question the notion of remembrance. The background music is from six studies in English Folk Song: II Andante sostenuto (Spurn Point), composed by Ralph Vaughan Williams, performed by Ian Brown & Paul Watkins.

http://www.willierobb.com


Patricia Walsh
BEACON, 3:40, 2015

Patricia Walsh is a multi-media artist working primarily with video and sound. Her work explores themes of memory, identity, and the residual. Her works have been exhibited nationally and internationally, including at; CheckOut, RWZ Gallery London, Purescreen, Caslefield Gallery, Manchester, Soundtrack For A Mersey Tunnel CD, Liverpool, Distance No Object, The Bowes Museum, Newcastle, Harris Flights/in Certain Places, Harris Museum & Art Gallery, Preston, Circuit Bridges, MC Gallery, Brooklyn, New York.

BEACON is a colour, abstract video with an original, instrumental soundtrack. The video is evocative of resilience, perseverance and strength. As a symbol of hope a beacon denotes or imbues a sense of safety, guidance, solace and success. It may be viewed as the proverbial light at the end of the tunnel. At the start of the First World War, 'The Angels of Mons' symbolism was commandeered as a beacon of survival and victory against all the odds, by British soldiers in The Battle of Mons,1914.


Liz Wilson
The Rhythm Machine, 4:01, 2017

Liz Wilson graduated with a Masters in Fine Art from the Royal College of Art in 2017, a Postgraduate Certificate in Post-Compulsory Education from the University of Brighton in 2009 and a BA (hons) in Illustration and Animation from the University of Gloucestershire in 2008. She currently holds the position of Sessional Lecturer and Printmaking Technician at the University for the Creative Arts. As a practising artist she has exhibited works both nationally and internationally.

The Rhythm Machine is an orchestra of modulated voices, factory transformations and animations exploring the stretch of time between the industrial and post-industrial. Using animation as a way of simulating the rhythm and tempo of the machine, the work takes on the aesthetic of early computer graphics, which is played in relationship to footage from a Victorian Ropery.

Further employing the use of mechanisation within the work, modulated voices simulate the individualised rhythmical energy of each apparatus. These disembodied parts become orchestral when playing simultaneously, participating at various tempos and pitches. These pulsations of movement generated by both human and automation recapitulate and evolve, acting as reverberations - conversations between the old and new and possibility of evolution.

https://www.lizwilson.work


Kenneth Yates
Maya Deren, 3:18, 2014

Kenneth studied Fine Art and Creative Writing at Leeds University and currently works as a freelance filmmaker. He has made short films for Screen Yorkshire and North West Vision.

Kenneth's work is an animation inspired by the films of pioneering independent filmmaker Maya Deren, re-imaging her work in terms of ritual, as many of her films were concerned with ritualistic behaviours. Made in collaboration with Leeds-based musician Tom Fazzini.

https://vimeo.com/forestmedia

If you are an artist with a connection to Yorkshire and working in film, you can apply to show your work here: https://www.curatorspace.com/opportunities/detail/opportunity-for-yorkshire-artists-working-in-filmvideo/2645
Subscribe to our newsletter
Get the latest CuratorSpace news, updates about new opportunities, upcoming deadlines, and art-related promotions.
Advertisement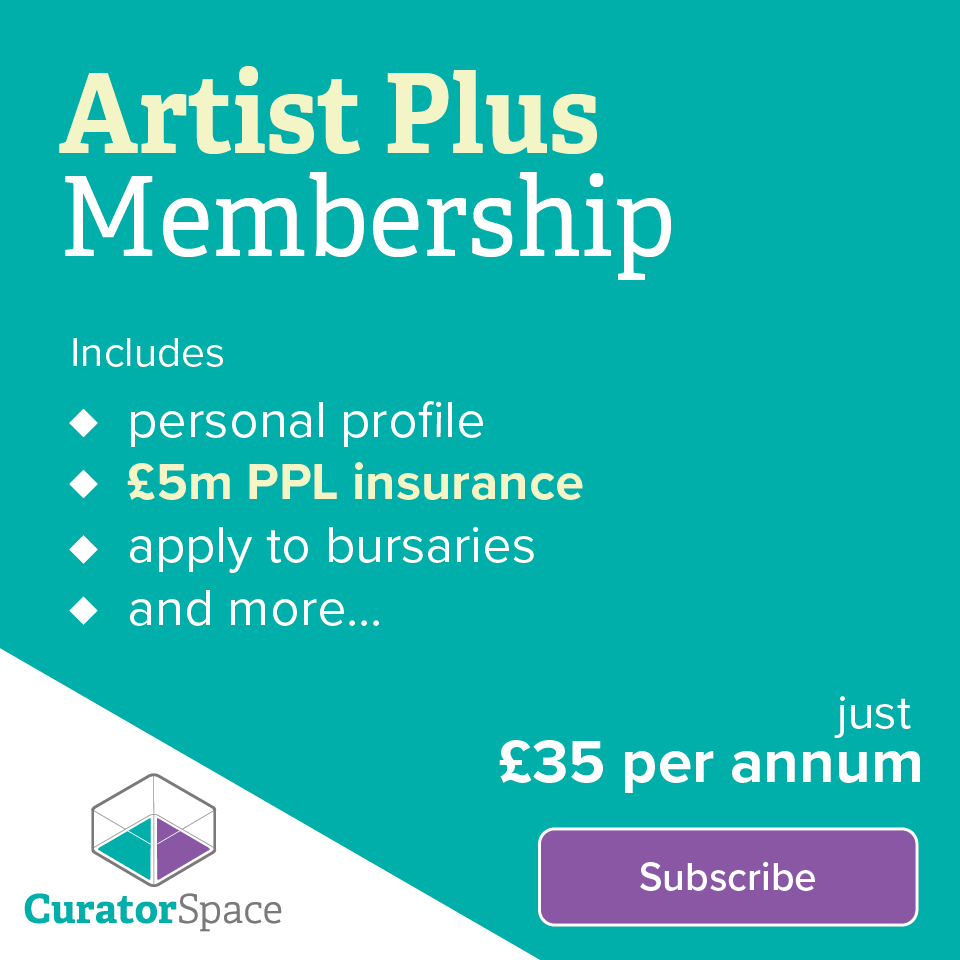 Not another listings site
CuratorSpace isn't another listings website; it's a place where curators and organisers can use custom online forms to allow artists to apply to their opportunity. It also allows you to see and manage all submissions made to your opportunity on the website, and to contact contributors directly.
Register now and you can start making submissions and even create your first opportunity for free.