Alix Edwards Glamorgan, United Kingdom
Alix Edwards is a multi-platform artist who uses fiction, spoken word, painting and photography to tell untold stories about motherhood, loss, domestic violence and resilience. Her work gives a voice to women and children who society has silenced or ignored.
"A survivor of domestic violence, I have used photography to highlight situations where legislation has failed those women it is supposed to protect. I use numbers and scientific images as a starting point. Giant child-like canvases remember 29 children murdered during compulsory contact visits. Timed, candle-lit huge giant paintings, 'Bodyflows', re-invigorate MRI scans. Eyes shut, I mix paint on canvas; use stories, poems, my fingertips to create new narratives. Instagram series 104 locks highlights 2 women killed per week in England and Wales by domestic violence., Fallen, recently exhibited at g39 in Cardiff explores the etymology of the verb to fall with regard to women with a lifesize woman falling from heaven like a space plunging into the sea and the The Other Side of Sex and On Becoming A Real Woman, recently exhibited at Sexology in Los Angeles challenge society's double standards when it comes to women and sex."
"WoMen and Men", Alix's first solo exhibition at a dedicated gallery space in Wales, explored different aspects of womanhood in the 20th and 21st Century, ranging from being a War Bride at the end of World War II to surviving domestic violence in London.
Alix is currently researching the fate of 'fallen women' in Wales, generously supported by an Arts Council of Wales research and development grant, in terms of story and psycho-geography, having produced and ongoing series of paintings called Foetus Flowers which celebrate the 'shameful' births of babies in Magdalene Laundries. Alix works intuitively using touch and percussive elements to transfer emotion to the canvas. Responses to site visits and archival research about these forgotten women in Wales include installation Keepsakes, currently on display at Llanover Hall Arts Centre, paintings Whitewashed and Mentally Deficient based on the workhouse where unmarried mothers ended up in Pontypridd and Bereft.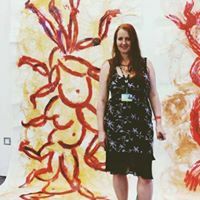 Projects and exhibitions
Details

The Show Must Go On art by Alix Edwards

25/11/2021 — ongoing

This intuitively painted work explores how we continue to cling to a sense of normality when what is around us is falling apart

"Using my hands rids the barrier of the brush. I like to paint with my eyes closed, or in the dark so that I can feel the cold, fresh paint on my fingertips, and rhythmically apply it to the canvas. I am also...

[Read more]
Riverfront Theatre, Newport
Details

OutSide In as part of Finding Home

11/10/2021 — 12/10/2021

Alix Edwards has teamed up with Mercury Theatre, Wales to show selected images from her photographic series OutSide as part of Bethan Morgan's new play about homelessness, Finding Home directed by Lynn Hunter.

Depot, Cardiff
Details

Untitled (from Saints, Sinners and Stories: the Magdalene Laundries in Wales)

07/03/2020 — 28/03/2020

Part of her archival and psycho-geographic site-based research for Saints, Sinners and Stories. The Magdalene Laundries in Wales (generously sponsored by Arts Council of Wales) these two paintings are an intuitive psycho-geographic response to visiting mother and baby homes in Wrexham, North Wales. They were exhibited as part of Artcore...

[Read more]
Artcore Gallery, Derby
Details

Keepsakes

27/09/2019 — 02/10/2019

Part of the Women's Arts Association exhibition Keepsakes is a reflection on the Magdalene Laundries: the life of the mother, her child taken away after birth in prison-like conditions of a Magdalene Laundries versus the wealth of the couple who would be adopting the child.

Llanover House Arts Centre, Cardiff
Details

WoMen and Men solo exhibition

01/09/2019 — 29/09/2019

Cwtsh Gallery, Newport
Details

Fallen

17/07/2019 — 20/07/2019

Lost babies, broken hearts, stained sheets, severed wings Passed judgements, spoilt apples, tarnished names, washed hands…

This altar piece entitled 'Fallen' celebrates the etymology of the verb to 'fall' with regards to women and explores how everyday words frame our perceptions. Fallen's multiple meanings include to pass...

[Read more]
g39, Cardiff
Details

Foetus Flowers

01/06/2019

RWCMD Royal Welsh College of Music & Drama, Cardiff
Details

War Bride

24/05/2019 — 09/07/2019

FaB2, Bath
Details

104 Locks in 2018

01/01/2018 — 31/12/2018

In 2018 Alix Edwards posted 104 lock images on her Instagram feed, 2 locks every week each Friday, to remind people of the 104 women that are killed each year in England and Wales by a partner or former partner. "As a victim of DV and a justice system that still overlooks it, locks have always been a strong image for me and feature strongly...

[Read more]
Instagram
Details