Kirsten Todd - Art at Vixen Lancashire, United Kingdom
Born in Lancashire, painting and drawing since a young child, I gained a degree in graphic design and pursued a career in design for over 25 years, whilst continuing to paint. Painting is my passion and my purpose. Now concentrating fully on painting professionally. Specialising in portraits and abstracts, working in acrylics capturing vibrancy, energy, strength, balance and beauty in my work.
The Entirety of my portrait work at the moment is centred around the Rise of the Divine Feminine. We all have masculine and feminine energy within us and for the last few thousand years it has been out of balance with the masculine energy, having a much stronger influence and in control of the way we feel and think. This imablance has caused the patriarchal society we live in, fuelling aggresssion, war, anger, greed, materialism, over consumption, selfishness and dominance over women. Now there is a rise of the divine feminine energy streaming into the planet and within us seeking to rebalance our bodies, our inner world and by extension our outer world and planet. This feminine energy brings compassion, strength within, heightened intuition, truth, wisdom and spirituality. My portraits highlight the rise of the Divine Feminine energy in this time of great change as we, our planet and our universe are on our journey of ascension to a new vibration. I feel I need to get this message out to as many people as possible in my own unique way. My paintings celebrate strong women, showing within them inner strength of a warrioress, seeing that vulnerability and pain of a hard life lived, showing endless determination and endurance. They highlight the struggle of women to be accepted as equals, giving women a voice, seeing beauty within and celebrating cultural diversity. If we listen to our intuition, we can tap into unlimited strength, compassion, wisdom and guidance. We can shine our inner light and show the world our true essence and true powerful nature, empowering ourselves and the world around us. I feel I need to spread this message far and wide as a wake up call to us all to rise up, raise our vibrations to bring balance to the world and aid our ascension path as great changes are occurring whether we as individuals recognise it and are on board with it or not. The planet and universe is ascending to a new level and those that embrace it will have a smooth transition, those that do not will have a more bumpy ride.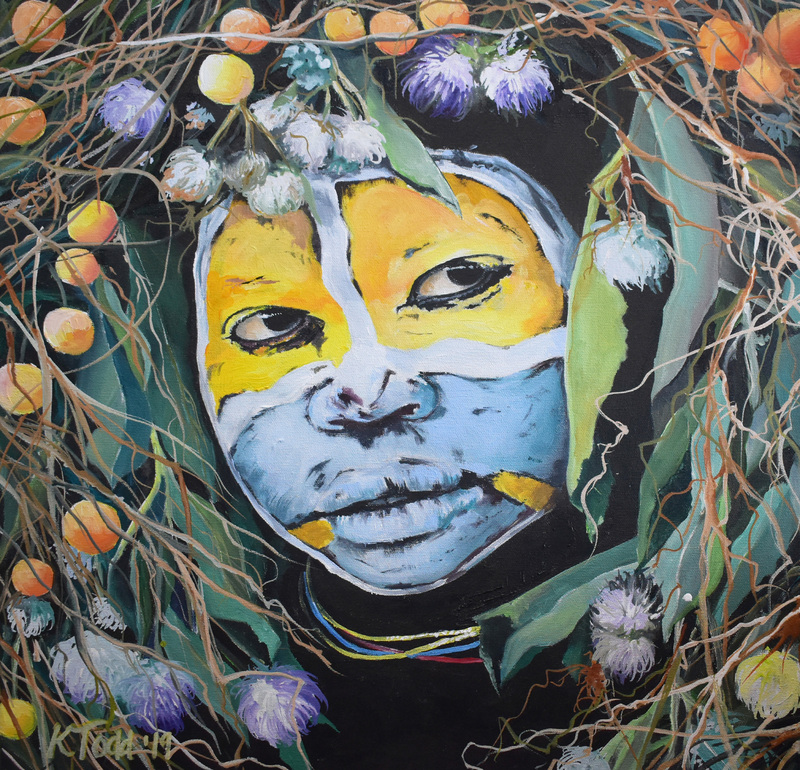 Projects and exhibitions
Details

Fronteer Art Fair, by Fronteer Art Gallery, CASC Gallery

26/08/2022 — 30/08/2022

CASC Gallery, Forum Shooping Centre, Chester
Details

SELECTED ARTIST - Featured in Circle Quarterly Art Review Magazine - July/August 22

01/08/2022 — ongoing

printed magazine, national
Details

Final selection - Mother, Tebbs Art Gallery

15/07/2022 — 21/07/2022

Online
Details

SOLO SHOW - Art in the Ev - The Divine Feminine

06/06/2022 — 18/07/2022

The Everyman Theatre, Liverpool, Liverpool
Details

Magazine feature - The Huts Magazine - June 2022 edition #5

01/06/2022

n/a
Details

Final Selection - Art on Loop - The Holy Art

01/06/2022 — 01/07/2022

Digital screens across London, London
Details

Final Selection - Oppositions - The Holy Art

10/05/2022 — 31/05/2022

Online
Details

PEOPLE'S CHOICE AWARD - 'Open' Exhibition, Open Gallery

05/05/2022 — 20/05/2022

Open Gallery,, Halifax, Yorkshire
Details

Artist, mother and Proud Exhibition, online Artmums-unit

24/04/2022 — 25/05/2022

Online
Details

Artbox Venice Biennial Exhibition

15/04/2022 — 15/05/2022

Venice
Details

Cover Feature, ArtIdeal Magazine, Circle Foundation of Arts

01/04/2022

n/a
Details

ONE OF 37 WINNERS - Feature in World Wide Art Magazine - Issue 9

01/04/2022

Online
Details

SOLO ONLINE SHOW - The Divine FEminine - Artmums United

15/03/2022 — 15/04/2022

Online
Details

Final Selection - The Divine Feminine - online exhibition - Art from Heart

12/03/2022 — 30/04/2022

Online
Details

Final Selection - The Manchester 2020 Vision Virtual Exhibition

12/01/2022 — 12/02/2022

Online, Manchester
Details

Book Feature - Artmums-United

12/01/2022 — ongoing

n/a
Details

Final Selection - Iconic - The Holy Art

10/11/2021 — 26/11/2021

The Holy Art, Shoreditch, London
Details

Luxembourg Art Prize - Certificate of Artistic Merit

01/11/2021

Online
Details

Featured Artist - Obssesed With Art website

01/10/2021

Online
Details

SOLO EXHIBITION - Dot-Art & INNside by Melia Liverpool

15/09/2021 — 15/02/2022

Innside - Liverpool, Liverpool
Details

VAO2021 - Shortlisted - Visual Artist Association Open Art Prize

01/09/2021

Online
Details

WINNER - Artist of the Month, Art From Heart Website and social takeover

01/06/2021 — 30/06/2021

Online
Details

Final Selection - Voices of Earth Exhibition - Art from Heart

01/06/2021 — 30/07/2021

Online
Details

The Huts Magazine Virtual exhibition Connectivite - Final Selection

31/05/2021 — 30/06/2021

Online
Details

Wraptious - National Art competition - FINAL 12

01/05/2021

Online
Details

The Absent Gallery Open Exhibition - Final Selection

01/04/2021 — 15/06/2021

Online
Details

Harris Museum Open Exhibition - Final Selection

01/03/2021 — 01/05/2022

Harris Museum, Preston, Preston
Details

Emerging Artist Award - Creates Gallery - 3RD Place Winner

01/02/2021

Creates Gallery Monmouth, Monmouth
Details

Visual Artists Open Art Prize 2020 - Finalist - highly commended artist

01/09/2020

Finalist - Highly Commended Artist

Online
Details

New Emergence Art Prize - 2ND Place Winner

01/08/2020

Online
Details

Solo Online exhibition "The Divine Feminine"

01/04/2020 — 01/09/2020

Solo online exhibition entitled "The Divine Feminine"

Online
Details

Creates Gallery Emerging Artist Award 2020 - Finalist

03/01/2020 — 09/02/2020

Finalist in the Creates Gallery Emerging artist award with 3 pieces selected to the public exhibition at Creates Gallery, Monmouth

Creates Gallery, Monmouth
Details

"Wraptious" National Art competition - Selected in the Final 12

15/12/2019 — 29/12/2019

One of 12 Finalists in this National online competition, the winner of which becomes one of the artists on "Wraptious" roster and featured on they website with their artwork for sale as prints and cushions and other merchandise.

Online
Details

Harris Museum Open Exhibition - Final Selection

14/12/2019 — 26/01/2020

2 pieces entered into the Harris open exhibition at the Museum.

Harris Museum, Preston
Details

"Brought To Birth"

09/12/2019 — 21/12/2019

2 pieces entered into this exhibition with the theme "Brought to Birth" highlighting all aspects of birth, and creation of life.

35 Chapel Walk Gallery, Sheffield
Details

Artbound _ Winter Showcase

30/11/2019 — 21/12/2019

In The Final Selection with 2 pieces for this exhibition held in the Hebden Bridge Town Hall.

Hebden Bridge Town Hall, Hebden Bridge, Yorkshire
Details

Artbound Christmas Art Fair

30/11/2019 — 01/12/2019

Hebden Bridge Town Hall, Hebden Bridge, W Yorkshire
Details

Artsmill Winter Open _ Final Selection

26/11/2019 — 22/12/2019

2 Entries selected for this winter open exhibition - open to artists in the North West and W Yorkshire

Artsmill, Hebden Bridge, W Yorkshire
Details

Calderdale Open Exhibiiton - Final Selection

09/11/2019 — 21/12/2019

Final Selection of 2 pieces into the public exhibition at Bankfield Museum, Halifax

Bankfield Museum, Halifax
Details

The Creative Principle - Art Fair

02/11/2019

An art and craft fair hosted by The Creative Principle at the Harris Museum in Preston

Harris Museum, Preston, Lancashire
Details

Solo Pop Up Exhibition - "Rise of the Divine Feminine"

04/10/2019 — 06/10/2019

A solo exhibition of my portraits within the Series "Rise of the Divine Feminine" in this lovely gallery Space in Hebden Bridge, Yorkshire

TwentySix Gallery, Market Street, Hebden Bridge, W Yorkshire
Details

Harrogate Art Fair

16/08/2019 — 18/08/2019

Harrogate, W Yorkshire
Details

Solo Exhibition - Rise of the Divine Feminine

26/07/2019 — 24/09/2019

A Solo exhibition of my portraits within the series "Rise of the Divine Feminine" at this lovely gallery space in Shipley.

Artform Gallery,, Shipley, Yorkshire
Details

Liverpool Art Fair - Final Selection

28/06/2019 — 22/09/2019

In the final Selection with 2 pieces entered into the Art Fair.

Metquarter, Liverpool
Details

Artbound Summer Show - Radiant - Final Selection

02/06/2019 — 07/07/2019

Final selection of a couple of pieces of work included in the Summer exhibition in this small gallery in Todmorden.

Legacy Art Gallery, Todmorden, Lancashire
Details

Insight Exhibition - Lancashire Mind

04/05/2019 — 29/06/2019

2 pieces of work selected for the public exhibition in aid of Lancashire Mind.

Farmhouse Gallery, Astley Park, Chorley, Lancashire
Details

Creates Gallery Emerging Artist Award 2019

04/01/2019 — 09/02/2019

Finalist in the Emerging Artist Award at Creates Gallery with 2 pieces in the public Exhibition.

Creates Gallery, Monmouth
Details

Calderdale Open Art Exhibition - Final Selection

24/11/2018 — 23/12/2018

Final Selection in the open exhibition with 2 pieces.

Bankfield Museum, Halifax
Details

Parallax Art Fair

23/11/2018 — 25/11/2018

Northern Quarter, Manchester
Details

Chester Art Fair

16/11/2018 — 18/11/2018

Chester Racecourse, Chester
Details

ING Emerging Artist Award

03/11/2018 — 30/11/2018

Finalist in the ING Emerging Artist Award with 2 pieces in the public exhibition in November 2018.

Mall Galleries, London
Details

Milnthorpe Open Art Exhibition - Final Selection

15/08/2018 — 29/08/2018

Final Selection of 3 pieces in the Milnthorpe Open Art exhibition in the Lake District.

Milnthorpe, Milnthorpe
Details