Catherine Orr Suffolk, United Kingdom
Catherine has a first class degree in Photography from the University of Westminster. Disillusioned with Photoshop and filters, she began to work with the cyanotype photogram. An historic process, using iron salts, light and water, the cyanotype is an environmentally friendly printing method. Botanical specimens are collected from local spaces, seeds are returned: each print treads lightly.
Catherine Orr's work celebrates the wild and wonderful world of plants. She arranges/disarranges nature and celebrates the variety and vitality of plants from her adopted county of Suffolk. Exploiting the confines of the cyanotype photogram, her prints record the movement of plants in the wind and the fleeting passage of sunlight over their leaves.
In her prints, as in nature, there is often botanical chaos: specimens are arranged haphazardly, leaves may be damaged, stalks bent, seeds and pollen spilled across the paper. Occasionally there is a restrained graphic order and simplicity where each plant is displayed more formally, a reminder of traditional garden cultivation and the imposition of human order on the wilderness.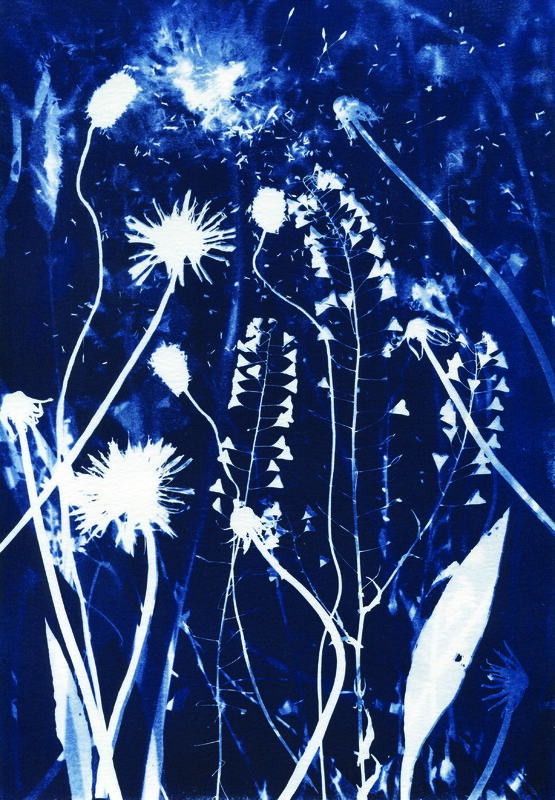 Projects and exhibitions
Details

100 x 100 exhibition

01/03/2022 — 31/03/2022

BobCat Gallery, Online exhibition
Details

The Art of Music

14/10/2021 — 25/10/2021

A collaboration between the musician and film-maker, David Ian Bickley and Catherine Orr (the image is a still from the video, Moon Blue)

King Street Arts, Lancaster
Details

PopUp PickUp

28/08/2021 — 29/08/2021

Lübecker Altstadtinsel, Lübeck, Germany
Details

Aeonian magazine No 5

01/07/2021 — 31/07/2021

online due to Covid
Details

Zanna magazine, Gold award

01/07/2021 — 31/07/2021

Online, due to Covid
Details

International Festival of Experimental Photography 2021, Cyanotype & Anthotype month

01/03/2021 — 31/03/2022

I was selected as one of the final 9 artists selected from 321 works from 43 different countries.

Online, due to Covid
Details