Elizabeth de Broise United Kingdom
I am a colour pencil artist based in Leeds, with a focus on custom pet artwork and telling stories of inspiring dogs through portraits, in a realistic style.
After graduating from Wimbledon College of Art in 2010 with a first class BA (Hons) in Design for Performance, I spent a few years exploring scenic art, filmmaking and stop motion animation before returning to what I enjoy the most, drawing. I have always been inspired by realism and find the challenge of recreating subjects true to life on paper incredibly satisfying. I work mostly in colour pencil and I am a member of the UK Coloured Pencil Society.
The main focus of my practice is custom pet portraits, inspired by the special bond we share with our pets and a desire to celebrate this relationship through art. My first pet portrait back in 2015 was of my own dog, Lucas, and since then I have created over 180 commissions from the UK, Europe, Japan, Australia, Canada and the USA. A pet portrait is the perfect way to honour a beloved companion, give a very personal gift, or to remember an old friend.
With a background in visual storytelling, I am keen to use my artwork to tell stories, and in 2020 I started a project series called Tails to Tell which explores and celebrates the different roles that dogs play in society. The first project in the series was a sketchbook featuring 15 dogs trained to carry out specific jobs, as part of the worldwide Sketchbook Project. The second in the series was 100 Tails to Tell, where I drew a different dog every day for 100 days, each with its own story to tell, as part of the annual 100 day project.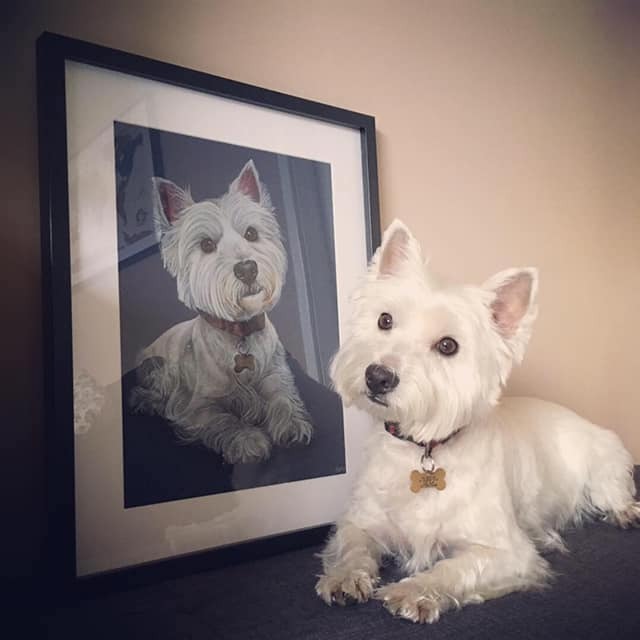 Projects and exhibitions
Details

Tails to Tell

01/01/2020 — ongoing

Tails to Tell is a series of projects telling stories of inspirational dogs through portraits, exploring and celebrating the varied roles they play in society, the many of ways in which they help, protect and change people's lives, and the astounding skills that they possess.

n/a
Details

Pet Portrait Commissions

01/09/2015 — ongoing

Hand drawn pet portraits in colour pencil.

n/a
Details