Han Mallott-Manning United Kingdom
I am a self-employed workshop facilitator and established miniature artist, specialising in domestic miniature scenes using ethically sourced natural and recycled materials, I have used these expertises to further my self-directed development within the MA in visual arts I have recently completed. My work is a response to my environment experienced as a woman and an artist.
From the outset, my sculptural pieces appear delicate and enticing, but on closer inspection I want the viewer to see a darker side, or to feel pulled into a tiny world of escapism.
My work explores the subversive meanings of the written stories and their surroundings, from the disparaging words discarded and scattered at the base of the tree to the branches pushing upwards with delicately strewn words of positivity. The overall resonance of my pieces is the feminine voice being heard, the female breaking free from the patriarchy that has restrained her throughout history.
I am inspired by the secret, quiet rebellion of collectives and individual female artists and writers such as the Bronte sisters, who originally hid the fact that they were women by choosing non-binary pseudonyms Currer, Ellis, and Acton Bell, the PreRaphaelite Sisterhood whose work was often under the names of those in the Brotherhood and the more contemporary Feminist collectives, The Guerilla Girls, whose deliberate anonymity keeps them from public exposure, so the focus remains on their work and its meanings not the artists themselves.
My use of natural materials, in particular the representation of trees and fungi symbolise the relationship between women and men, who need each other to grow and reproduce and on an equal level can equate to communication and exchange. The natural materials change and age over time creating a living piece of art, that tells its own story as time passes. Mosses and bark, feathers, and seed casings are all gathered from my walks on Haworth moors and my local woodlands and garden. Bringing my own natural environment into encapsulated scenes that become familiar and inviting.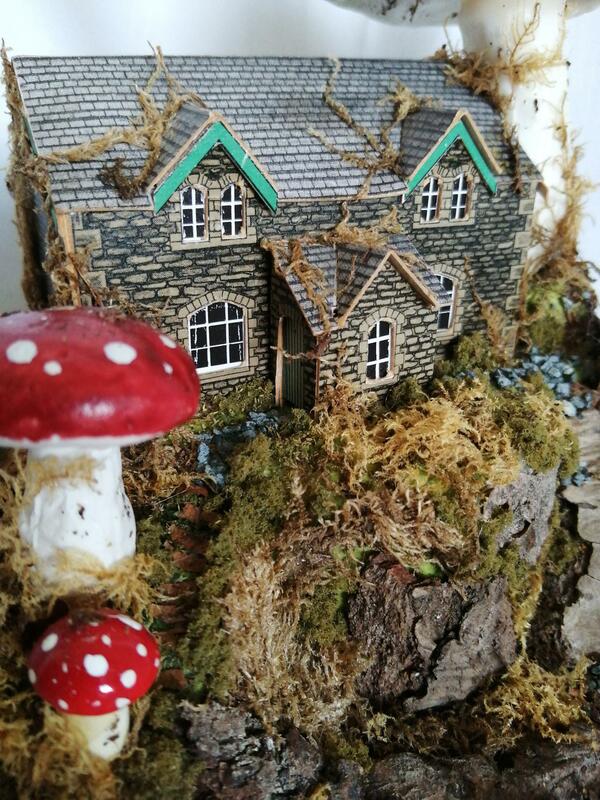 Projects and exhibitions
Details

The Adventures of.. The First Chapter

08/04/2023 — 29/04/2023

A showcase of the artwork of my work alongside the members of my Collective "The Adventures of.." The Collective was born in Bradford out of a shared passion for the creative discord and use of mixed media

Trapezium Art Gallery, Bradford
Details