Ian Latham South Yorkshire, United Kingdom
I qualified with a BA in Fine Art in 1982 and after a career in FE and HE I retired early in 2018. I make paintings and sculpture based on real and remembered landscapes presented together to suggest non-linear narratives. In 2004 I took timeout to study an MA in Creative Technology working with 3d modelling and real/virtual environments reflecting the superimposition of memory over place.
I use a combination of installation and Virtual Reality to create an immersive experience exploring the translation of reality into art through interventions such as drawing. The installations include spoken word and film alongside Augmented Reality and traditional painting and sculpture. The Virtual Reality environments walk the participants through a series of spaces made from photographs, drawings and 3d models accompanied by poetry, sound and film. I am currently studying machine learning and developing my skills with AR and VR.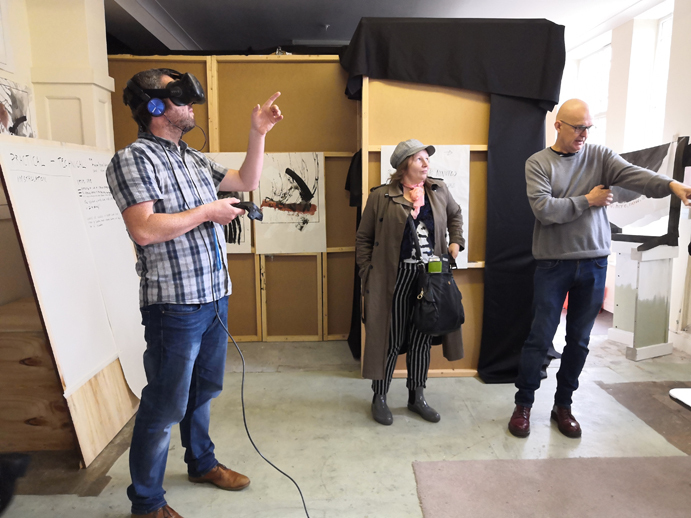 Projects and exhibitions
Details

The Geranium Project – Mixed Reality Installation

01/12/2019 — 29/02/2020

Ian Latham presented his Arts Council Lottery Funded Project 'the geranium project(R&D)' – a combination of installation and Virtual Reality used to create an immersive experience exploring the translation of reality into art through drawing. The installation included spoken word and film alongside Augmented Reality and traditional painting...

[Read more]
Axisweb Empty Shop at 13 Scot Lane, Doncaster
Details

Group Show – Snow Line, The Geranium Project

01/07/2019 — 01/11/2019

Open Studio Event for Doncopolitan Crawl on July 23rd, and continuing exhibition with work by my two graduate artists, Kim Haines and Luke Roberts, as well as installation installed downstairs by Andrea Berry, a local artist recently graduated with an MA from Sheffield Hallam.

Axisweb Empty Shop at 13 Scot Lane, Doncaster
Details

Ptolemy's Garden

01/04/2019 — 06/06/2019

An exhibition of collaged drawings built by a process of repeatedly breaking down and reassembling expressionistic sketches made in my garden.

Axisweb Empty Shop at 13 Scot Lane, Doncaster
Details