Jo Smith United Kingdom
My creative practice is as a textile artist, teacher and writer. My passion is for bringing nature to life in stitch and word, exploring how the disciplines intertwine with written and visual imagery. I teach the art of dyeing and printing with plants, flowers and foraged materials.
I am a creative textile artist and teacher working with dyes and inks made from plants, flowers and foraged materials. I draw and photograph wildlife, particularly birds and trees observed in my garden and from my imagination. I grow my own dye plants or forage in the local area to create background fabrics using a combination of dyeing and botanical printing. I develop each design with fabric collage, hand stitch using plant dyed threads, working intuitively as the artwork takes shape. I am fascinated with exploring and developing works based on how story or poem and stitch interweave and respond to each other. The stories/poems and stitch then live side by side, bringing new perspectives on nature to enjoy. Teaching natural dyeing and botanical printing workshops is enabling me to pass on my passion of natural dyes to others.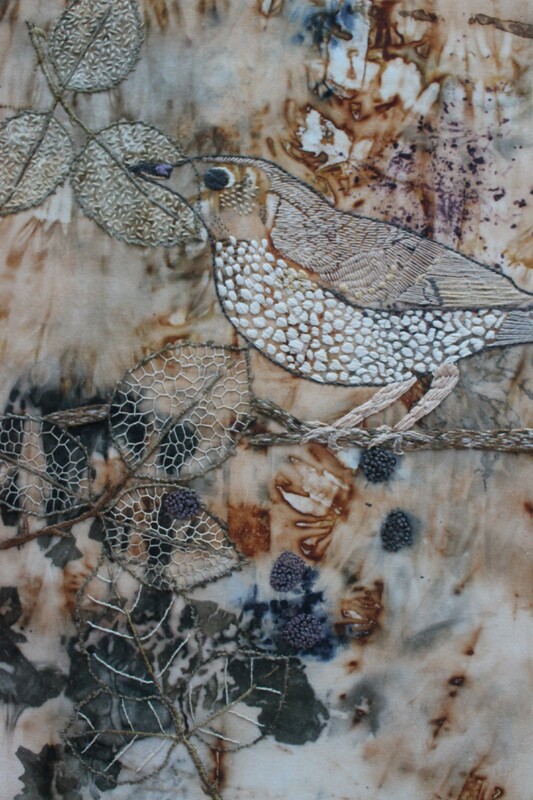 Projects and exhibitions
Details

Anything But Paint

13/10/2022 — 04/11/2022

A group exhibition of over 40 UK artists, curated by Fronteer Gallery, Sheffield. The exhibition was created from a wide range of artwork using techniques other than traditional painting.

Fronteer Gallery, Sheffield
Details

Flora and Fauna

29/10/0022 — 30/10/0022

The exhibition aimed to showcase how creating variety within an ecosytem strengthens its foundations. All works exhibited were connected to the theme of 'Flora and Fauna' and demonstrated the earth's interconnected environment and our concerns for its endangerment.

Creative Arts Showcase, Bromsgrove
Details