Katharine Lazenby London, United Kingdom
I am a multi-disciplinary artist and educator, with a passion for photography and collage. My work captures often overlooked graphic fragments of the everyday. I draw on visual associations between disparate images to create carefully arranged compositions, exploring how context influences perception and how we piece together meaning, with each 'part' affecting our reading of the whole.
In a diverse practice that has included printmaking, collage, site-specific installation, photography and painting, my work is preoccupied with combining fragments, exploring their visual articulation, often making use of everyday, 'as found' material. Lately, I've been using instant photography to draw attention to exquisite minutiae and patterns in the world around us. Aware how both our inner lives and overfamiliarity with our environments can disconnect us from our surroundings, I am drawn to what is easily overlooked, seeking out the extraordinary in the ordinary.
These photographs become material for carefully composed sequences. Arranged according to correspondences in imagery, colour and form, the interplay of visual rhymes guide the eye, adding movement and development to each collection. These photographic compositions ebb and flow like streams of thought, as though an idea is gradually dawning.
Alongside my art practice, I am also a passionate educator. I lead creative writing and art workshops for various groups, deliver training to mental health support workers and work as a tutor at the City and Hackney Recovery College, which supports mental health recovery through education and skills development. At the college I lead a number of courses, including photography and creative writing, supporting adults living with mental illness to discover their creativity, build confidence and find alternative ways to manage their wellbeing, express themselves and connect with others.
Drawing on my own lived experience of mental illness, I am interested in the benefits of creativity on our emotional and mental wellbeing, how it can have a grounding effect and help us to build self-awareness, a sense of identity and self-worth. I am keen to enable others to discover how art-making can offer an opportunity to reconnect with the here and now, through creative exploration. Recognising how inhibiting it can be when we put pressure on ourselves to achieve predetermined outcomes or reach a particular endpoint, I focus on processes rather than outcomes, encouraging students to embrace playfulness, curiosity and spontaneity.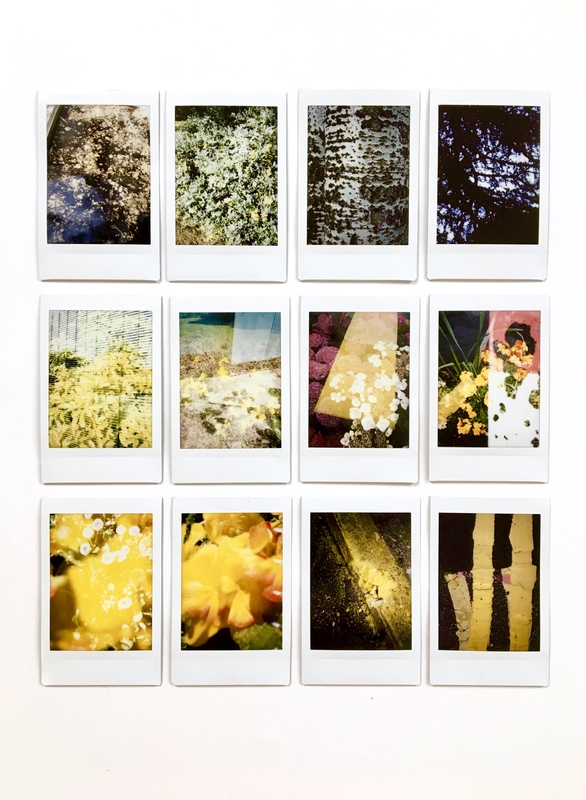 Projects and exhibitions
Details

David Roberts Art Foundation collection

13/06/2018

The piece shown, a framed collection of instax instant photographs, was bought by the art collector David Roberts and is now part of the David Roberts Art Foundation collection.

David Roberts Art Foundation
Details

Winner of 5th Dentons Art Prize

11/12/2017 — 13/06/2018

The Dentons Art Prize is a biannual competition which began in January 2016 in collaboration with curator Niamh White. From thirteen shortlisted artists I was chosen as the winner of the 5th Dentons Art Prize, by a panel of expert independent judges which included David Roberts, Collector and Founder of David Roberts Art Foundation; Patrick...

[Read more]
Dentons Law Firm, London offices, London
Details

Outdoor painted mural

15/08/2017 — 17/08/2017

Outdoor mural painted at Barnes Hospital in London, which provides inpatient and community mental health services. This project was a collaboration with the art and mental health charity Hospital Rooms and took place in conjunction with a painting workshop for service users which I co-facilitated.

Barnes Hospital, SW14, London
Details

Lost and Found: A Way Back - solo show

20/11/2016

Presentation of photographic work and working practice to an audience of patients and service users at Springfield University Hospital. In conjunction with a photography workshop at the Recovery College which I co-led with the art and mental health charity Hospital Rooms.

The Recovery College at Springfield University Hospital, SW17, London
Details

Millwall Park, E14 c.1972: On Finding an Image and Misplacing a Memory - publication

01/09/2014

Found image publishing project. This publication brought together four essays by four different artists, academics and writers, each responding to a found image from the East End Archive. My essay on an image taken in Millwall Park in 1972 was included in the publication.

n/a
Details

Circumstantial Paraphernalia - group show

07/03/2014

The piece I exhibited at this group show was comprised of two side-by-side Kodak carousel slide projectors each streaming carefully plotted sequences of hand made acetate slides. This allowed chance encounters between simultaneously projected images: unforeseen moments of reflection, repetition, discord, resonance and contradiction, a dialogue...

[Read more]
Supplement Gallery , E1, London
Details

anArchive - group show

29/11/2013

As part of this group show I exhibited a number of site-specific works - installations of found material, objects and ephemera which responded to the architecture of the exhibition space and explored the concept of work-in-progress

Shoreditch Works, N1, London
Details

Re-Vision: A Working Title ( part of 'Artwalk' festival)

02/11/2013 — 04/11/2013

Site-specific installation of work in progress, made on site in the shop front of a local business in Hackney. This was part of a two day art festival called Artwalk in which artists were given spaces in local businesses to exhibit work and engage with the public. I was on site for the full two days, making work using found materials, images...

[Read more]
Robel, local business on Stoke Newington Church Street, London
Details

Preliminary Object - group show

18/10/2013 — 22/10/2013

Exhibition of work by myself and a group of artists working around the theme of process, exploring the relationship between intention and outcome, concept and object. Preliminary Object brought together the not-yet-realised - works that were unfinished, ideas that were just burgeoning - and presented them in a formalised exhibition setting. The...

[Read more]
The Bank Space, E1, London
Details

Sound Out

19/04/2013

An event presenting a collaboratively produced vinyl record containing sound art by a group of artists, including a 'collage' piece by me created using fragments of found sound. My piece explored verbal and vocal articulation and the struggle to put thoughts into words.

Supplement Gallery, E2, London
Details

Presence - group show

07/12/2010 — 19/12/2010

Exhibition of prints by a group of artists, including five mono prints by me.

Mile End Art Pavilion, E3, London
Details