Kevin Devonport West Yorkshire, United Kingdom
Kevin Devonport is a self taught artist currently based at Assembly House studios in Leeds. Art has had a significant impact upon his life as he learnt to paint whilst serving a prison sentence for drug offences. He won a national Koestler Award for painting at London's South Bank and has gained prominent positions in other international contests.
Despite not having any artistic qualifications I do hold a First Class Honours BSc in Sociology that does have a significant impact upon a degree of my work. I paint a number of different traditional genres though these are imbued with a contemporary essence and executed with an element of realism. Not all of my work has underlying themes as a certain amount of my paintings are produced purely for their aesthetic value. I am particularly fond of painting still life images that convey a particular narrative through the meanings that are perceived from everyday material objects.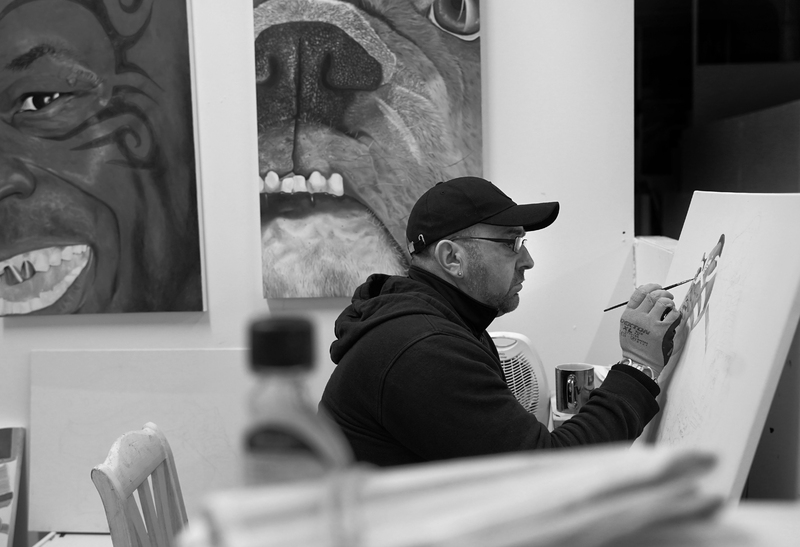 Projects and exhibitions
Details

Contemporary

06/10/2021 — 12/08/2021

Another great group exhibition featuring work from artists globally

Boomer Gallery Tower Bridge, Central London
Details

Doncaster Art Fair

01/10/2021

A prize exhibition that also offered a peoples award dependent on a voting system.

Online, Doncaster
Details

Icon

10/09/2021 — 16/09/2021

A group exhibition with an eclectic array of art from artists globally.

Boomer Gallery Tower Bridge, Central London
Details

Paraiso

23/07/2021 — 03/08/2021

MADS Art Gallery, Milan
Details

Vogue Second addition

09/07/2021 — 15/07/2021

A physical group exhibition in Central London

Boomer Gallery (Aldgate), Central London
Details

Leeds Summer Group Show

01/07/2021 — 31/07/2021

4 of my paintings were included in this event that are part of a series that I am still working on.

Vrtual due to Covid restrictions, Leeds
Details

Connectivite

23/06/2021

An online exhibition through huts magazine.

Online
Details

Solstice Exhibition

21/06/2021 — ongoing

An exhibition of artworks comprising of paintings and sculpture; celebrating the summer solstice.

Fronteer Gallery, Sheffield
Details

In the wild exhibition

01/05/2021 — 30/06/2021

An exhibition and international competition with artists included from 26 countries.

Online through the Artist Lounge
Details

Bursary award from The Tetley gallery

01/05/2021 — 01/07/2021

Given a bursary to produce a piece of work for the Tetley gallery in Leeds, which was part of the PANIC programme (promoting an artists network in the Crisis).

The Tetley Gallery, Leeds
Details

The Virtual Art Fair Prize exhibition

01/04/2021 — 01/07/2021

This was a virtual and prize exhibition in which artists interacted by interviewing each other. The competition aspect of the exhibition offered a peoples choice award from a peoples vote.

Virtual Exhibition online
Details