Lindy furby Midlothian, United Kingdom
I am a printmaker based in Edinburgh Scotland. I travel around the country in my campervan painting plein aire watercolour sketches of the landscape. Back in Edinburgh I convert these sketches into collagraphs and print them either at Edinburgh Printmakers or at home. I am trying to cover the whole of Scotland. I also engage in protest art around refugee, BAME issues and others.
My collagraphs are formed on a mountboard matrix. I attach a variety of materials to this matrix - tiling cement - which can be sculpted to produce all sorts of marks - perfect for mountains, pva - which wipes clean - perfect for clouds and sea foam, moss (trees and bushes) , string, , textured papers etc. etc., - all these provide a varied textural background to hold the ink. I then ink up the plate a la poupee with all the different colours where I need them. I wipe the plate - I might rollover the plate with an ink laden brayer - then I place damp paper on it and put it through an etching press. The press pushes the damp paper into all the little crevices and picks up the ink. I then repeat the inking for the next print. I make small varied editions - usually 10 each one unique because of my inking method. I also make drypoints and monoprints and combinations of media. I have recently been experimenting with the laser cutter at EP. Collagraphs are a very economical means of printing. My matrix is mountboard - left over from the centres of mounts. The materials I affix to the board are not expensive - timing cement , pva, string, moss etc. I make small bleed prints usually on Hahnemuhle paper. All in all it means I can sell my work at an accessible price - which is important to me. I am happiest selling my work in pop up galleries where I can interact with the buyers swopping memories of the places I portray.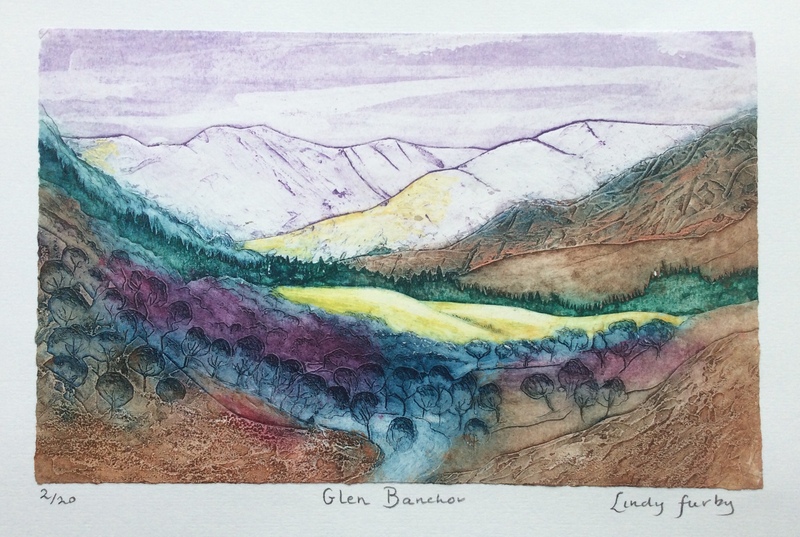 Projects and exhibitions
Details

Just the clothes on their backs: bear witness as part of an exhibition by 4 artists" The Mouth of the Shark"

08/07/2021 — 31/01/2021

Mouth of a Shark was an exhibition by Cork Printmakers and Edinburgh Printmakers artists responding to the words of the British Somali poet Warsan Shire: No one leaves home unless home is the mouth of a shark. In 2019 artists from Edinburgh Printmakers and Cork Printmakers came together to share reflections and responses to Shire's rallying...

[Read more]
Lord Mayor's Pavilion Cork Ireland, Cork Ireland
Details

Discarded

01/06/2020 — 30/06/2020

Discarded people:- Nurses, doctors, carers, drivers, shop workers, ambulance drivers …….essential workers. Discarded; dead as the result of lack of PPE, lack of care. A disproportionality of immigrants, blacks, Asians, …….. discarded. This installation consists of 64 discarded facemasks on the ground. 50 printed with a drypoint image...

[Read more]
St John's Church Waterloo London part of Waterloo Arts Festival, London UK
Details