Mark Andrews West Midlands, United Kingdom
Illustrator / Cartoonist / Maker. Specialising in Prog Rock-inspired illustrations, children's book illustrations, and bespoke design.
I've been interested in drawing for as long as I can recall. Presumably for as long as could hold a pencil. Cartoons have always fascinated me, so it's not really a surprise that I always wanted to be a cartoonist. I loved the way they could take things that were familiar, and make them look different, grotesque even, while retaining the essence of what they were. I loved how Gary Larson could turn everyday situations and make me look at them from a completely different - often surreal - point of view. They make me laugh, and they make me think about the world around me.
I did 20+ years in international logistics, before being made redundant in 2009. From 2010 - 2014 I attended Coventry University, firstly for the Art & Design Foundation Year ( 2010 - 2011, Passed with distinction ), and subsequently a BA ( Hons ) in Illustration & Animation ( 2011 - 2014, 1st Class ).
I became a convert to digital media during my time at University. It enables me to compile multiple images into one whole. Some of my Prog illustrations contain over 150 layers. It also allows me to incorporate photo textures into my work, something I discovered in my 3rd year, when designing children's book illustrations. My final project was a children's book designed to be viewed on an iPad. I now almost exclusively use digital now, as I find it less stressful. I have a nerve issue in my left hand & arm, which means it has reduced feeling, and is prone to cramp and spasms.
It was my intention to go into teaching once I had finished my degree, and I did start a PGCE, but the problems I was having with my hand forced me to withdraw at Christmas 2015.
In 2017 I started up my own business, selling my own Prog-inspired artwork online. Prog Rock has been an inspiration for many years. It draws on rich imagery, which lends itself to turning into visuals. The online world is a great way for people with similar musical interests to gather together, this has created an environment which allows sell my works to my fellow fans from all across the world. When I'm creating these works, I am sharing my fandom. It's a knowledge of the music that allows the viewer to 'decode' the illustration.
In 2018 I started selling work at art fairs in Coventry, and the surrounding area. This year I am putting together a children's book, entitled 'The Door in the Floor'.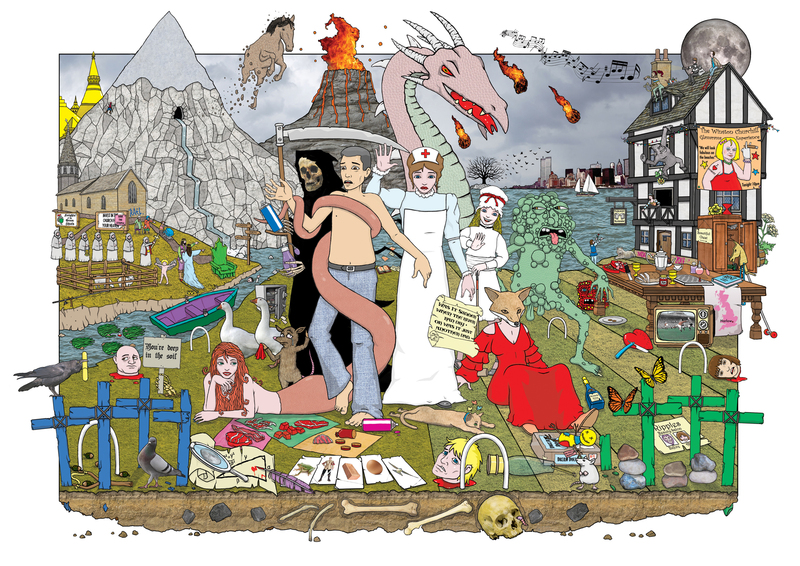 Projects and exhibitions
Details

The Arty Party

29/03/2019

Organised to coincide with the day the UK was set to leave the EU ( but didn't ), The Arty Party wasn't a celebration of Brexit, but aimed to explore the ideas of collaboration in a divided post-Brexit society.

FarGo Village, Coventry
Details