Ryan Peter French Cheshire, United Kingdom
Ryan French graduated with a first degree from Manchester School of Art and is currently based in Manchester. His practice consists of painting, illustration and digital art. The subject matter of his work lies in the human condition, the ability to share and connect our experiences through visual language, and the necessity of fantasy in the face of reality.
Using photography, I capture scenes from my day to day surroundings and collage them digitally. Enhancing the colours and making them fantastical, they are often saturated with information to the point of 'horror vacui', mirroring the society of excess that we are consumed by. It is a unique form of escapism that in its very essence warns us against itself; Boudrillard's writings on 'hyperreality' and Guy Debord and the Situationist International are particular points of reference.
The themes I focus on in particular are identity in the information age, hyperreality, sociology, and philosophy.
Aside from digital collages I also make oil paintings. My main influneces are Symbolism, Dada and Surrealism. Each of these moments in art history were born from a time of social upheaval and advancement, the spirit of this is appropriate to the atmosphere of our current society. I intend to marry together my painting and digital art to advance my points of reference into new and exciting territory.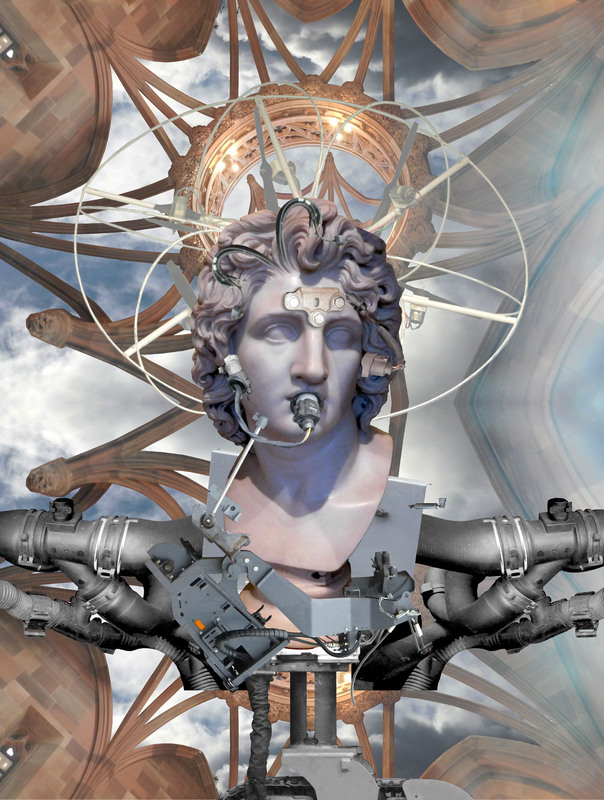 Projects and exhibitions
Details

Digital Dada Salon 2020

10/06/2021

I was a panelist and contributing artist for Decorating Dissidence's Digital Dada Salon 2020, discussing contemporary interpretations of the Dada movement 100 years later.

Decorating Dissidence, Virtual
Details

The face of the Other

01/05/2021 — 12/06/2021

An exhibiton collecting socally engaging work from queer artists

SEAS, Brighton
Details

Pint of Science

01/05/2021 — 01/06/2021

Creative Reactions is the science-meets-arts branch of Pint of Science, encouraging collaboration between artists and scientists to showcase research creatively. This can range from drawings, paintings to poetry, sculptures and video. I collaborated with Mourray Goulden and made digital collages based on his research.

n/a
Details