Ali Barker Merseyside, United Kingdom
My work expresses music and sound in colour. I create abstract paintings, mixed-media work and installations inspired by my personal experiences of sound-colour synaesthesia – when I listen to music, each note of the musical scale is perceived as a specific colour. I completed my MA in Fine Art (Distinction) in December 2019. In my spare time I am a musician, playing violin and viola.
My experiences of synaesthesia and my musical background both influence my work. I use a fixed palette of colours to represent the colours I perceive through my experiences of sound-colour synaesthesia. (There are many types of synaesthesia, a phenomenon in which a stimulus to one sense consistently and uniquely evokes automatic, conscious perceptions in a different sense.) My practice is focused around the use of paint on a variety of surfaces including canvas, wood, and paper, although I sometimes incorporate coloured fabric or thread into my work.
The musical repertoire I perform often influences my choice of music to work from (although for commissions the music is usually chosen by the client). There is also an emphasis on the use of process in my work, evident in my geometric paintings transcribing music or recorded sounds. I aim to balance the integrity of my translational processes from my musical perspective with visual compositional decisions of colour and form. My current work explores layering themes, rhythm, pattern, and the complexity of music, creating outcomes that I consider represent the essence of the original music, yet outwardly appear visually abstract.
Recent and forthcoming exhibitions include: 'Ensemble', a solo show in The Landing Gallery, The Atkinson, Southport (24 June-22 July 2023); 'Musicals to Mahler', a solo show at Cass Art, Liverpool (June 2022); 'Music-Colour-Paint', a solo show and residency at Arena Studios and Gallery, Liverpool (July-Sept 2021); and 'Expression Through Colour', a 2-person show held in Liverpool Anglican Cathedral (Sept-Oct 2020). My first solo show was held in Liverpool in 2016 and I regularly exhibit in a variety of group shows across North West England; in 2018 I won the Student Prize at the Lancashire Open Exhibition. Originally from Sheffield, I studied for my undergraduate degree in Pharmacy at the University of Bradford, before moving to Merseyside in 1995. After a 20-year career in community pharmacy, I left to pursue my artistic ambitions full time, completing my MA in Fine Art (Distinction) at the University of Chester in December 2019.
I am also inspired by skylines and other structures in the landscape, from complex cityscapes to rock formations or man-made structures such as a bridge dominating a horizon; however I choose to omit much of the detail and represent these as simplified forms. In 2011 I won Merseytravel's Art on the Network competition 'Design a New Skyline', for the Queensway (Birkenhead) Tunnel. My 'Liverpool Composition' and 'Wirral Composition' designs were made into murals on the new cladding, approximately 5m high and 22m wide, and are public artworks on permanent display at each end of the tunnel.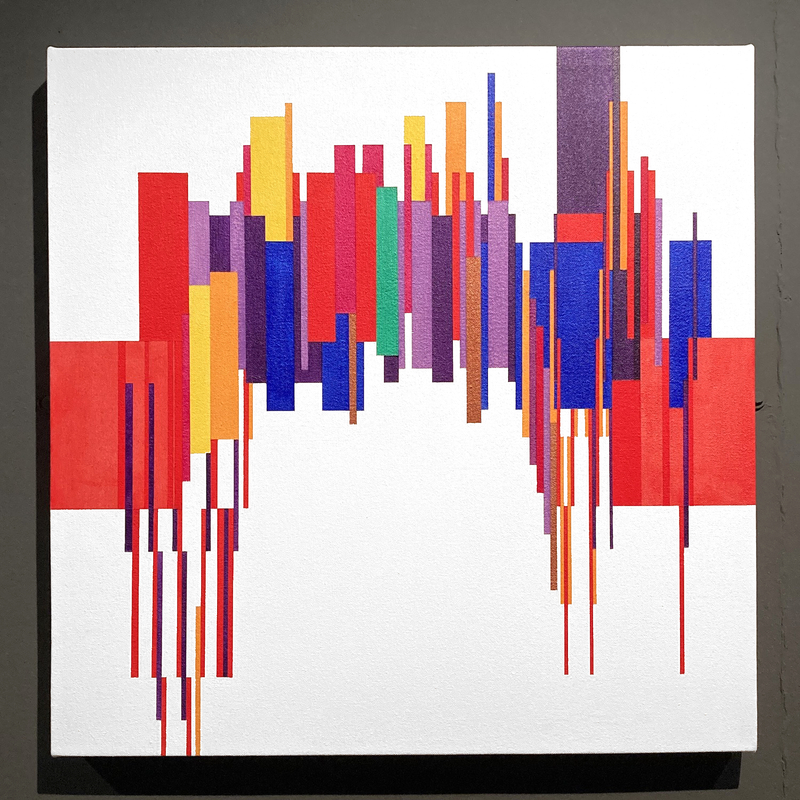 Projects and exhibitions
Details

Artist in Residence, Wirral Arts Festival 2022

01/10/2022 — 15/10/2022

I produced a series of new paintings expressing music to be performed in two of the concerts in the festival, which were then displayed at each concert.

n/a
Details

Musicals to Mahler solo exhibition

06/06/2022 — 17/06/2022

Solo exhibition of recent paintings on canvas and on paper, plus an interview about my work for the Cass Art blog.

The Art Space, Cass Art, Liverpool
Details

Artist in Residence, Wirral Arts Festival 2021

02/10/2021 — 16/10/2021

I produced a series of new paintings expressing music to be performed in two of the concerts in the festival, which were then displayed at each concert.

n/a
Details

Music-Colour-Paint solo exhibition and artist residency

31/07/2021 — 12/09/2021

Solo exhibition of recent paintings accompanied by a residency in the Arena Grounded Gallery. Throughout August I created a series of 11 new works on paper responding to pieces of music I listened to in the gallery or music played in the neighbouring Baltic Social.

Arena Grounded Gallery, Arena Studios and Gallery, Liverpool
Details

Warrington Contemporary Arts Festival Open Exhibition

11/09/2020 — 23/12/2020

Adagietto (Synaesthesia 176) was selected for this Open Exhibition.

Warrington Museum and Art Gallery, Warrington
Details

Expression Through Colour

07/09/2020 — 28/10/2020

25 of my paintings made between 2016-2020 were showcased in this two-person exhibition organised by dot-art Gallery, Liverpool.

Liverpool Anglican Cathedral, Liverpool
Details

MA Fine Art Final Exhibition

18/09/2019 — 21/09/2019

My MA Fine Art Final Project focused on creating visual interpretations of the Tchaikovsky Violin Concerto. Drawing on my experiences of listening to it as an audience member, performing it as an orchestral player, and through analysis of the score, I identified musical connections within the orchestral parts and between the orchestra and the...

[Read more]
Kingsway Campus, University of Chester, Chester
Details

Sefton Open Exhibition 2019

13/04/2019 — 11/05/2019

Three paintings selected for the 93rd Sefton Open Exhibition 2019. My work has regularly been exhibited at the Sefton Open since 2015. Clockwise from top left: John Williams: The Raiders March (Synaesthesia 133), Take Five (Synaesthesia 108), Elgar: Pomp and Circumstance March No. 1, 'Land of Hope and Glory' (Synaesthesia 111).

The Atkinson, Southport
Details

Lancashire Open Exhibition 2018

21/07/2018 — 09/09/2018

Two works selected for this Open exhibition, one of which (Fugue) won the Student Prize.

Chapel Gallery, Ormskirk
Details

Four-Dimensional Colour solo exhibition

10/09/2016 — 24/09/2016

Solo exhibition of paintings. A combination of works representing translations of daily sounds and expressive works in response to pieces of music performed throughout 2016. 'The Year 2016' was a work in progress; I visited the gallery daily during the exhibition period to add new daily sounds/coloured squares to the painting.

dot-art Gallery, Liverpool
Details