ANDREW EKINS Greater London, United Kingdom
I graduated from the Royal college of Art 2001. As an artist I am interested in the fugitive relationship between the sublime, the abject, and contemporary perceptions of beauty. I am interested in exploring form and material structure to expand the boundaries, physical presence , and significance of painting, and in this context its potency as a vehicle for metaphor and ideas.
I am interested in exploring form and material structure, utilising a deliberate application of painterly mass, to expand the object status and the physical presence of a painting.
The core subject of recent work explores the lustre and grime of human presence, the anthropocentric imprint on the places we inhabit, and the sediment of experience and memory. Paintings like "Loaded" employ a confection of degraded beauty, a fugitive relationship between the sublime and the abject, to evoke allusion between a geo-topographical landscape and a crumpled fleshy landscape of the human condition.
Process is an important aspect of my practice. Paintings are formed over time and bear the marks of time in the corrupted decorative patina of their appearance. A succession of paint skins, the "wrong" part normally discarded as worthless, are harvested from domestic & other paints, combined with used clothing, stacked, layered & repainted to shape an image of a puckered, meaty landscape. The sagging, misshapen form is intended to carry a narrative element of the work, with themes of mortality and decay, growth and renewal to draw a line between the materiality of the human body and the materiality of a body of land.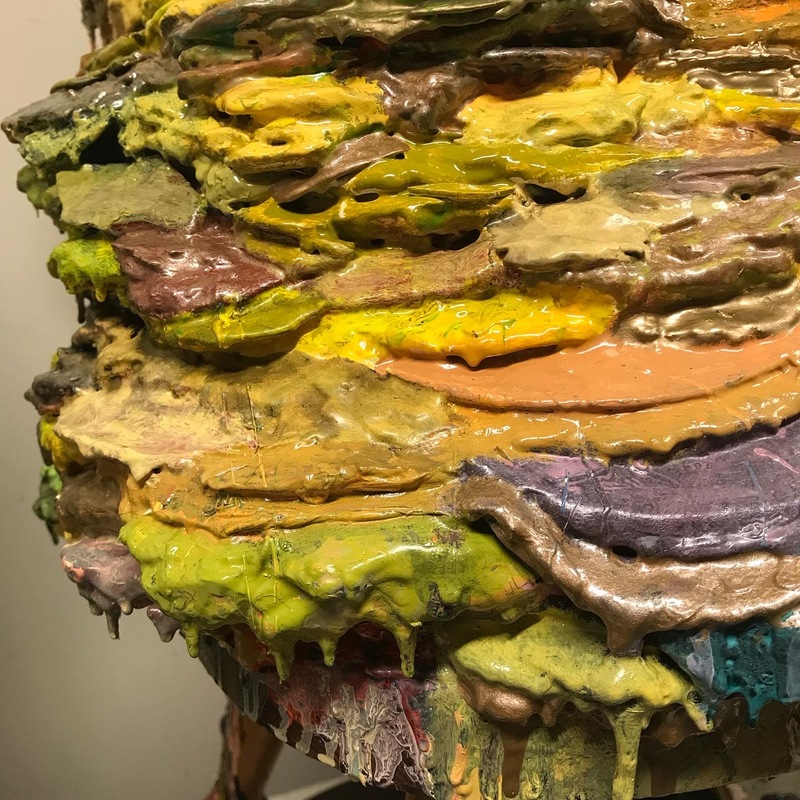 Projects and exhibitions
Details

prettyUGLY

19/06/2021 — 04/07/2021

"PRETTY UGLY" "Everything has its beauty" (1)

THAMES SIDE STUDIOS GALLERY Curated by Andrew Ekins.

This exhibition brings together the work of 16 artists all of whom explore a fugitive beauty within "a degraded sense of reality"(2) . Each sees value in the imperfect and the irregular, the pull of the sublime and the...

[Read more]
Thames Side Gallery, London
Details