Ann Diment Somerset, United Kingdom
I live in Glastonbury, Somerset I am an emerging artist after completing a Foundation Diploma in Art & Design as a mature student after a 20 years as a Health, Safety & Wellbeing practitioner. I use my creative practice to support my own mental health and share my lived experience of PTSD and depression to start conversations on the stigma around Mental Health and surviving trauma.
I work part-time as a Creativity and Wellbeing coordinator commissioning social prescribing activites to support welbeing, and also as a 'creative changemaker' coach transforming burned out professionals into resilient and compassionate leaders.
For my studies I have been writing about my practice on two Tumblr blogs and Instagram regularly (details below)
I work with a range of media and am particularly interested in recycling and repurposing objects that would normally be discarded, to connect a 'mend and repair' theme to the conversation about mental health recovery and healing. I also draw inspiration from nature to instil an observational and meditative aspect to my work and have experience as a music and acting performer too.
I have managed to release and express so much in the past two years of studying for an Art and Design Foundation diploma and I want to continue this journey and help others find their voices, working collaboratively with communities to help co-create art that empowers survivors of adverse childhood events (ACE's) to express and heal through the visual and performing arts.
I want to create community art activities to help people start connecting with their wider world and introduce more empathy and compassion for themselves and for those around us, as many will have found the lockdown and other traumas associated with the COVID pandemic difficult to process or articulate.
Recent examples of my work are in the application and examples of my creative writing and film work are here:
• End of Year Show 'tour': https://www.youtube.com/watch?v=4YTh8EFECpg • Creating Recovery- audio installation work expressing the healing power of creativity: https://www.youtube.com/watch?v=kZMzvyupiUY • 'Hope'- a film made about the impact of Lockdown on Social Isolation- https://www.youtube.com/watch?v=hyBbjBi4mhI • Time to Change somerset- A film talking to Volunteer Champions about talking about mental health (I am a contributor and read one of my poems)- https://www.youtube.com/watch?v=DD2ZSZk2A2I • #soundsfromhome online exhibition curated by Amanda Lynch for Arts and Disability charity CEDA. Audio excerpt of a poem and collage shown in the online exhibition on Instagram here: https://www.instagram.com/p/CFxJ2IVAX-1/ • Workshop Commission from Durham University Student Art Prize Artfund to run two online workshops in February 2021. https://sitcfestival.org/workshops/ • 'Restriction' exhibition from the 'Correspondence Collective' at Clayhill Arts. Creating small pieces of work (3 x 4 cm) that fit into compartments of a letterpress drawer. My pieces are in drawers 1 and 3 here: https://www.correspondencecollective.com/exhibitions • Seed Sedgemoor 'All the colours' submitted 2 abstract collages for a curated work turned into a lenticular image by Fiona Campbell and displayed on the Buses of Somerset (Summer 2021) https://seedsedgemoor.com/artfirstgallery/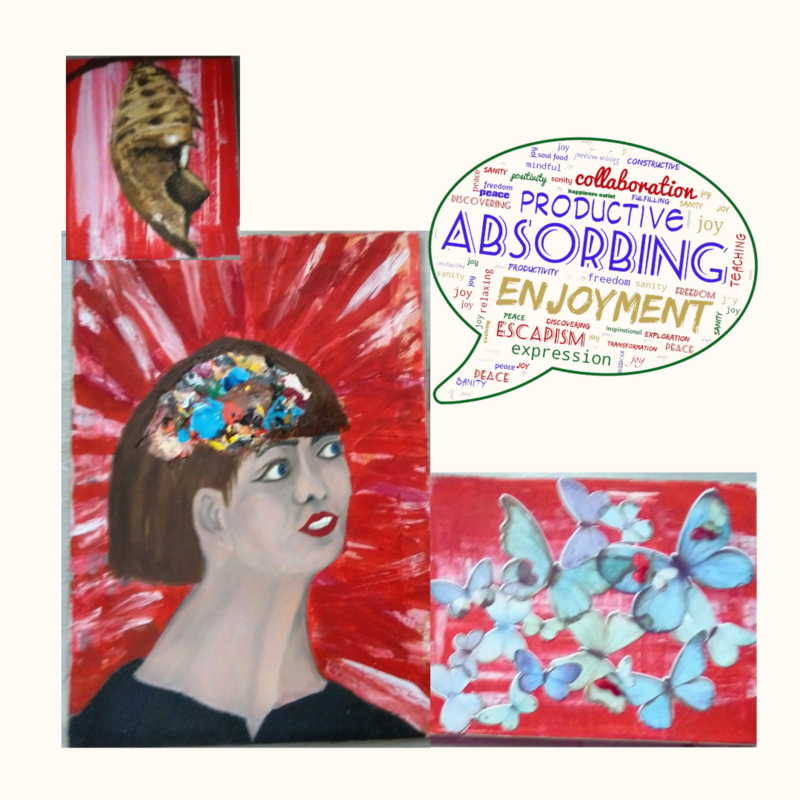 Projects and exhibitions
Details

International Year of the Roses 2021

13/11/2021 — ongoing

One of the five Rose images I submitted to a wellbeing international initiative 'International Year of the Rose 2021' has been selected for an Exhibition of the Best 60

See the introduction and exhibition here https://www.artculturetourism.co.uk/yearoftheroses2021-exhibition

The roses' images and my story submitted were showcased on the...

[Read more]
https://www.artculturetourism.co.uk/yearoftheroses2021-exhibition, Nottingham/Online
Details

'Creating Recovery' End of Year show Installation

07/06/2021 — 25/06/2021

End of Year Show for college Foundation Art & Design Diploma. Installation exploring how creativity aids healing and recovery. 'Creating Recovery' is about developing a 'Mend and Repair' theme to combine the concepts of 'Art as a Healing Tool' with transforming 'useless' or 'damaged' items into something beautiful. Vidoe...

[Read more]
Strode College Art Department, Stree, Somerset
Details

'All the Colours' Community Collage project

01/06/2021 — ongoing

I submitted 2 abstract collages for a curated work turned into a lenticular image by Fiona Campbell and displayed on the Buses of Somerset (Summer 2021) . thias piece called 'Green Escapism' features on the website and I won a prize too!...

[Read more]
Buses of Somerset, Seed Sedgemoor
Details

'Restriction' exhibition by the Correspondence Collective.

23/03/2021 — 06/04/2021

-'Restriction' exhibition from the 'Correspondence Collective' at Clayhill Arts. Creating small pieces of work (3 x 4 cm) that fit into compartments of a letterpress drawer. -All pieces fit into the size-restricted brief, and all have used items found around the house that would have been discarded but have been repurposed , so have had...

[Read more]
Clayhill Arts, Bridgwater, TA5 2PH
Details

Heroes workshop commision

21/01/2021 — 08/02/2021

Workshop Commission from Durham University Student Art Prize Art fund to run two online workshops in February 2021. See https://sitcfestival.org/workshops/ I ran two live workshops on ZOOM for members of the public to explore Heroism and create their own 'Hero' character. Here are some images and a recording...

[Read more]
Online for Durham University Student Art Prize 2021 Art fund, Durham
Details

'Forget the Past'

31/10/2020 — 14/01/2021

The cushion depicts key elements of my life over the past 5 decades and uses fabrics and threads that belonged to my Mother-in-Law, thus connecting three generations of our family, inviting us to sit in the present whilst reflecting on the past that is now behind us. It was created in response to a poem by Steve Taylor called 'Forget the...

[Read more]
n/a
Details

Pushing Paper Post Art

21/10/2020 — ongoing

See https://sitcfestival.org/post-art/ Artists were invited by Eleanor Matthews to respond to the British Museum touring exhibition, 'Pushing paper: contemporary drawing from 1970 to now' at Durham University's Oriental Museum. Artists were sent an image at random from the exhibition catalogue for Pushing Paper and created two postcards- one...

[Read more]
Durham University Oriental Museum, Durham
Details

Sounds from Home

01/09/2020 — ongoing

#soundsfromhome online exhibition curated by Amanda Lynch for Arts and Disability charity CEDA. Audio excerpt of a poem and collage shown in the online exhibition on Instagram here: https://www.instagram.com/p/CFxJ2IVAX-1/

Online- instagram- https://www.instagram.com/p/CFxJ2IVAX-1
Details

'Hope'- a short Film about the impact of Lockdown on Social Isolation

01/09/2020 — 31/10/2020

• 'Hope'- a film made about the impact of Lockdown on Social Isolation- https://www.youtube.com/watch?v=hyBbjBi4mhI A Response to 'A Distance forms around our Bodies' prompt . Using animation, etching mirrors and collaborative open call to make a film about effects of social distancing.

n/a
Details

Street Gallery

16/07/2020 — 16/08/2020

Street Gallery- see https://eleanormatthewsart.wixsite.com/streetgallery/artists Street Gallery puts artwork in windows, turning our homes into galleries. This summer, houses in Dawdon showed work in their windows by artists from County Durham, the UK and worldwide. The project was funded by East Durham Creates and supported by Durham...

[Read more]
Dawdon, Seahouses
Details