Becky Long-Smith North Yorkshire, United Kingdom
My practice is muti-disciplinary but a unifying starting point for most of my work is print or collage. I am an artist and educator interested in the social applications of art. I like to create work that is playful and invites interaction in some way. Ritual, play, wonder, performance, perceptions of reality and imagined narratives are all important themes within my practice.
There are three overlapping strands to my practice: Illustrative, narrative based work produced using digital collage. Intuitive, print and collage based works. Interactive installations (themed around play, imagination, wonder and reality)
I am most interested in developing large scale interactive artworks that offer audiences a form of escapism or allow them agency over the work in some way. I recently completed an MA in Creative Practice at Leeds Arts University where I explored the notion of 'ritualising' my practice. This learning prompted me to begin asking questions of my practice in relation to ritual theory such as, does ritualising an activity change one's perception of it? What effect can creative rituals have on individuals and on groups? Theoretical concepts that are closely linked or entangled with ideas about ritual include play, wonder, performance, perceptions of reality and imagined narratives. All of these themes find their way into my work.
Aesthetically, my work features, detail, layers, repetitive mark-making and is often the result of laborious processes or slow making. Even the digital work that I create retains something of the handmade processes that I enjoy using.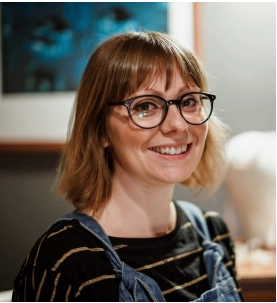 Projects and exhibitions
Details

Make Space For Girls block printing workshops

04/06/2023

An artist led workshop, creating block printed banners. The event was part of the Make Space for Girls programme, which aims to make parks more accessible to girls and adolescent females.

Rowntree Park, York
Details