bill chambers Monmouthshire, United Kingdom
I am based in Newport, South Wales and am a long-standing member of Cardiff Print Workshop. Over the years I have been self-employed as an artist and teacher, offering workshops and master classes to a variety of organisations and individuals. I strive to exhibit my work where ever I can. I have an MA in Fine Art Printmaking from Chelsea School of Art.
As an artist and printmaker, I have always relied strongly on process to transform and enrich my work, seeing each new technique as a creative journey. Printmaking has been my chosen medium for many years and is an area of my practice about which I remain passionate. In recent years I have made work based on the landscape of the urban environment using computer technology to generate prints via laser cut and used mono-type printmaking to explore the abstract and expressive possibilities of the natural landscape.
Most recently I have been experimenting with the process of cyanotype and in these artworks I am interested in the notion of anonymity within a group or crowd. The figures are uniform in their presentation and ephemeral in their translucency making them almost interchangeable as they merge with one another. Yet we each carry within us our own perceptual map of the world so the addition of a range of objects and patterns is intended to carry hidden meaning and be an indicator of individuality. Each figure set apart from the other by their own unique inner landscape.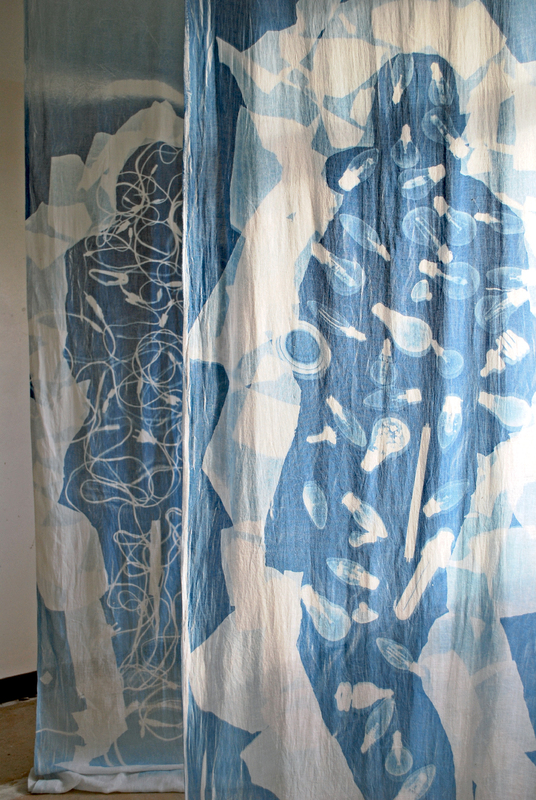 Projects and exhibitions
Details

Virtual Graffiti

15/02/2021 — 22/02/2021

I am a newcomer to the city of Newport but someone with deep connections to it. This project was undertaken for an Instagram takeover for @artsnewydd, an account promoting local artists. The series was made over a week as a virtual graffiti / public art campaign with the aim of reflecting the character and the essence of Newport with irreverence.

Newport, Newport
Details

Unus Multorum

10/04/2020 — 12/09/2020

The theme and title of the exhibition was Unus Multorum, meaning "one of many", a latin pseudonym used by the Romans to sign documents anonymously. 111 artists, musicians and poets from Wales and beyond were asked to explore the theme of multiples and collectives and fill this large empty house with art. Created in response to the notion...

[Read more]
Plas Bodfa House, Anglesey
Details