Carys Reilly Lanarkshire, United Kingdom
Carys Reilly is a contemporary artist living in Glasgow. Her practice combines sculpture, photography and body art. Her work is influenced by the 'Pictures Generation' artists, and the radical narcissism of 1970s feminist performance art. The narratives of her practice are shaped by her own experience of chronic illness, and fascination with historical texts on hysteria.
'She embellished her life in a manner which probably influenced her decisively in the direction of her illness, by indulging in systematic day-dreaming, which she described as her private theatre' .
My work is shaped by my lived experience of chronic illness: I use my practice to critique social narratives of gender, disability and mental health from an intersectional perspective. I examine historical and current sensationalising of women's sadness within popular and digital culture.
I've always found humour in the psuedoscience and misinformation that forms social narratives of femininity and illness. I play with the stereotypical association of feminine-coded crafts and 'madness', by using labour-intensive yet poorly executed sewing and construction techniques to create absurd, ironic or untrustworthy objects. It's this aesthetic of untrustworthiness that invites the viewer to critically interrogate and ridicule the social constructs examined by my work.
My practice is cross-disciplinary, combining sculpture, photography, body art and performance. Coming from a textiles background, the materiality of my work is chosen with great care. I love the physical process of assembling fabrics together with familiar domestic, tacky, and hyper-feminine objects. I feel a lot of affection towards all my strange little creations.
One day I realised I wasn't making sculptures, but costume pieces. I started taking 'on the go' selfies wearing my creations, and my practice was transformed. I knew then my true calling had always been the (digital) stage.
I'm currently working on a new project called 'Quick Unpick', exploring how my diagnosis of gynecological illness and subsequent surgery forced me to confront my own relationship to my gender, femininity and fertility.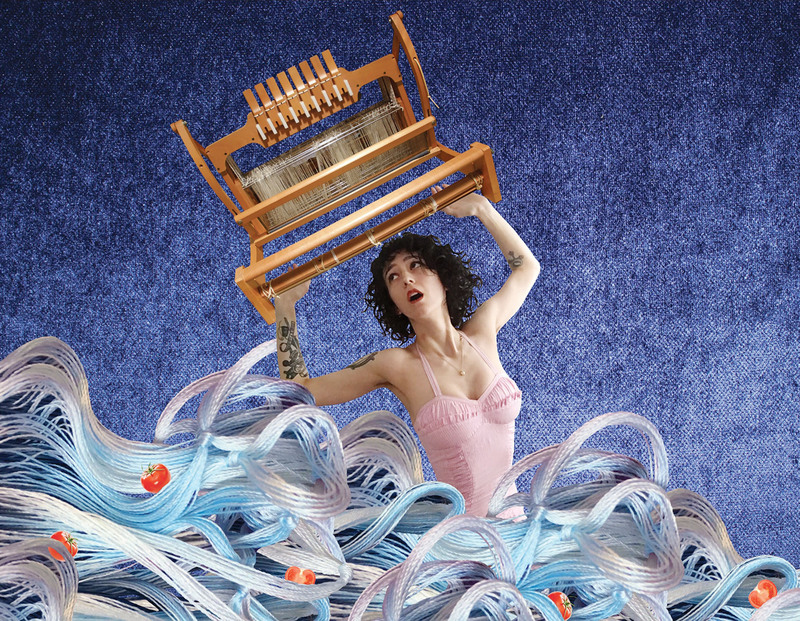 Projects and exhibitions
Details

Bees Don't Make Lemonade

14/10/2021 — 17/10/2021

Kitchen Gallery, Birmingham
Details

Strange Relations

08/10/2021 — ongoing

Fabrica Gallery, Brighton
Details

We Will No Longer Be Silent

19/09/2021 — 25/09/2021

New Haus Gallery
Details

Her Indoors

11/05/2020

Exhibition

online
Details

Sense and Sensibility

01/09/2017

Exhibition

Winchester School of Art, Winchester
Details

Deirdre

14/07/2017

Exhibition

The Old Courts, Warrington
Details

34x34x15

02/02/2017

Exhibition

Hockney Gallery, London
Details

SHE Book Launch

10/12/2016

Exhibition and Book Launch documenting the 'SHE' exhibition from July 2016

Unit 5 Gallery, London
Details

Muriel

11/11/2016

Exhibition with Womanstanley

Leeds Assembley House, Leeds
Details

SHE

30/07/2016

Exhibition with Sweet 'Art

Ugly Duck, London
Details

Bad Art

13/05/2016

Exhibition

Bones and Pearle Studios
Details

Other

17/03/2016

Exhibition with RCA Feminist Society

n/a
Details

(No)Body

09/03/2016

Exhibition

The Hockney Gallery, London
Details