Clee Claire Lee South Yorkshire, United Kingdom
As a sculptor/installation artist, I weld, weave, wrap or ravel steel wire into most of my work. Routes, boundaries and voids created help me understand connections and liminality. The wire is manipulated into weightless ethereal structures, barely visible yet imposing. With the involvement of my body and the inclusion of light, space, movement and sound, uncanny immersive environments emerge.
I currently describe myself as a sculptor/installation artist. I have an affinity with wire, and often use it to explore routes, thresholds and voids that help me understand connections and liminality. I like the malleability of the material, how we seem to work in collaboration, and how we exist spatially in relation to one another. I like to work on large-scale and site-sensitive installations.
Combining the work with light and sometimes sound, I create immersive and uncanny environments with large, ethereal forms, which are intuitively and organically welded or woven. I also experiment with sound/voice, movement and performance, which are important aspects of the process of my work, as well as the physical making. My body, as tool and medium, is central in my work and so I consider, as part of my practice, any media that uses, or challenges, me and my body.
Navigating authentic body relationships has been a concern throughout my working life, more specifically those of women. Through the metaphor of Songlines of the Body and Potential Space, I have explored the embodiment of resonance and connections within/between ourselves, space, time and consciousness. Recent projects (A Void, A Drift, A Wake) include a series of large-scale physical installations made up of multiple wire structures, with which I have then involved other artists to collaborate on improvisational and choreographed dance, both with and without the physical sculpture. A solo show, Liminal Bodies, reframed organic and architectural steel sculptures, and integrated sound, video and text into the installation.
Liminality, transience and transition are core concepts in my work. I am interested in this threshold where in and out, connection and disconnection meet, which I believe informs all of my work at some level. In my work, I aim to pull the viewer into that in-between space or state where transportation happens. I find that I have always straddled aspects of life, finding this uncanny place of discomfort or discordance to be alluring and transformative. There is something about the periphery making it tricky to express because once noticed and focussed upon, it becomes central, and so no longer peripheral. It is from where invisible forces exert their influence.
I work alone and in collaboration with others. I have set up and led experimental projects, Syn-Aesthetic and Regardez la fenêtre. Both these projects combined sculpture/installation, sound, movement, improvisation and performance with other artists, dancers, musicians and academics. I am currently working with a dance artist and I am also part of an ongoing collective of women artists, Material Voice, our last project involving collaboration with Kelham Island Industrial Museum.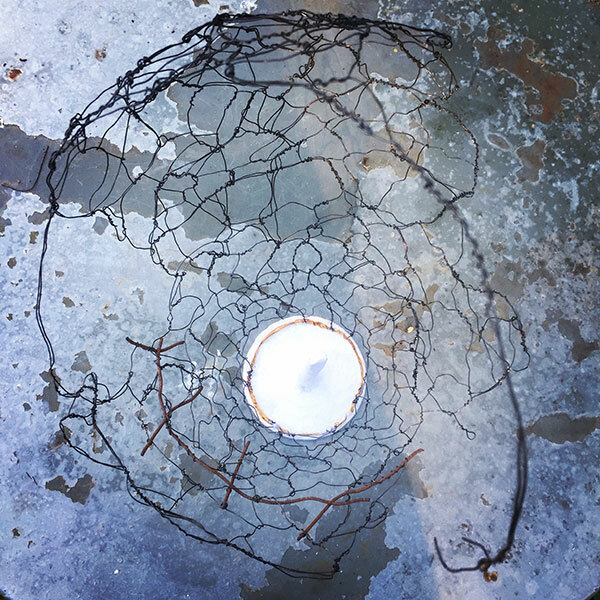 Projects and exhibitions
Details

Visibilising the Invisible - On Caul: Unpaid Labour

12/09/2019 — 29/09/2019

Installation exhibited as part of a group show, What is the Matter? Materials, Commodities, Narratives, with the women sculptors' collective, Material Voice. Funded by Arts Council England, and in collaboration with Kelham Island Museum.

Kelham Island Museum, Sheffield, Sheffield
Details

Regardez la fenêtre - Embodying Space and Dialogue

05/09/2018 — 27/09/2018

A 3-week public residency, led by myself, including the building of a site-sensitive sculptural installation and a series of collaborative experiments with artists and academics, including different sculptural media, language, improvised sound and dance. The residency culminated in an improvised sharing and performance between the different...

[Read more]
Access Space Labs, Fitzalan Square, Sheffield
Details

Wire Inquiry in Slovakia

21/05/2018 — 28/05/2018

A Research and Development award from Making Ways, a programme supported by Sheffield Culture Consortium through Arts Council England to showcase, celebrate and develop the exceptional contemporary visual art produced in the city.

Bratislava and Zilina
Details

The Copse Project

01/05/2018 — 30/09/2018

An interactive art installation. Workshops on weaving with wire, led by myself, allowed participants to contribute to the development of a public installation.

Eyam, Derbyshire
Details

Syn-Aesthetic

01/12/2017 — 12/01/2018

A collaboration, led by myself, with artists and dancers in improvised sculpture, movement and performance.

Exchange Place Studios, Sheffield
Details

Songlines of the Body - I: Potential Space, II: FACE

01/04/2016 — 30/09/2016

Sculpture, light and sound installation as part of Masters in Fine Art (studied at Nottingham Trent University)

Exchange Place Studios and Gallery 35, Sheffield
Details