Leigh Bowser United Kingdom
Leigh (pronounced 'Lee', she/her/they) is a Leeds based textile artist and educator. Her use of textiles is rooted within the emotional connections we have with cloth, utilising this connection as a vehicle for storytelling and activism.
Leigh specialises in free hand machine embroidery techniques within her work. Free hand, or free motion, machine embroidery is the method of using a sewing machine as a drawing tool. Each detailed illustration is made up of many layers of stitch to achieve a realistic quality, taking notice of light, shadow and fur direction. The sewing machine is controlled by hand, with each stitch placed with specificity.
In 2012, she started 'The Blood Bag Project', a craftivist project that aims to raise awareness of the rare blood condition Diamond Blackfan Anaemia, which her young niece, Chloe, was born with. The condition that meant that her bone marrow could not produce new red blood cells, leaving her reliant on monthly blood transfusions for survival. The project asks participants to create textile blood bags – the process of creating allows them to reflect on the purpose and importance of blood donation. So far, over 1,000 participants have create blood bags all over the world, including Russia, Australia, USA, Spain, Switzerland and the UK.
Leigh is currently working on the the development of a children's picture book about the experience of a stem cell transplant from Chloe's perspective. Through cute characters and embroidered illustrations, they aim to make the potentially scary topic easier to digest, a theme that runs throughout much of her person textile work.
As well as embroidery and craftivism, Leigh has spent the last 10 years of her career tutoring and mentoring university students, learning disabled artists and primary school children. More detailed information about this can be found lower down.
2012 - University of Huddersfield - 1st in BA Textile Crafts | 2023 - Falmouth University - Distinction in MA Illustration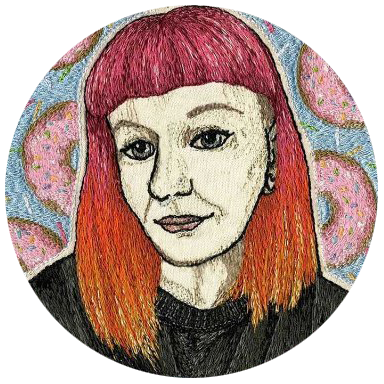 Projects and exhibitions
Details

Pint of Science: Creative Reactions

19/05/2023 — 21/05/2023

'Have a Heart' - 2023 - Hand embroidery, quilting, silicone skin and muscle developed by researcher Richard Arm

'Have a Heart' juxtaposes the soft texture and comforting nature of cloth found within the artists practice, with the realistic recreation of anatomy from the researcher, to generate a curious tension between the subject,...

[Read more]
The Carousel, Nottingham
Details

Periods: A Brief Jaunt Up North

08/01/2022 — 10/04/2022

Designing and delivering stitched based workshops around the theme of 'What I wish I Knew' in response to menstruation. Working with an LGBTQIA* youth group, secondary school students, an over 55's group and an activist girl's group. Stitched outcomes were then brought together into one large banner, displayed during the exhibition (Jan...

[Read more]
Thackray Museum of Medicine, Leeds
Details

Weaving Together a Story of Place

01/09/2021 — 31/07/2022

Working alongside Primary School Teachers to integrate textile practices into non-art based lesson plans for ages 4-11. This included learning about the size and scale of the solar system through pom-poms, Amazonian animals captured in Batik, creating civil rights craftivism and building understanding of descriptive words and character building...

[Read more]
Primary Schools, Kirklees
Details

Pyramid

01/09/2021 — ongoing

Supporting learning disabled and autistic artists with their creative practice. Working both 1:1 and with groups to help realise artistic ideas. Proud to be involved with Irregular Art Schools and Beyond.

Holbeck, Leeds
Details

Healthy Holidays

01/02/2020 — ongoing

Planning and delivering creative, stitch based workshops for children aged 8-16. Part of the 'Healthy Holidays' initiative, which provides meals for children during school holidays. Workshops include digital illustration, craftivism and mini stitching.

Stitch-Up, Meanwood, Leeds
Details

Blue Plaques of Intangible Experiences

01/01/2019 — 31/07/2019

'Blue Plaques of Intangible Experiences' involved working with groups of people to support them to produce their own creative stitch-based work. Three groups of people from two different community centres in inner city Bradford will took part in the workshops to develop their own 'blue plaques' in response to positive and often...

[Read more]
Various, Bradford
Details