Layla Khoo North Yorkshire, United Kingdom
I am a multimedia 3D artist, specialising in ceramics. My work is responsive – responding to ideas, events or collections of objects. My work develops from this initial response, considering how this can be represented in a contemporary way within the context of my material practice. I am inspired by objects and work that can evoke a response and curiosity in the viewer.
I often choose to create my work in ceramic for it's broad range of historical connotations, from everyday tableware, to satire and sculpture. Ceramic objects have a familiarity to them – I find it interesting to expand on that; to bring a new or surprising face to an everyday material. I enjoy the versatility of the material, using clay in it's plastic form to sculpt and build, or in it's liquid form to cast objects from moulds. I enjoy the challenge of mould making, and taking an industrial process deigned to make multiples of identical objects, and distorting this process by adding creative individuality.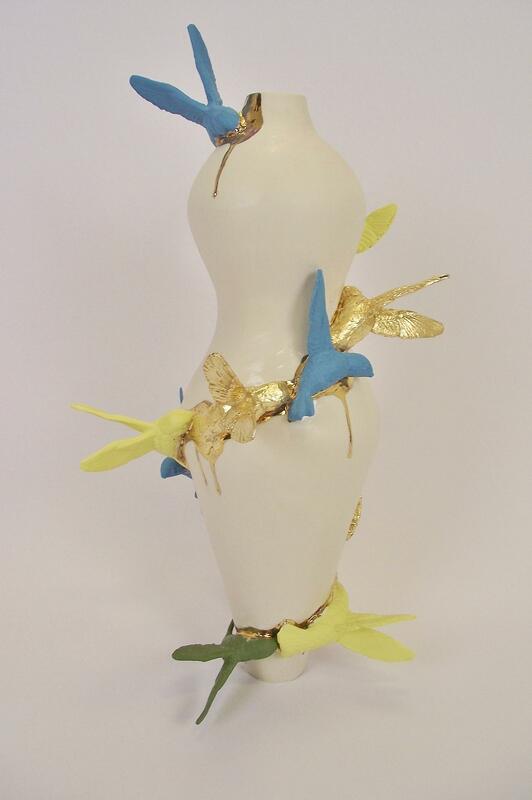 Projects and exhibitions
Details

Producing Production

07/09/2018 — 09/09/2018

Artist assistant to Clare Twomey during public participatory event creating embroidered banners

TATE Exchange, Tate Modern, London
Details

Art and Liberation

03/09/2018 — 19/09/2018

Exhibition of works considering issues around mental health

The Holy Biscuit, Newcastle
Details

Ongoing representation

11/02/2018 — 29/09/2018

Ongoing representation and exhibition of works

Silson Contemporary Gallery, Harrogate
Details

Art&

19/10/2017 — 22/10/2017

Installation artist with participatory demonstrations

York Racecourse, York
Details

Factory: The Seen and The Unseen

28/09/2017 — 08/10/2017

"Factory Manager" For Clare Twomey's public participatory event creating a ceramics "factory" in the Tate Exchange

TATE Exchange, Tate Modern, London
Details

Ongoing representation

31/07/2017 — 29/09/2018

Ongoing representation and exhibit

Bils & Rye, Kirkbymoorside
Details

In The Making

11/06/2017 — 17/06/2017

Final Degree Show

York St John's University, York
Details

We Made Something of This

03/04/2017 — 30/09/2017

Limited edition prints of 3D contemporary art

According To McGee, York
Details

Humanity is in our hands

15/11/2015 — 27/01/2016

Artist assistant to Clare Twomey in the production and distribution of 2000 porcelain spoons on Holocaust Memorial Day

Westminster Bridge, London
Details

Manifest: 10,000 hours

09/02/2015 — 04/06/2017

Artist assistant to Clare Twomey during participatory workshops and installation of the work

CoCA, York Art Gallery, York
Details