Adele Jackson New Zealand
I'm currently exploring the connection between the sun, Antarctica, and human activity over the austral summer season. I describe myself as an environmental artist. I'm interested in the interrelationships between people, places, culture and nature. In 2017, I moved from the UK to New Zealand to study for a PhD exploring 'the value of artists working in Antarctica'.
At times my work is sculptural, at others it is photographic. I often engage directly with place and nature, sometimes in ways that could be described as 'land art'. In some of my earlier work 'socially engaged practice' would be a fitting description.
Increasingly I'm interested in making art in which nature and natural forces are integral to the creative process. In my most recent work, 'Antarctic Sun Lines', the sun and the tilted rotation of the Earth are active in making the images. The project has grown to become an international collaboration with over 30 Antarctic research and heritage institutions. The work records the narrow window of time when human and biospheric activity in Antarctica are at their peak. The images visually locate Antarctica in relation to the dynamics of the solar system and the natural forces that create and sustain life on Earth.
My long-held interest in Antarctica has inspired other work. 'Antarctic Circles', a series of sculptural books exploring Antarctica's natural environment, science and heritage in the context of the 1959 Antarctic Treaty and subsequent environmental protocols. 'Leave only Footprints', a series of land art actions and photographs exploring the tensions between my involvement in polar tourism and human environmental impacts.
In 2007 I co-founded 'Art Hike', which is an open invitation to artists and creatively minded people to meet and hike together. The creative practice is the act of bringing people together to share an experience of place and a space for connections and ideas to form. In earlier works, I have preserved memories of 'place' and identity' through collections of natural and man-made objects. What started out as a personal way to respond to place, grew into a meaningful way to engage others in sharing and preserving personal memories and stories.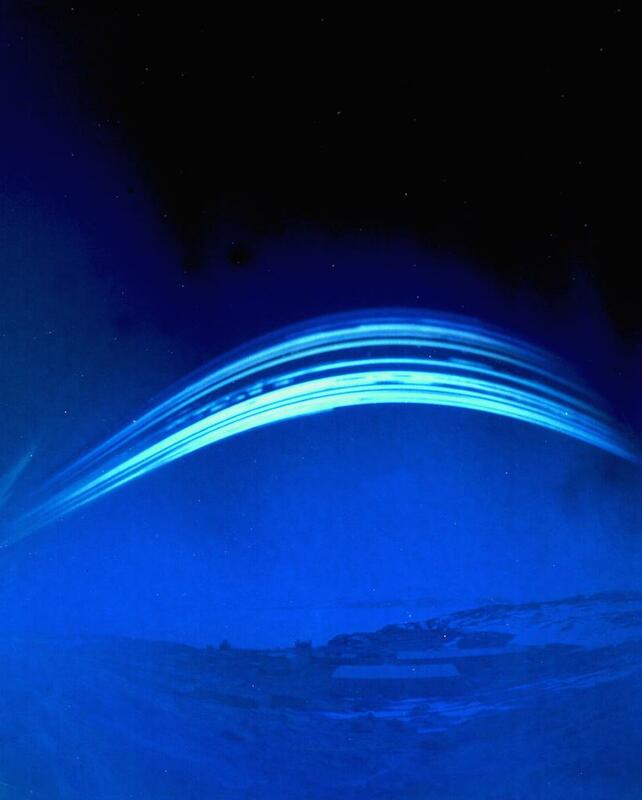 Projects and exhibitions
Details

Public Talk: 10 Antarctic Changemakers

27/09/2018

Part of the 2018 Antarctic Season Opening series of public events. This was pecha-kucha style evening with 10 speakers who each presented on different aspects of contemporary activity in Antarctica. Topics included marine biology, ice science, inspiring the next generation of explorers, art and culture, logistics and international cooperation....

[Read more]
La Vida Conference Centre, Christchurch, New Zealand
Details

Conference: POLAR2018

24/06/2018 — 29/06/2018

POLAR2018 was a joint international polar conference organised by the Scientific Committee for Antarctic Research and the International Arctic Science Committee. I gave presentations about my Antarctic Sun Lines solargraph project, and the developments in my PhD research, in which I'm exploring 'the value of artists working in Antarctica'.

Davos Conference Centre, Davos, Switzerland
Details

Public Talk: Looking South

28/03/2018

I gave a public talk charting the development of art in Antarctica as a backdrop for a closer look at my own work and that of contemporary Antarctic artists.

Christchurch Art Gallery / Te Puna o Waiwhetū, Christchurch, New Zealand
Details

Exhibition: Antarctic Circles

06/08/2016 — 04/09/2016

A joint exhibition with artist, singer and songwriter, Lucy Bergman. An exhibition of photographs, sculptural books and music inspired by the Antarctic Treaty.

The Artworks, Halifax, West Yorkshire
Details

Exhibition: Antarctic Circles

01/10/2015 — 31/10/2015

A joint exhibition with artist, singer and songwriter, Lucy Bergman. An exhibition of photographs, sculptural books and music inspired by the Antarctic Treaty.

The Barbican Centre Library, London
Details

Residency: Unsere Strassen

03/05/2008 — 10/05/2008

Through participating in 'Open Engagement', a socially engaged arts practice conference in Canada, I met one of the founders of The Berlin Office and was invited to take up a residency there. The Berlin Office was an artist-owned and managed apartment in the Neukölln district of the Berlin, available for international artist residencies....

[Read more]
The Berlin Office, Berlin, Germany
Details

Conference: Open Engagement: Art after Aesthetic Distance

11/10/2007 — 13/10/2007

This was an international conference exploring ideas, relationships and connectivity within and through socially engaged arts practice. Social engagement was at the heart of the ethos, organisation and participation in the conference. Each participant was billeted with a member of the local community and left their host with a creative trace by...

[Read more]
University of Regina, Saskatchewan, Canada
Details