Sarah Grant Lanarkshire, United Kingdom
I am an artist living in Glasgow and work for the NHS as an Art Therapist in mental health and addictions. I studied Painting at Glasgow School of Art and am originally from Leeds.
My work looks at memory and I often draw on old photos or found photos to reflect how many of our memories have a shared quality. I am interested in what makes our perception of our world unique and also what shared aspects there are to experience, and how memory can blur these distinctions. I paint in themed series, relying on a different metaphor each time to carry the meaning.
A recent series of work looks at the home as a metaphor for our individual sense of self. The images are painted in a muted palette and have a timeless feel, like images in a dream, film or childhood memory. The architecture could be European or American but each images has a quiet, self contained feel like frontier towns or isolated homesteads.
In another painting series I worked from Google Streetview and the paintings featured quiet corners or places without name. An earlier series was of static caravans, reminiscent of childhood holidays.
Earlier work looked directly at found images of other people's family photos and the universal feeling they contained.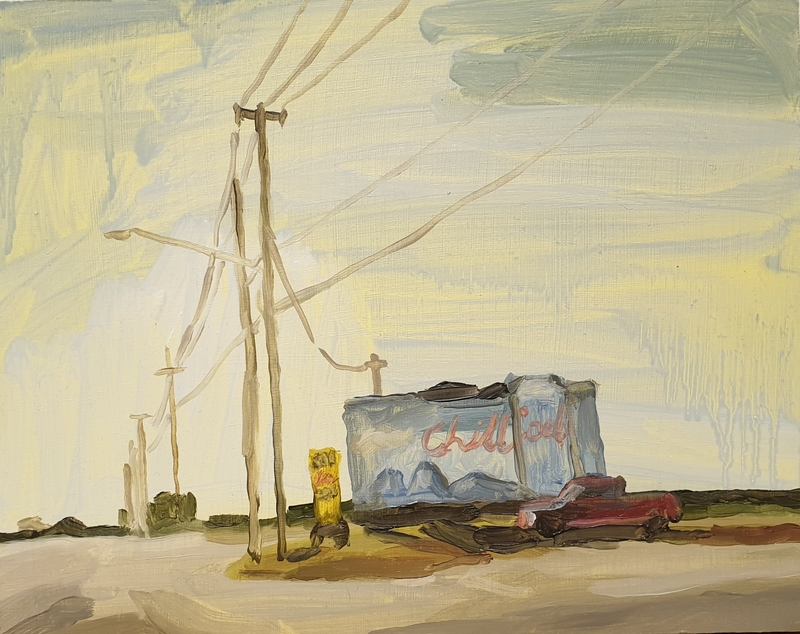 Projects and exhibitions
Details

Uncovered Streets

09/03/2020 — 10/04/2020

Visual art project during the Covid 19 lockdown of 2020, which explores the uncovered beauty of empty streets.

Glasgow, Glasgow
Details

Chroma

04/10/2019 — 25/10/2019

An exhibition of the work of four artists and members of Glasgow Independent Studios.

Six Foot Gallery, Glasgow
Details

Utopia

19/07/2019 — 30/08/2019

An exhibition with three other artists, Sinclair Neeson, Sandy Grant and Alisa Kalyanova.

The Old School, Dornoch Street, Glasgow
Details

Monochrome

02/11/2017 — 29/12/2017

https://www.facebook.com/events/179938072575640/ An exhibition of recent work by Hugh Gillan, Sarah Grant, Peter Murray and Sheena Russell. Trongate 103 Foyer, Glasgow G1 5HD Exhibition preview Thursday 2nd November 6-8pm Exhibition runs 3rd November- 29th December.

Trongate 103, Centre for Arts, Glasgow
Details

Street View

07/08/2016 — 25/09/2016

Trongate 103 Arts Centre, Glasgow
Details

Saudade

03/08/2014 — 10/08/2014

A 4 person group show featuring work by Sarah Grant, Sandy Grant, Melanie Scaife and Alan McFarlane.

Project Room, Glasgow
Details

Various paintings

18/02/2010 — 22/02/2017

n/a
Details