Beth Neal Cambridgeshire, United Kingdom
Working as a full time artist from my small studio in Cambridge. My recent exhibitions showed some of my larger canvasses. Artists Marque at Burwash Manor Cambridge August 2022 Art On the Green Barton Cambridge August 2022
As a prolific artist, I work every day in my studio either painting or drawing.
My main love is painting large canvases. I exhibited widely as a self-taught artist until 2013-14 when I was accepted at West Dean, Chichester.
Studying and working at West Dean has inspired and influenced my work. It has transitioned into a surreal and imaginative genre, creating surprising, thrilling, and intriguing images.
Motivated by my imagination and memories, which play a major part in the approach to design and content, I have been inspired to delve into a fantastic imaginary world where reality meets surrealism, resulting in an innovative fusion of images.
Cornwall is a regular haunt for me where the light captures a moment in time, and light plays a significant role in my work.
On a daily practice basis, I often draw smaller detailed botanical studies using silk or pencil. I am Influenced by the work of artists Charlotte Solomon, Miro, Picasso, and Leonora Carrington.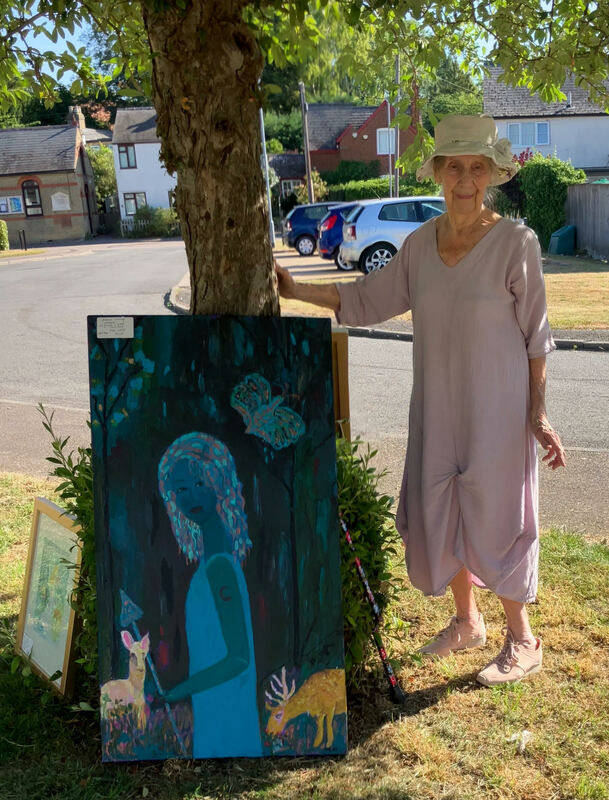 Projects and exhibitions
Details

0n line exhibitions due to Lockdown

13/09/2018 — 19/12/2019

Michaelhouse exhibition Accepted for Curator Space exhibitions Paintings and sculptures Woodcuts Accepted for the Criminology Department Cambridge

Accepted for an exhibition of 14 large canvas at the Rupert Brookes Grantchester, cancelled due to Lockdown.

Michaelhouse Rupert Brookes Miniature paintings accepted, Cambridge
Details